Residents have been advised to avoid emergency rooms whenever possible during the coronavirus pandemic, which puts family doctors and primary care physicians on the frontline of the COVID-19 outbreak.
Dr. Emily Briggs of Briggs Family Medicine in New Braunfels spoke with
Community Impact Newspaper
on how local physicians have adjusted, and how patients can go about getting care, whether it's for COVID-19-related or otherwise.
This interview has been edited for length and clarity.
Why is it important for primary care physicians and family doctors to continue treating patients right now?
We need to be the frontline to prevent people from going to the emergency department unless it's warranted.
A handful of patients call me every day asking if the symptoms that they have are okay, or if it's something that they should be concerned about. If they come to us first, we can rule out whatever might be going on or, heaven forbid, they have COVID-19 and we can diagnose them without patients exposing the emergency department to the virus.
How has the switch to telemedicine impacted medical care in New Braunfels?
Just in the last six weeks, we've had platforms that didn't exist before, or they existed but were very expensive, and now they're much more financially feasible for us to use. COVID-19 has been the impetus for making that change and 70% of our business is telemedicine now. I was talking with a family doctor who has gone to 98% telemedicine visits.
The biggest benefit has been that I can see patients and they can see me when we're talking. Having that face to face encounter is wonderful because I can really get a feel for how they're actually doing, whereas over the phone, we might not be able to have that.
Are in person visits still happening?
There's a recommendation by the CDC to have people come in for vaccines when they need to, and we're doing physical visits for things that we cannot do via telemedicine. If they need something like the pneumonia vaccine—or if it's a kiddo that needs their routine immunization—and they don't have any exposure history or symptoms, then they can come into the office. Even then, they only interact with one staff member and they go directly from the front door to an exam room.
If someone is concerned they may have a condition that is not coronavirus-related, what are their options for being diagnosed and addressing those ailments?
There are certainly those situations where they would not be okay to just stay at home and wait it out. The first thing I would recommend is calling their primary care doctor. I don't want them to go to the ER if it's something that we can manage in the office. Call us ahead of time, then we can decide what is the best route for their care.
What are the options for patients with chronic or on-going conditions?
I have them come in if I need to check oxygen saturation or there's something we can't do over telemedicine, but if they're over the age of 60 I am doing everything in my power to keep them outside of the office—I'm doing everything I can to keep them at home. If they have chronic diseases, especially anything pulmonary or diabetes, we try to keep them out of the office.
How has your in person care been adapted to the pandemic?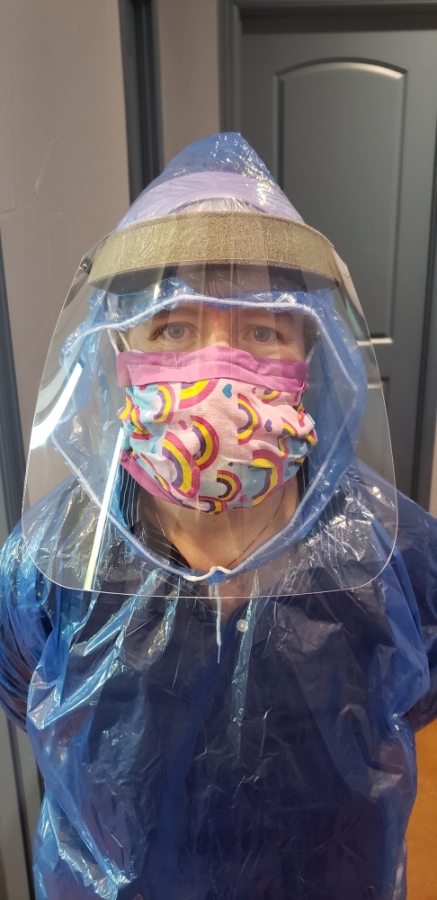 If the virus is aerosolized during swabbing—meaning putting it into the air—then you need to wear your N-95 mask, but I don't have enough for all of my staff so I am the only one in the room doing testing.
After I swab the patient, I then walk them out of the exam room and close the door behind us, and that door stays closed for at least an hour before anybody goes in there to clean.
That's the kind of stuff that we have to go through, because we don't have the ability to just wear N-95 masks and then dispose of it like we would in any other situation.
What is that experience like?
I've visited other countries through mission efforts and I've seen how it is when you don't have the equipment you need, but I've never existed in the United States in a time where we don't have what we need. On top of my N-95 mask, I wear a surgical mask and then a cloth mask on top of that, and then I wear a face shield that's kind of like a welder's mask. I wear a raincoat because I don't have the gowns that I need.
We look like people working in the third world. If I were in the hospital I'd have all this stuff available to me, but I'm a community doctor.
How have local doctors supported each other during this time?
The Guadalupe Health Network (GHN) is a group of physicians that come together for insurance things and discussions on best practices. We were able to shift resources from places that might be closed—and might not need their PPE as much—to family doctors and primary care physicians so we could continue to keep our doors open.
South Texas Regional Advisory Council gave me 395 masks yesterday and I have distributed about 250 of them to family doctors in town. It's because of us coming together like that, that these offices are able to stay open.
We have really proven just how tightly connected we can be. The medical community in New Braunfels has really come together to support each other, but also to support the community.
What advice would you give residents as they follow social distancing guidelines and other preventative measures?
We need to physically isolate from each other, but not socially. If you have the ability to see a person's face and socially connect with others—through social media, Skype, FaceTime, Zoom or whatever app you want to use—I highly encourage it. Even if it's not something you've ever done before, this is the time that you need to maintain connection with the rest of the world, but it doesn't need to be a physical connection.