On July 6, the Small Business Administration, or SBA, released data showing that 1,806 New Braunfels businesses received a total of more than $118.4 million in federal aid through the Paycheck Protection Program, or PPP.
The Coronavirus Aid, Relief and Economic Security Act, or CARES Act, was signed into law March 27 to provide American employers with nearly $350 billion for PPP loans, according to the SBA.
In New Braunfels, SBA data showed 229 companies—corporations, nonprofits, independent contractors, sole proprietors and limited liability companies—received loans ranging from $150,000 to $5 million.
SBA data shows that another 1,577 New Braunfels businesses received loans of $150,000 or less.
The published information includes the names of businesses that borrowed more than $150,000.
Names of businesses receiving less than $150,000 were not released.
Most of the businesses that received aid also reported the number of jobs retained as a result of the program—19,075 jobs in New Braunfels, according to the data.
To be eligible for a PPP loan, businesses and organizations were required to provide detailed information about their monthly expenses and payroll costs, according to the SBA.
Communities In Schools CEO Christine Douglas said the nonprofit was granted a loan of $601,000 in early April after working with its bank to compile detailed records of payroll, property and employee benefits payments.
"We were approved for the exact amount that we asked for," Douglas said. "I think in the big picture, those were small loans compared to a lot of other businesses that were getting you know, $10 million and things like that, so we felt very fortunate we got it on the first round."
Congress approved an additional $320 billion in funding for PPP loans in May, which have an interest rate of 1% and a maturity of two years for loans issued prior to June 5, and five years for loans issued after June 5.
Loans may be forgiven if businesses can show that they used the majority of their funds to pay employees, that the business made concerted efforts to rehire staff that was laid off prior to the loan being received and several other criteria outlined by the SBA.
"It isn't just getting the money," Douglas said. "Now you're going to have to be sure that you document every single thing so that it's extremely clear to the SBA how you use the funds."
According to Kellie Stallings, Connections Individual and Family Services executive director, the rigorous process of applying for loans and tracking the use of the loans will be challenging for businesses.
"I think we're already used to governmental scrutiny and making sure that we are carefully tracking and reporting, our expenses," Stallings said. "For your average business, I think that would have been a nightmare."
In addition to PPP loans, local business owners also had the opportunity to apply for economic injury disaster, or EID, loans and the city of New Braunfels' Small Business Grant program, according to Jeffrey Jewell, the city's director of economic and community development.
The grant program received 216 applications and was created to offer up to $10,000 per business with 50 or fewer employees that had also applied for either an EID or PPP loan, Jewell said.
Among businesses in New Braunfels that applied for a grant and an EID loan or a PPP loan, the median amount received was $22,800, Jewell said.
Businesses receive a temporary boost
The loans provided temporary relief for local employers and helped them keep their operations running and their staff paid while mandatory closures were enacted.
"Having these funds has made a world of difference in allowing us to balance our budget, because as a nonprofit, you know we have to have a balanced budget going forward into the year," Douglas said. "If we wouldn't have those [funds] to count on, then we would be having to lose employees and we would be having to cut services, and we just can't do that."
In June, the Greater New Braunfels Chamber of Commerce's vice president of economic development, Chester Jenke, delivered personal protection equipment to businesses and spoke with owners about the future of their establishments.
Most of the business owners Jenke spoke with shared that they felt financially secure to remain open for several months, whether because of PPP loan funding, capital they had saved or a combination of both, he said.
"All of [the businesses] said that they had enough working capital to keep them going for about a 90-day period," Jenke said. "[That period] gave them the opportunity to retool how they deliver some of their services."
Business owners focused on creating online shopping and ordering platforms, rearranging their interior spaces, and implementing social distancing measures to stay open and keep staff employed, Jenke said.
"Their goal is to stay in business, but the other part of it was they needed to make sure that their employees were protected and their customers that are walking in the stores were protected," Jenke said.
When the PPP loans were first issued, businesses had eight weeks to use the loan, and 75% of the funds had to be used to pay employees in order to have the loan forgiven.
In June, the Paycheck Protection Program Flexibility Act was passed and allowed businesses that received loans on or after June 5 to use 60% of their funds for payroll.
The remaining 40% could be used for other expenses like mortgage payments and spread out over 24 weeks.
Businesses that received funds prior to June 5 can renegotiate their loans to have their timeline extended, according to the SBA.
In New Braunfels, 93.63% of loans were received before June 5, and many business owners had used the majority of their funds before the extension was granted.
Terry Muckenfuss, who owns Muck & Fuss Craft Beer and Burger Bar and two Golden Corral restaurants in New Braunfels, said the loans were helpful but not enough to keep the businesses going long term.
"I got the first round of PPP for all three restaurants, but that money runs out because you're not doing the sales," Muckenfuss said. "A lot of restaurants aren't even doing half or 30% of what they were doing."
Madison Lowry, a family medicine doctor in New Braunfels, received a loan that helped him continue to pay his two employees even as appointments were canceled and business slowed, though he only received 80% of what he requested.
Businesses should have requested loans 2.5 times their average monthly payroll, according to the SBA, and then the application would be evaluated based on the financial documents.
"It's allowed me to stay in business with being able to still pay my employees, at least for now because it's about gone," Lowry said. "I'm a real small operation, and I need those two people, so I'll go without salary before I let them go."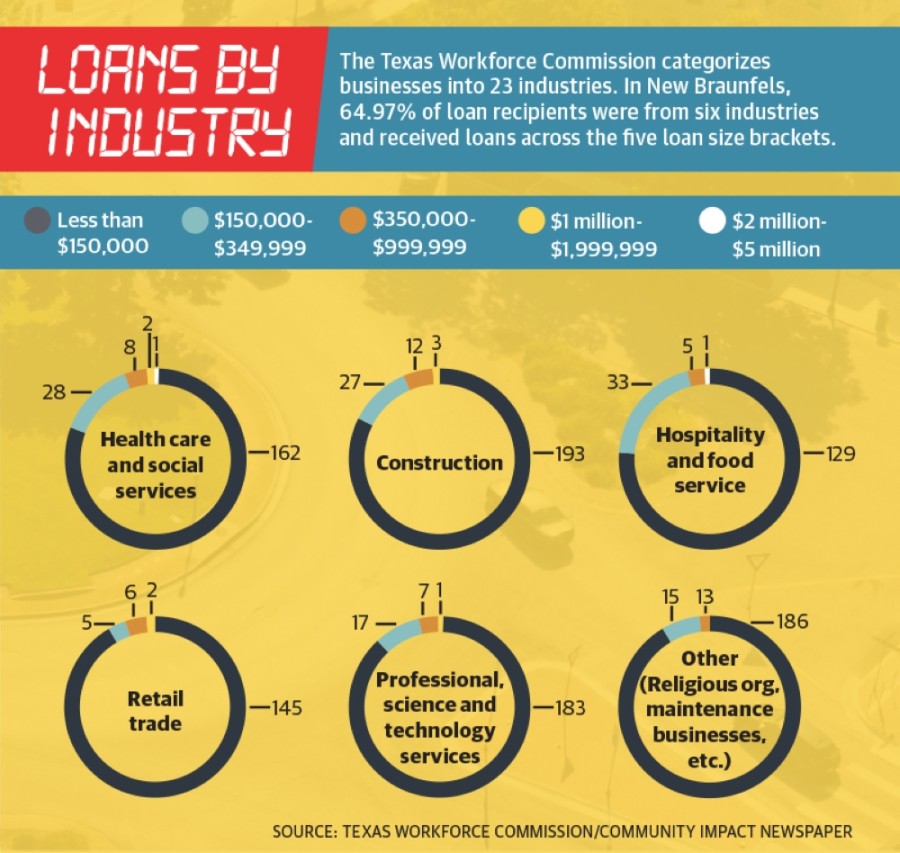 Future of business still uncertain
As the pandemic continues, business owners are concerned that the loans they received months ago will not carry them through future closures.
On June 26, Texas Gov. Greg Abbott announced that all bars would be closed until further notice; restaurants would be required to operate at 50% capacity; river outfitters would shut down; and outdoor gatherings of more than 100 people were banned.
Abbott, Comal County and the city of New Braunfels issued mask orders, and some school districts will delay in-person instruction. Many consumers continued to exercise caution and social distancing measures when patronizing businesses.
"This is going to be a tough time for businesses," Jewell said. "They don't really control how consumers feel about the overall pandemic and the response to it."
Many businesses may face closures or layoffs without additional funds if sales do not increase, Jewell said.
"It's just unsustainable. You're trying to figure out, 'Do I stay open, or do I close?'" Muckenfuss said. "We're kind of hanging on to find out more about the next round of PPP and maybe the emergency injury disaster loans."
In Washington, D.C., lawmakers discussed issuing another round of PPP loans to businesses that have 100 or fewer employees and have experienced revenue loss of 50% or more during the pandemic.
Locally, businesses and nonprofit organizations are still facing significant challenges as coronavirus case numbers and hospitalizations surged in Comal and Guadalupe counties since early June.
A second relief funding act is expected to be voted on by Congress in early fall and would include a second round of PPP funding as well as funds to go toward education and health care.
"Things are operating at reduced capacity so you're necessarily going to have higher unemployment because businesses don't need the employees," Jewell said. "I think everybody is very unclear about where this thing is going; you can't really have any economic recovery until you get the virus under control."