It has been nearly a month since Austin Mayor Steve Adler and Travis County Judge issued an order ordering all restaurant dine-in areas to close, and more than two weeks since local governments issued stay-at-home orders closing all nonessential businesses. In the interim, business owners have completely flipped their business models—prioritizing delivery and virtual sales or setting up online ordering systems in a matter of days.
Community Impact Newspaper
is highlighting four Central Austin businesses who have found creative solutions to the pandemic's crippling effects on the local economy.
Café Monet Art Studio brings creative outlet, stress relief to your door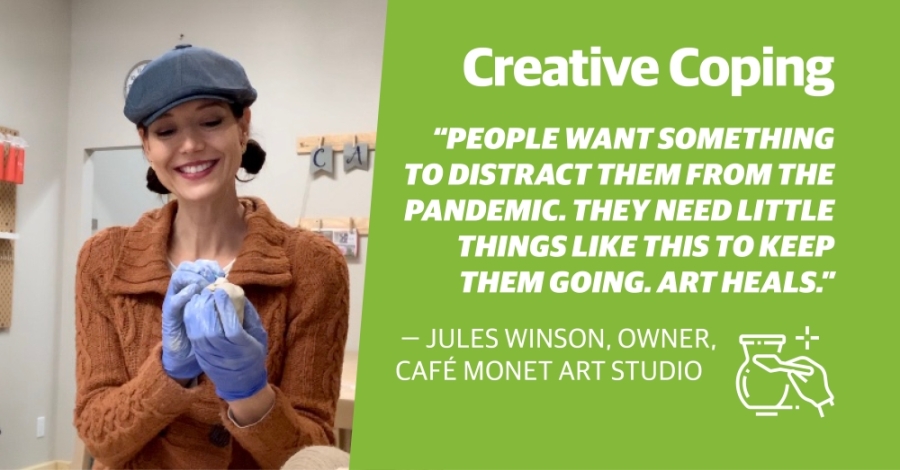 Just two weeks before businesses across the area were forced to close due to stay-at-home orders, Jules Winson had opened a new clay studio at Café Monet Art Studio's original Westgate location. It was a sharp blow, but Winson said she is trying to focus on the positives.
"I'm not trying to focus on what I've lost, I'm trying to focus on what I'm left with," she said.
After putting the entire inventory on an online commerce site within days, Winson is left with a service that can help the community find a creative outlet and unplug from a coronavirus news cycle that can be all-consuming.
Café Monet's to-go options include pottery painting kits, as well as lesson plans for kids and an option for customers to buy a kit for a health care worker.
Winson said the messages she has received have brightened and otherwise difficult time. An expectant mother wrote to say that she was down about losing the ability to pick out things for her baby's arrival, and being able to create something was a special opportunity.
"People want something to distract them from the pandemic, they need little things like this to keep them going. Art heals," Winson said.
Even at home, Ballet Austin class instructors keep the community moving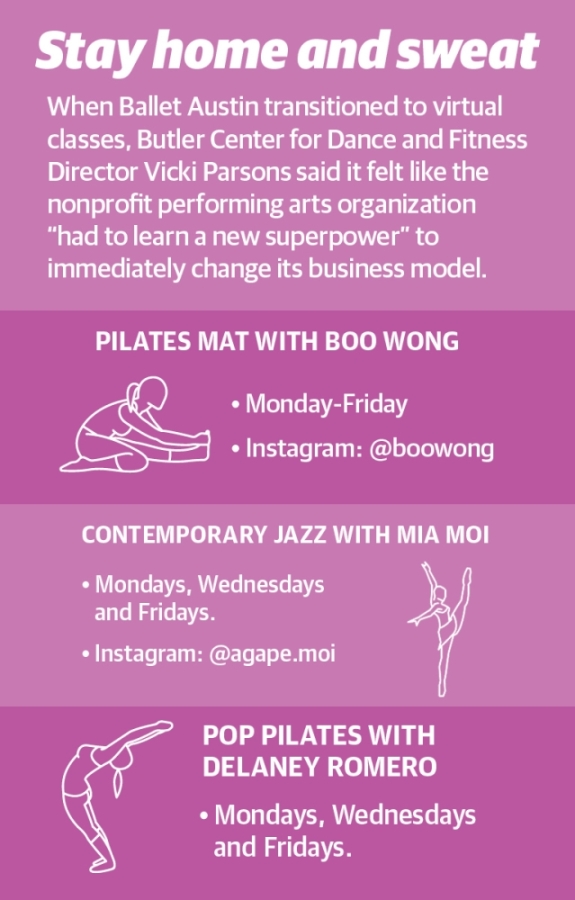 Whether it's on stage or in a dance studio, the core of Ballet Austin's programming has always been live, in-person performance.
That all changed in mid-March, when the dance studio closed down its downtown Austin space and pivoted completely to a virtual model.
"We've always been a really nimble company. We asked 'What is the opportunity and how can we help?'' said Ballet Austin's Director of the Butler Center for Dance and Fitness Vicki Parsons. "Our mission being community-focused is really what drives us."
All 46 Ballet Austin dance and fitness instructors are still working—offering virtual classes either on Instagram live or on YouTube. The Instagram classes are free and have had anywhere from 10 to 200 users tuning in.
But Parsons said not everyone can make a live class at a certain time—or some may not have access to social media. For those people, Ballet Austin is offering drop-in classes from hip-hop to pilates for $3 to $7 per class, which can be accessed via YouTube after registering at the Ballet Austin website.
"Right now we're trying to deliver joy and wellness to anyone who needs it, and maybe normalcy during this time that is not very normal," Parsons said.
Salt and Time leans into grocery model, supports local food community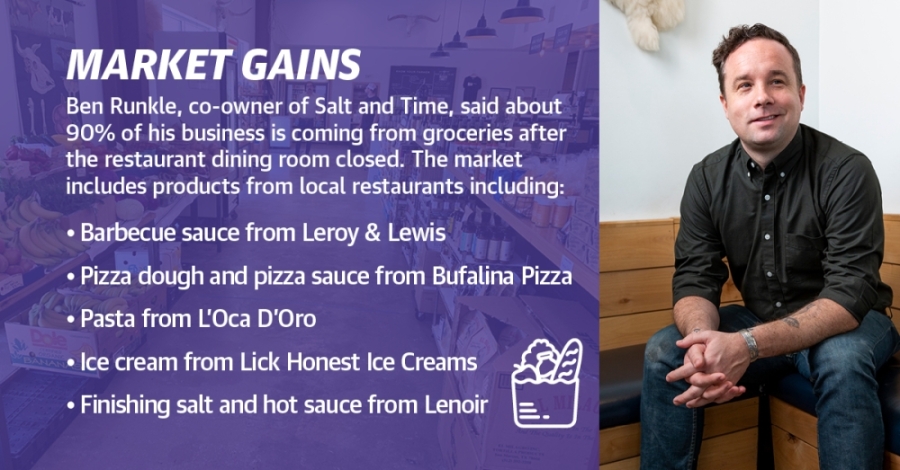 When customers enter the doors at Salt and Time to pick up groceries, they may notice the names of some other prominent local restaurants as they pass through the store—Leroy and Lewis, Lenoir, Bufalina Pizza, L'Oca D'Oro—the labels in the market on products like barbecue sauce, pizza dough and pasta read like a tour through some of Austin's best restaurants.
Ben Runkle, the co-owner of Salt and Time, said when he closed dine-in services his first thought was about the health and safety of his employees. Salt and Time expanded the space for the market, added in safety measures, and put nearly all its resources into the market.
Runkle said he has taken pride in treating the butcher shop and the restaurant with equal care since Salt and Time opened in 2013, but now 90% of sales are coming from the market, and all the servers have transitioned to retail-focused roles paying $15 an hour.
The second priority for Runkle was finding a way to support the other parts of the Austin food community—whether that was increasing produce orders from farms or getting in touch with his friends in the restaurant business who had closed their doors or shrunk to a take-out only operation.
"It's a simple gesture, a way to remind our customers we're part of a bigger community, and a place like Salt and Time couldn't exist without a healthy ecosystem of local restaurants and local farms," he said.
Tso Chinese Delivery starts TsoGiving campaign to feed those in need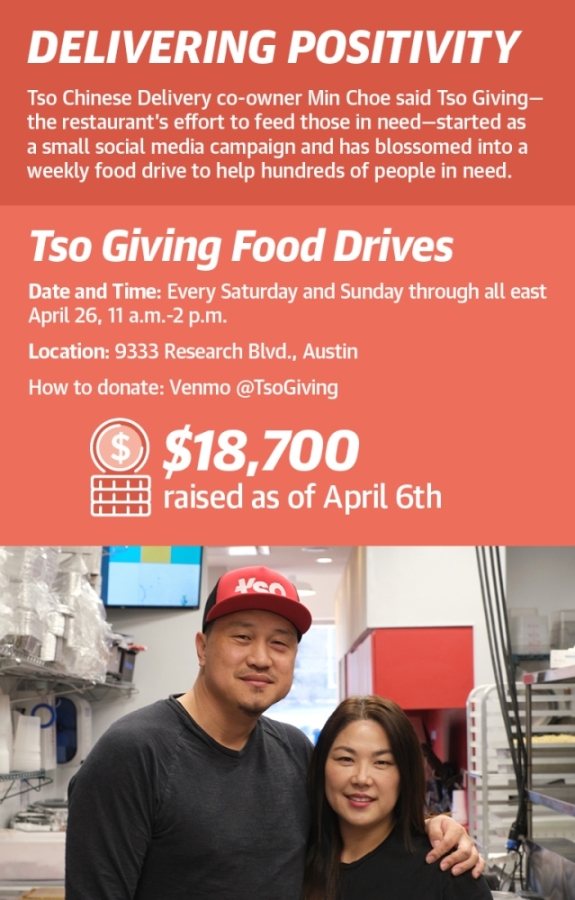 Before measures to stop the coronavirus shut down restaurants across the Austin area, the owners of Tso Chinese Delivery were working on a plan to create a platform to help give free meals to community members in need.
What started as an idea to give away a few meals transformed into a social media campaign and has since exploded into weekend food drives at the Tso Research Boulevard location handing out hundreds of meals to families driving through.
Choe said the campaign has raised $18,700 as of April 6—including an $8,000 donation from Alpha Paving—and Tso is donating $3 of food for every $1 raised, meaning $40,000 of food has been donated. The drives are going to continue every weekend through at least the end of April.
"Right now the plan is we're going to keep doing it as long as we can," Choe said.
Tso is a delivery-only restaurant with kitchens in two locations—the Aboretum and Cherrywood—so while its catering business has dropped off, the restaurant is not hurting as badly as restaurants that have suspended dine-in service or closed altogether. Choe said he sees it as a duty to use this opportunity to give back to the community.
"We count our blessings, we don't take this for granted," he said.,"This is our way to stay grounded and stay connected to the community."