Dr. Mary Katherine Theoktisto, an American Board of Internal Medicine-certified infectious disease doctor, answered questions for Community Impact Newspaper regarding the potential long-term impacts of contracting the COVID-19 virus, though the true implications of the virus could take years to fully understand. Theoktisto is a specialist at Baylor Scott & White Health's Specialty Clinic in Lakeway. She received her doctorate from St. Georges University and completed her infectious disease fellowship at the University of Texas Health Science Center in San Antonio.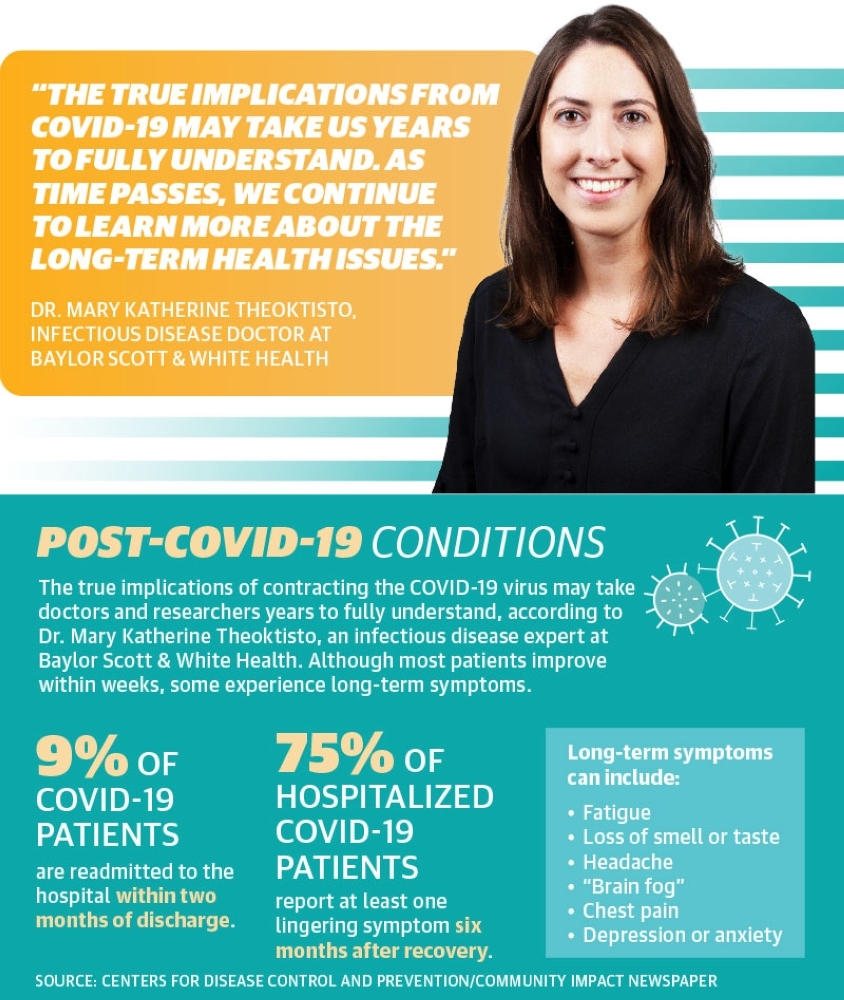 How long until doctors understand the true long-term health implications associated with COVID-19?
The true implications from COVID-19 may take us years to fully understand. As time passes, we continue to learn more about the long-term health issues.
Thus far, what are some of the most commonly reported symptoms or health changes in patients who have recovered from the virus?
Most people recover from the virus within weeks of illness. However, some people experience post-COVID conditions, some of which can be ongoing for over four weeks. Typical symptoms of long COVID include: tiredness or fatigue, difficulty concentrating ('brain fog'), headaches, loss of smell or taste, dizziness, fast heartbeat or palpitations, chest pain, difficulty breathing or shortness of breath, cough, joint or muscle pain, depression or anxiety, fevers, worsening of symptoms after physical activity.
Though COVID-19 is a respiratory illness, are researchers seeing health effects beyond those involving the lungs and respiratory system?
There are multi-organ effects seen from COVID-19. COVID-19 can affect the cardiovascular system [heart, blood vessels]; kidneys; lung; skin; brain functions. There have been reports of autoimmune conditions and multisystem inflammatory syndromes as well.
When should people seek medical care if they are experiencing lasting symptoms post-recovery? Should individuals let their primary care physicians know they have previously contracted the virus even if they had mild or non-existent symptoms?
Most treatment for long COVID is symptom management. If symptoms become severe, patients should seek further care to assist with symptoms. Patients should notify their primary care providers to let them know when they developed COVID-19.
What can we learn from the severe acute respiratory syndrome (SARS) epidemic that occurred in 2002 regarding potential long-term health effects?
There have been some studies looking at long-term effects of SARS-COV-1 (2002 epidemic). In these studies, a small percentage of patients had long-term effects, including depression or anxiety, cough, shortness of breath, chronic lung or kidney disease. Most patients fully recovered.
Have there been studies regarding what percentage of hospitalized COVID-19 patients are readmitted to the hospital or seek medical care after recovering from the virus?
According to the CDC [Centers for Disease Control and Prevention], about 9% of patients were readmitted to the same hospital within 2 months of discharge after initial COVID-19 hospitalization. Multiple readmissions occur less frequently. Some risk factors for readmission include: age >65, presence of chronic condition, hospitalization within 3 months preceding COVID-19 hospitalization, discharge to nursing facility. Studies are ongoing, and this information may change as [the] number of hospitalizations increase.
If individual experienced mild COVID-19 symptoms that did not require hospitalization, is it possible they could still see long-term health implications from the virus?
Anyone who has had COVID-19, even mild symptoms, could potentially develop long-term COVID syndromes. According to the CDC, about 3/4 of patients hospitalized with COVID-19 had at least one ongoing symptom six months after recovery from acute illness. For long-term impacts from COVID-19, Baylor Scott & White Institute for Rehabilitation created a recovery and reconditioning program to help patients who are recuperating from COVID-19. The program is for those who are recovering after they were hospitalized or suffered a mild case and have lingering symptoms and effects. Patients in the program can work through a variety of lasting symptoms such as general fatigue, weakness or cognitive impairments.
Is there any medical testing or imaging recommended for those who have recovered from COVID-19?
Currently there is no standard recommendation regarding ongoing testing once you have recovered from the acute viral illness. However, if you continue to have shortness of breath, pulmonary issues, racing heart or palpitations, further workup may be indicated. You should consult your doctor if you experience ongoing symptoms.
Responses were edited for grammar and clarity.