In a 3-2 vote, Bee Cave City Council voted June 8 to adopt a road plan for Bee Cave Central Park that is designed to delay funding for entry to the park from RM 620 to the final step of what is expected be a multiphased construction plan.
The current proposal includes a park drive that would connect RM 620 from the east to Hwy. 71 at the south end of the park. Also, new park roads would connect to the neighboring undeveloped properties to the west, including the site of the future The Backyard multiuse development. The existing north park entry at Bee Cave Parkway would remain under the master plan, but the plan also would add sites for additional parking with the current idea of building out more than 300 spaces.
Mayor Kara King and Council Member Andrea Willott voted against the master plan as proposed by staff. Before the vote, Willott said, as at the previous park discussion during the May 25 council meeting, she opposes building additional roads in the park and prefers connecting trails from common parking areas.
"This plan keeps being referred to as a connectivity plan. It's a thoroughfare plan," Willott said. "There are ways we can put parking on three different entrances—have people walk into the park and walk into The Backyard area."
King said she also remains opposed to opening a connection for motor vehicles to enter from RM 620. At the council's May 25 meeting, King said she was concerned that motorists would use park roads to avoid traffic on neighboring highways.
While city staff presented data to council June 8 that shows park roads would take a bit longer to traverse compared to drivers remaining on highways that border the park, King said she would like to see the eastern edge of the park remain free of a road for vehicles.
"I am not for a plan that has a road connection to [RM] 620," she said. "I can understand parking on that end as they come into the park ... parking and walking or parking and biking on that side is not too much to ask. I think if people know what that is on that side [of the park], that is very reasonable."
The council vote addresses primarily the concern with the connection to RM 620, which would build upon a current drive that runs along the Discount Tire store at 3922 RM 620. Mayor Pro Tem Andrew Clark made a motion that received a second from Council Member Jon Cobb that requires staff to build the park roads in an undetermined number of phases and place the RM 620 connection in the final phase.
Bee Cave City Manager Clint Garza said future council members would have the ability to approve each phase of the road plan by way of the city's capital improvement plan, or CIP. The five-year CIP would go through the city's annual budget process in which council could decide funding. The city's first CIP is expected to be presented to Bee Cave City Council later this summer, he said.
Park roads is just the initial decision of many yet to be made on a proposed master plan for the 60-acre Central Park that lies west of the intersection of RM 620 and Bee Cave Parkway. City staff also will study adding additional amenities. For example, staff has proposed an all-abilities playscape, and King said local residents have asked about sports courts for pickleball.
Bee Cave to hire new police chief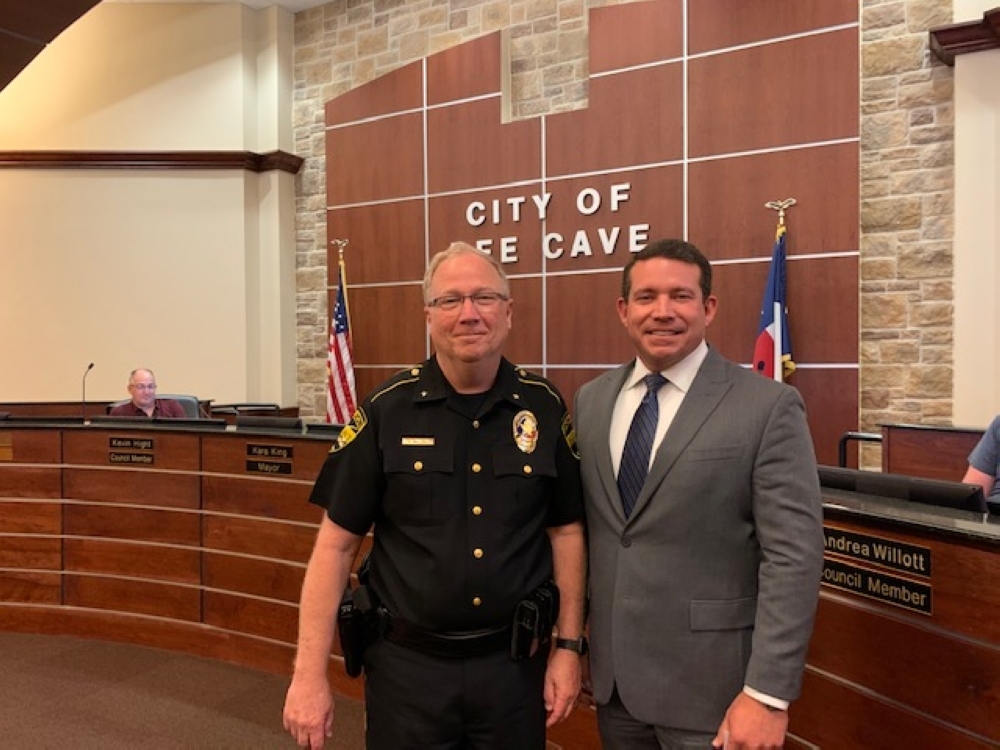 In other business, Council Members in a 4-0 vote, with Cobb and Courtney Hohl not in attendance for the vote, accepted the recommendation to hire Austin Police Commander Brian Jones as its next police chief. Current Police Chief Gary Miller is retiring and will stay on until the end of July to transition operation of the police department to Jones.
Jones told council during brief remarks that he has lived in the area of Bee Cave and Spicewood with his family for the past eight years and considers the role as chief a "long-term opportunity" and believes in community policing.
"I would hope they would want to come up to me and discuss issues regardless if I am in uniform or not," he said.
City moves forward to replace Great Divide low-water crossing
Following a 4-0 vote by council, Bee Cave city staff will publish a request for proposals, or RFP, for the specific engineering, design and construction of a bridge at Great Divide Drive and Little Barton Creek. Under the staff proposal, council members will consider a staff recommendation on hiring an engineer in early August.
The bridge will follow a plan approved by council in March to replace the current low-water crossing with a bridge and pedestrian walkway that can handle water flow rates, measured in cubic feet per second, or cfs, greater than what the current configuration can handle. Today, the low-water crossing at Great Divide is overtopped with water when flow rates in Little Barton Creek exceed 65 cfs, according to city documents.
Council action earlier this year, while not specifying the actual appearance of the bridge, targeted the amount of cfs generated by a 10-year storm as the design standard for the bridge. A 10-year rain storm is a measurement of probability, so such a storm has a
10% chance
of occurring in a given year.