A number of legislative bills are underway in the Texas House and Senate in response to the February winter storm that swept the state, causing power outages, water outages and widespread damage that have led the state to report at least 133 storm-related deaths as of April 15. This included 12 Travis County residents.
Of the many bills, eight hold prominence as low-numbered bills—often bipartisan—that address energy board reforms, government communication in emergencies, preparation for extreme weather and other issues that arose from the February storm.
The storm hit west Travis County residents particularly hard as treacherous ice and snow on Hill Country roads stranded many residents in homes for days without power and water service.
State Rep. Donna Howard, D-Austin, who represents West Lake Hills in the Legislature, said the winter storm was a "crisis" that resulted from a lack of communication among key state government agencies. The lack of communication was particularly evident when looking at the widespread power outages that were required to keep the state's energy grid from collapse, she said.
"One of the biggest things we saw as a result of the winter crisis was that the right arm didn't know what the left arm was doing," she said. "And so we ended up with all kinds of unintended consequences. We turned off the electricity to the gas plants, and the gas producers could not get gas to the electric generators ... that's mind-boggling what happened."
To address these and other issues, Gov. Greg Abbott on Feb. 16 declared reform of the Electric Reliability Council of Texas to be an emergency legislative item and called on the Legislature to investigate the council to prevent the statewide issue from recurring. ERCOT, which was largely criticized for its role in the February storm, manages the flow of electric power to more than 26 million Texas customers and represents about 90% of the state's electric load.
The first of the major bills to flow from this legislative session is Senate Bill 3, authored by state Sen. Charles Schwertner, R-Georgetown. It adds winterization requirements to energy-generating infrastructure with a $1 million fine per day for noncompliance, he said. The bill would take effect Sept. 1, if approved. Municipal-owned utilities, such as in Georgetown and Austin, and energy companies, such as Pedernales Electric Cooperative and Oncor Electric Delivery, would not be treated differently.
The bill also addresses issues raised by Howard and Schwertner concerning communication. A board, known as the Texas Energy Reliability Council, or TERC, would be created with members from the Public Utility Commission, ERCOT, the Texas Railroad Commission, the Texas Commission on Environmental Quality and governor-appointed oil-gas industry representatives. These entities were working in silos during the storm without fluid communication, Schwertner said.
"We are very much wanting to reinvigorate the coordination and communication among market participants and regulatories to make sure this never happens again," Schwertner said.
State senators unanimously approved SB 3 on March 29. Now, it heads to the House State Affairs committee, of which Howard is a member, for consideration and approval before it can be sent to Abbott for a final signature.
As the state grows, so will demand on the state's power grid, Schwertner said. And its reliability is ever more important, particularly on the many days when temperatures reach above 100 degrees Fahrenheit. The bill would apply to extreme heat, hurricanes or whenever there is unbalanced supply and demand, he said.
"The most often times when you have a significant strain on the grid is every August and in the summer months," Schwertner said.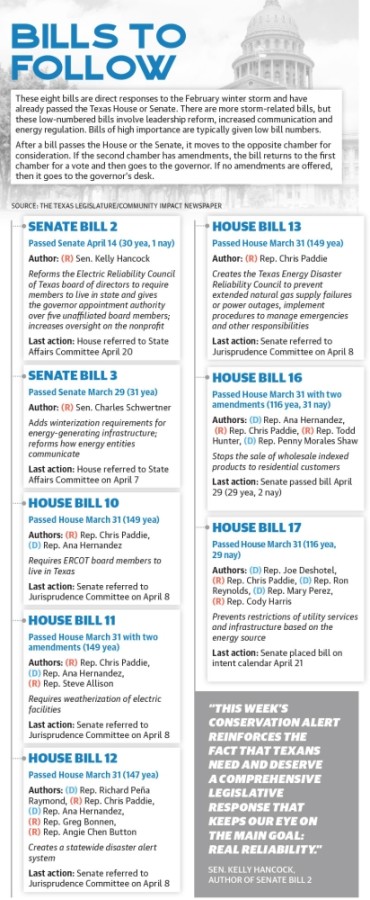 ERCOT reform
Over two-thirds of Texans lost electricity at some point in the storm for an average of 42 hours, according to a survey from the University of Houston's Hobby School of Public Affairs. Nearly half of all Texans lost access to running water with an average loss of 52 hours, per the survey.
To address this, the Senate passed SB 2, an ERCOT reform bill, on April 14. The bill is now under House committee consideration before the other chamber passes it.
The bill increases oversight of the nonprofit that controls the state's power grid and reforms ERCOT's board, including requiring its members to live in Texas. This was previously an issue as five of the 16 members did not reside in Texas when the storm hit, according to other news reports.
The governor would also appoint the board chair and the board's unaffiliated members; the Senate would approve the governor's selections.
SB 2 bill passed the day after ERCOT announced it may enter into emergency conditions April 13 as a result of facilities being offline for maintenance and the state experiencing higher-than-expected temperatures and power demand. No outages were needed at that time as emergency conditions were not reached after ERCOT requested conservation.
"This week's conservation alert reinforces the fact that Texans need and deserve a comprehensive legislative response that keeps our eye on the main goal: real reliability," state Sen. Kelly Hancock, R-North Richland Hills, said in an April 14 release.
Other prominent bills include SB 2154, which is similar to SB 2 in that it reforms the Public Utility Commission, the entity that oversees ERCOT and regulates telecommunication and other utilities. The bill, authored by Schwertner, would require the commission to have five members, an increase from three, and requires members to be Texas residents.
"It really starts at the top," Schwertner said. "With good leadership, you can get through a lot of crises."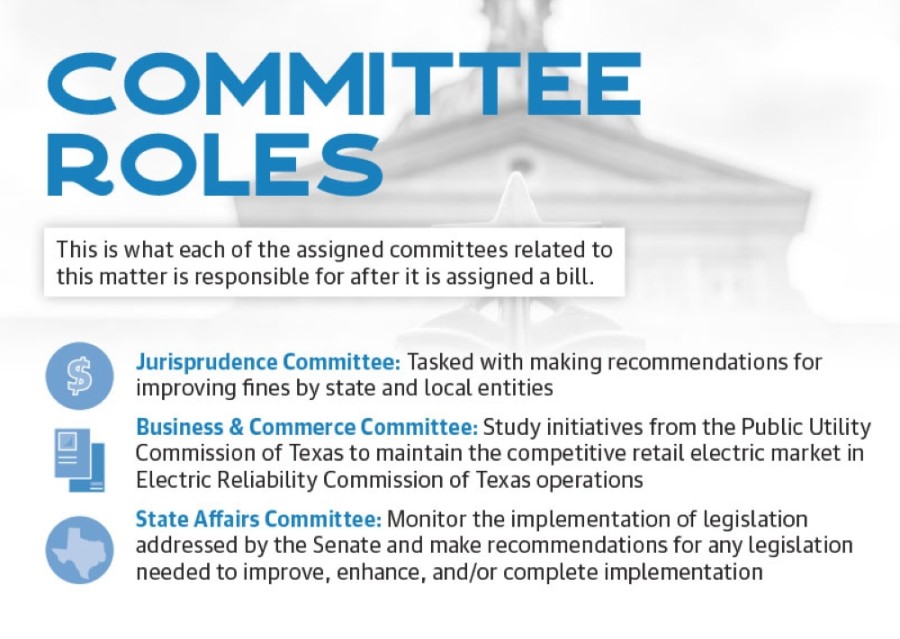 Remaining work
Howard said she is confident the Legislature will successfully address reforms in how ERCOT and the PUC function, but with the current legislative session ending May 30, there are other issues that may not be fully studied and addressed.
"The part that we are leaving out is the railroad commission, which is responsible for [regulating] oil and gas," she said. "That part of the equation is a very significant part of this, and that has not had as much focus as it needs to have."
The Texas Railroad Commission is led by three elected commissioners and regulates the oil and gas industry, pipeline transporters, natural gas utilities, the liquid pipeline industry, coal and uranium surface mining operations, and the LP-gas industry.
It sets monthly production quotas, issues drilling permits and orders inspections of wells.In addition to participating in TERC, railroad commissioners said in a March press release that they are working with the Texas Legislature to ensure that oil and gas producers, during future mandated blackouts from ERCOT, are considered "critical infrastructure."
"This along with increased communication through TERC will ensure we are able to plan and prepare for weather events much better in the future," railroad Commissioner Jim Wright stated in the release.
Still, other areas remain under study as the legislative session enters its final month, Howard said.
First, there is a plan to fund mandated weatherization programs using the Texas Economic Stabilization Fund, also known as the "rainy day fund."
Second, is a method for statewide wholesale electric providers to manage and cover the high cost of natural gas during a prolonged weather event, and doing so in a manner that does not adversely pass those high costs to retail consumers.
"We have many small utilities, cooperatives and municipal-owned utilities," Howard said. "Some are looking at bankruptcy. Somehow we have to keep the power on, keep it reliable, but also figure out a way to share the burden of what that cost was."