Spring has arrived in Central Texas and with it the beginning of the region's treasured wildflower season when native bluebonnets, Indian paintbrushes and Texas redbuds line the state's roadways.
Perhaps those most pleased by the Hill Country's blossoms are the local honeybees, some of which live off Hamilton Pool Road in hives built by Bees for All.
Founded by Peter Keilty, Bees for All works to educate the public about the importance of the region's local pollinators.
Bees for All operates seven hives on a nearly 5-acre site shared with Lakeway TaekwonDo. The business began when Chris Abramson, the owner of the martial arts studio, won a beekeeping class through a silent auction and connected with Keilty.
The duo began by setting up two hives in 2018. Keilty said they collected 40 pounds of honey from a single hive in the first season.
Beekeeping is a long-loved hobby of Keilty's, who enjoyed the pastime as a kid in Ireland. He said his move to the Hill Country, a region abundant with natural amenities, re-inspired his love for honeybees.
"I thought this was the perfect place to resurrect this," Keilty said. "Not just to make honey, which I love doing, but if we can show people the value of these pollinators while doing it, that's really the crux for me.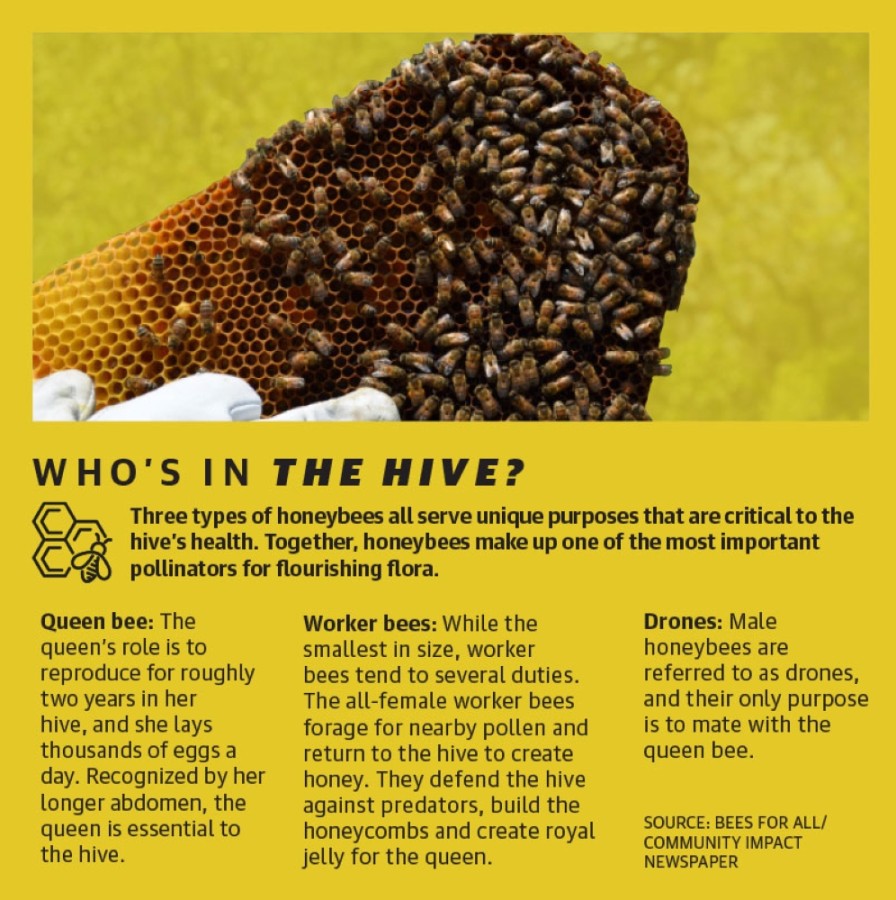 For Abramson and Keilty that education begins with kids. The duo has been drumming up interest and anticipates launching a children's bee school in May.
"I hope if you grow up with this sort of thing then you will value it as an adult as well," Keilty said.
That respect will not only foster a desire to protect local pollinators but also the entire Hill Country region, according to Keilty.
While Bees for All has a particular focus on educating the youth, Keilty and Abramson are prioritizing community outreach as a whole and have already inspired nearby neighbors to begin their own hives.
The pastime is not as complex as it may seem, Keilty and Abramson said. Bees for All's hives are handmade from roughly $200 of lumber, and Keilty said most people are capable of putting up a hive.
Those without the ability to tackle this endeavor can still enjoy local honey, which Bees for All sells. While Bees for All currently operates as a business, all sales are used to maintain the hives, according to Keilty, who said he is working on obtaining a 501(c)3 nonprofit status.
Still, even without a backyard hive, there are several ways residents can contribute to the protection of honeybees and other Hill Country pollinators.
Keilty said residents can plant native flowers and put out nesting blocks that serve as homes for honeybees, which Keilty said rarely sting. Most importantly, Keilty said the residents should curb their pesticide use and encourage their neighbors to do the same.