Most business endeavors are born from a need—Amy Hageman said she needed an escape from the Texas heat.
Like many homeowners, Hageman coveted an in-ground pool but was not willing to lose her backyard space to build it. Thus, the idea for Texas Tiny Pools was born.
Since 2017, Hageman and her husband have been designing tiny pools in the Austin region, and in 2020 the company experienced its highest sales to date. The concrete pools typically range in size from 8-by-8 square feet to 12-by-25 square feet and are fully customizable.
Growing up, Hageman lost her dog to a drowning incident, so safety proved a top concern when designing tiny pools. She created a lockable aluminum sliding deck cover to keep clients' pets and children safe. The cover can hold up to 22,000 pounds and is built to last, she said.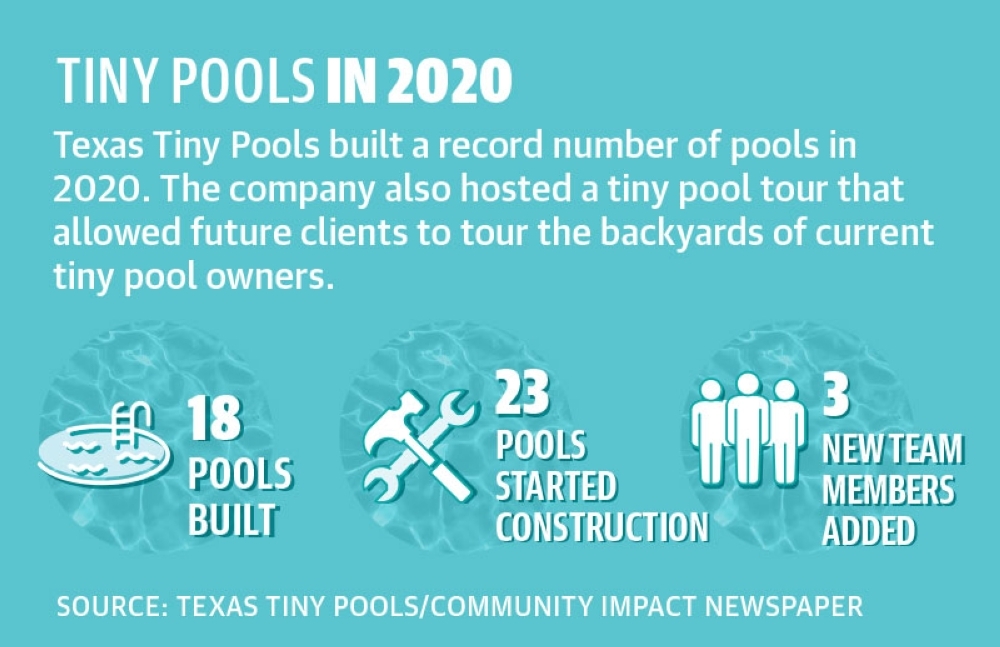 Pools can be designed without the cover; however, Hageman said it is a popular choice among clients that offers more than just safety benefits. As members of the Coastal Conservation Association, the Hagemans wanted to design environmentally friendly pools. Texas pools can lose up to a half-inch of water a day in the summer heat, according to Hageman, who said the deck cover can reduce the rate of evaporation.
"We want to keep water in our lakes and streams. People aren't going to stop building pools, but we believe they can build smarter and safer pools," she said. According to Hageman, Texas Tiny Pools is the only North American pool company committed to the 1% For the Planet organization—an organization that inspires businesses to support environmental solutions. Through this partnership, Texas Tiny Pools donates 1% of all revenue.
It is just one example of the company's philanthropic efforts. For every pool completed, donations are sent to Colin's Hope, an Austin-based nonprofit focused on preventing drownings through water safety education.
Those interested in their own tiny pool will need to join a year-long waitlist, but Hageman said the goal is always to work with clients and their needs.
Many found Hageman after their projects were turned down by builders due to a lack of space.
"Our goal is to help people and work on the challenging yards," Hageman said. "Those are our favorite projects."