Austinite King Magik said he has always had an eye for art and fashion. From the time he was in high school, he said he would curate and restore vintage clothing and shoes for resale.
In 2009, King met his now partner Shae Magik, who helped grow and develop the small business, which is known today as MAGIK.
What started as a part-time hustle eventually grew into an online store, styling service, in-house brand and in 2018, a storefront location at The Domain.
In November 2020, the duo relocated MAGIK from Northwest Austin to Bee Cave's Hill Country Galleria. Shae said the galleria offered the shop and its customers a more comfortable, "feel-good" atmosphere, and even amid a pandemic, Shae and King said they have felt supported by both the galleria and the surrounding community.
Today, King and Shae are selling much more than just vintage items—MAGIK has grown into its own unisex clothing and accessories line.
The shop, which is decorated with collectible art pieces and work from local artists, offers clothing, shoes and accessories under the guiding concept of "past, present and future," Shae said. The term "past" represents the shop's vintage items; "present" stands for the current fashion trends; and future represents the in-house MAGIK brand.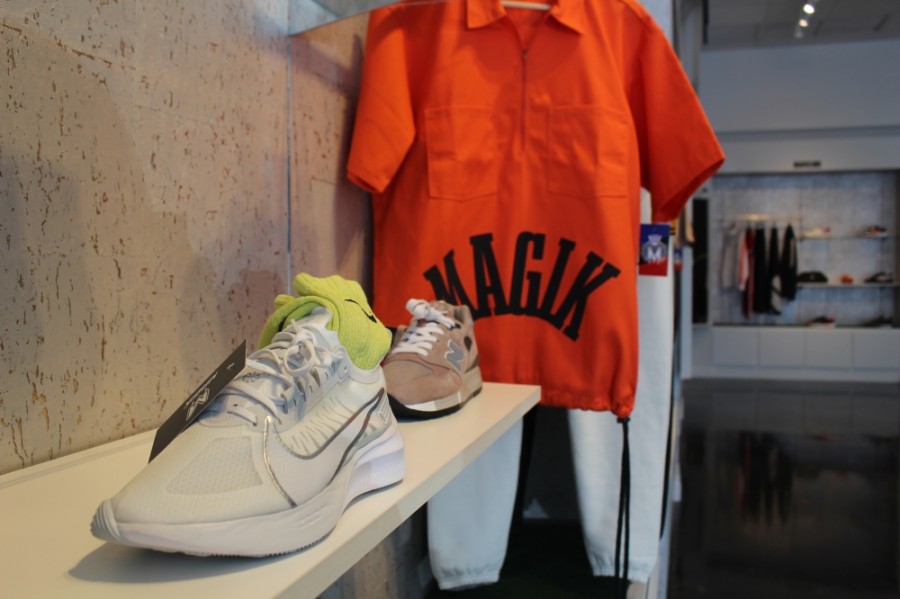 Shae described MAGIK's style as forward-thinking. When customers browse the store, Shae said she and King want them to feel confident in the ability to express their own style.
"That's who we are," Shae said. "You'll never find us just following a simple trend."
Still, MAGIK offers more than just clothing and accessories. Shae and King provide a variety of business services such as social media branding, photography, videography, website development and personal styling.
Personal styling services are one aspect of the business King said he hopes to expand on moving forward. This could take place through private appointments.
"We like to project ourselves as a creative house," Shae said.
The business-focused services are apart of MAGIK's larger goal of supporting the community and local creatives, King said. Early on, he used his entrepreneurial spirit and artistic expression to motivate young people to build their own businesses.
King said not only does this encourage young people to work hard and stay out of trouble, but it also helps aid self-confidence and worth, which can be something teenagers struggle with.
"I want everybody motivated to do something," King said. "Learn a business; learn commerce and turn it into something great."
From the unique style of MAGIK's in-house brand to the company's entrepreneurial spirit, Shae and King said they hope MAGIK is able to promote individuality and self-expression throughout the community.