Editor's note: This story has been corrected. The Lakeway Arts District publishes the directory of local artists.
Nestled in the Hill Country, the Lake Travis region is a popular destination for Texans who enjoy the outdoors. Each summer, out-of-town boaters and lake-goers flock to the area to enjoy its natural beauty.
Recently the area has been recognized for more than its lakes and trails. An emerging art scene is growing in the Hill Country, and thanks to local nonprofits, businesses and vested interest from surrounding city governments, the Lake Travis area is primed to become Austin's most unexpected art destination.
According to a directory published by the Lakeway Arts District, more than one dozen local artists call Lakeway, Bee Cave and Spicewood home.
One individual working to make Lake Travis a cultural hub is Kat Albert, an independent filmmaker and resident of Bee Cave. She has lived in the area for years, and much like other local artists, in that time she said she has made countless trips to Austin to attend film screenings.
Those long commutes became a driving force behind Albert's decision to make an investment in the arts within her own community. After more than four years of work, she founded the area's first international film festival.
"It felt like a cultural desert, and part of the reason I wanted to start this was because as a filmmaker I was driving over to the east side of Austin four or five nights a week," Albert said. "I just felt like it was wrong. Why do we always have to drive to East Austin or Central Austin to do something cultural?"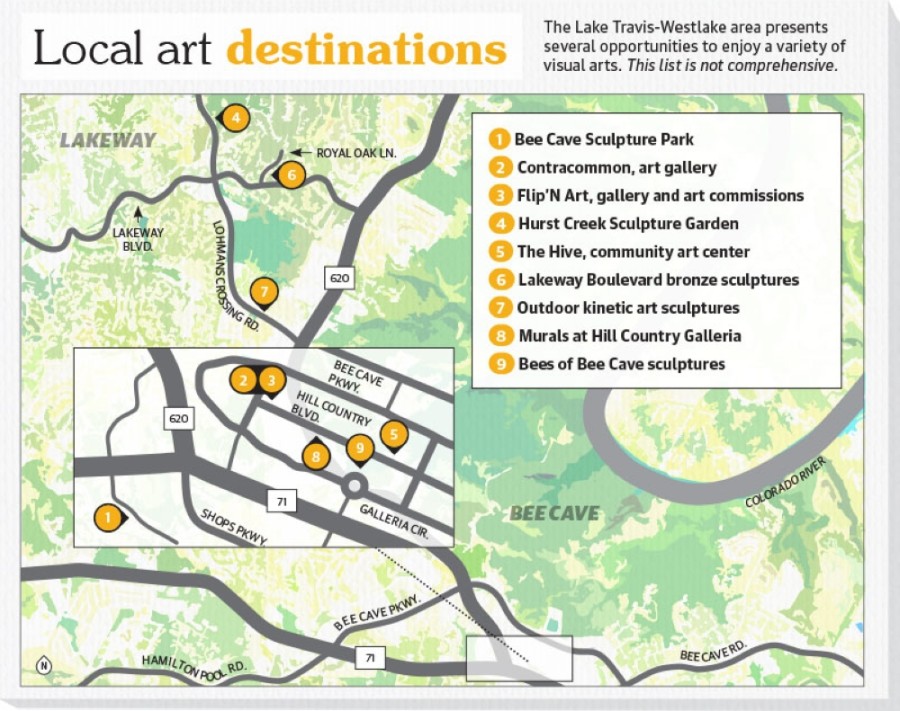 In 2019, the Lake Travis Film Festival held its inaugural event that featured 92 films. The festival attracted more than 1,000 attendees, some of whom Albert said traveled from out of town, as evidenced by the more than 80 local hotel rooms booked for the event.
Albert and her volunteers are gearing up for what she anticipates will be an even more successful second year, which will kick off June 10 at more than eight venues and restaurants in Lakeway and Bee Cave to showcase roughly 100 film projects, according to Albert.
Not only is she striving to provide residents with a new cultural event, but she also said she is working to put Lake Travis on the industry map—a goal that could benefit the entire community.
LTFF received more than 300 submissions from filmmakers working in areas as close as Buda and as far as Vietnam, and Albert said industry professionals have taken notice of the home-grown festival.
Emerging studio space
Much of the rising art scene in the region is concentrated in Bee Cave's main thoroughfare, the Hill Country Galleria—a center that has been recognized nationally for its endeavors in the arts, which include commissioned murals and festivals.
In August, the Galleria was sanctioned as an art and culture hub and earned an innovation award from the International Council of Shopping Centers for its multi-year effort to support local artists, according to a media release from the Galleria.
Part of the Galleria's mission to become a resource for local creatives involved securing affordable studio and gallery space—amenities the region previously lacked.
The Galleria's new art gallery, Contracommon, took advantage of that opportunity. The nonprofit organization is home to 16 studio workspaces, 12 of which are occupied by local artists, and a gallery.
One of Contracommon's tenants is Kelsey Baker, a local painter who also serves as gallery director. Baker said growing the gallery has been a team effort—one that is strongly supported by the Galleria, which allows the nonprofit to lease the space at a reduced cost.
"We're trying to establish [Contracommon] as a local legitimate art gallery," Baker said. "But we're also really focused on supporting and giving the opportunity to artists who are just starting out."
As an Austin resident, Baker said she has enjoyed seeing the art that exists west of downtown. Moving forward, Contracommon plans to garner more community interest with an art and music festival slated for June 5.
Two doors down from Contracommon, Micah Pearman and her partner, an artist known as Chacasso, are also working to support local creatives.
Their company Flip'N Art first opened in the Galleria in November 2018 to offer two components: a gallery space to highlight artists' work and a custom art business.

Pearman said she and Chacasso want to represent more artists than any other company and provide them with a living wage and medical benefits. To date, Flip'N Art has employed more than 35 local artists to create custom paintings for clients.
"Our main goal is to help artists thrive and to eradicate the idea and thought process of starving artists," Pearman said.
The company's latest endeavor involves becoming one of the first crypto-backed art galleries in the world, Pearman said. The evolving technology referred to as non-fungible tokens or NFTs would allow an individual to purchase a digital representation of an art piece along with an original copy.
The unique proof of ownership will allow clients to own a digital asset valued at what they purchased the art for, which can then be traded for profit, according to Pearman, who said in return, the local artist makes a commission each time the piece is traded.
Flip'N Art is gearing up to launch this new platform this summer with the hopes of establishing Bee Cave as a hub for the use of this technology in the industry.
A decades long interest in the arts
While many have attested to a growing arts and culture movement in Lake Travis, there are several art-focused organizations that have served the community for more than 20 years.
One of those long-standing groups is Spicewood Arts, which was founded by three residents at a dinner party in March 2000, according to Mary Ann Jurgens, vice president of publicity.
Jurgens said founders Cindy Jackson, Dianne Frost-Silver and Madeleine Manigold had an appreciation for performance, visual and literary arts, and much like Albert, they did not want to travel 45 minutes to Austin to experience it.
The organization was born with a goal to provide residents of all ages with opportunities to experience the arts in Spicewood. While the founders had a particular focus on classical music, Jurgens said operations have greatly expanded.
Today, the nonprofit hosts five live concert events a year at Spicewood Vineyards, an annual art festival, gala, and community art treks to studios and museums. Perhaps most notably, the organization is working to support young artists, Jurgens said. This spring, Spicewood Arts will award scholarships to students at Lake Travis and Marble Falls ISDs who are pursuing a higher education in the arts. In over 20 years, more than $100,000 has been donated in $1,500 scholarships and various school programs.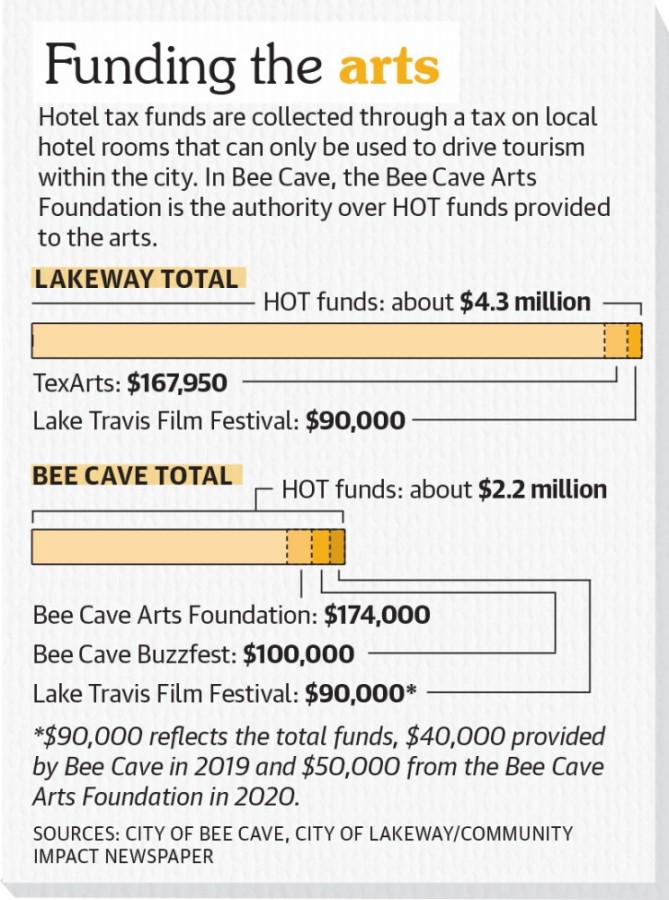 Nearby in Bee Cave, a nonprofit shares a similar goal. The Bee Cave Arts Foundation has been working to bring art and cultural experiences to public spaces since 2009.
The foundation is responsible for Buzzfest, an interactive art and light festival that took place at the Hill Country Galleria in December, and drew in more than 22,0000 attendees.
With many achievements under its belt, Director Deby Childress said there is much more on the horizon for the foundation.
The organization is developing Bee Cave's first arts and culture master plan, which will serve as a 10-year blueprint for the continued development of arts within the city. The plan, which is still under development, will be presented to Bee Cave City Council in July.
"We want to do what we can in our community to enrich everybody's lives but also to make it a place where people would want to come and spend a weekend," Childress said.
The plan will be funded by Bee Cave's hotel occupancy tax dollars—funds collected through a tax on city hotel rooms that can be used to promote tourism through events, arts and more.
In 2019, council approved the Bee Cave Arts Foundation as the delegating authority for roughly 15% of the city's hotel tax funds, which total about $2.2 million. Through the master plan, Childress said the foundation will help invest hotel tax funds in various art projects and events.
One recipient of the funds has been LTFF, which has received a combined $100,000 for the 2021 event allocated from Bee Cave and Lakeway City Councils. A majority of those funds will go back to the local venues that will host festival events, including Lakeway's High 5 and the Sonesta Bee Cave.
Albert said the city's vested interest in the promotion of the arts is crucial to growing events such as LTFF. These endeavors not only encourage tourism but ultimately support the strong sense of community felt within the region.
"Arts are the light coming out of the darkness. You need to see the beauty around us and the beauty that we can all create, and we're just hungry for connection." Albert said. "For us, it's not just about seeing something beautiful. It's about having that interaction with another human that makes you feel alive."