With continued efforts to get individuals over age 16 vaccinated in order to reach herd immunity, the city of Georgetown is beginning to see a glimpse of normalcy with the return of live events starting this summer.
Since March, Georgetown has already hosted several in-person events, all of which have and continue to operate with safety precautions such as recommendations of wearing masks and social distancing, city officials said. Those events include Second Saturday Market Days, Pistons on the Square, the Spring Fling and a crawfish boil.
With the decreasing number of COVID-19 cases and the increasing number of people getting vaccinated, the city's Convention and Visitors Bureau officials hope to bring the Georgetown Square back to hosting regular events, CVB Tourism Manager Cari Miller said.
As of April 29, the CVB has five events planned for the remainder of the year, she said.
In addition to the two regular events of Market Days and Pistons on the Square, the city is also planning to host Blazin' Beer Crawl; Labor Day Sidewalk Sale; and POPPtoberfest, the rescheduled version of the annual Red Poppy Festival usually held in April, Miller said.
Other annual events such as the Christmas Stroll and The Lighting of the Square will be planned as they get closer, officials said.
"We have seen a pretty good return to normal downtown, but I know we are always working to promote and better promote downtown in new and unique ways," said Ray Dorton, Georgetown CVB visitors information specialist.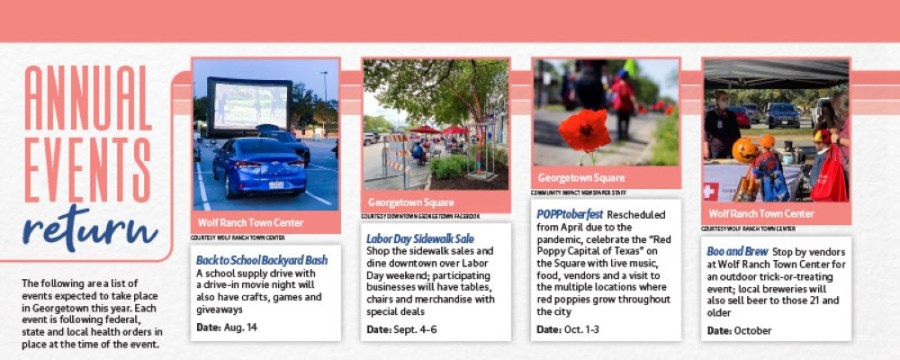 Safety first
Current state orders do not require businesses to operate at minimum capacity or mandate face coverings; however, businesses can choose to implement any safety protocols they deem necessary.
Since March 18, Williamson County has been in the orange phase of community spread, which indicates a high spread level. Under this phase, Williamson County guidelines suggest that individuals avoid gatherings of over five people, wear face coverings and maintain social distancing from those not in their household.
County health officials said for the county to decrease to the yellow phase of community spread, all three of the following must occur: the incidence rate, or rate of new cases per day per unit of population, needs to be below 7% for 14 consecutive days; the positive test rate needs to be below 10% for 14 consecutive days; and the hospitalization rate within the trauma service area needs to be decreasing for 14 consecutive days. Williamson County is Trauma Service Area O.
"Medical professionals are still encouraging people to limit their indoor time in crowded spaces, so we're trying not to create a lot of crowding inside the library," Georgetown Library Director Sally Miculek said. "As the community COVID spread rate goes down and the vaccine rate goes up, that's how we'll open up more."
Miculek added that while the library employees are planning to bring back its events, they will be limited in capacity with events in a hybrid format based on COVID-19 spread rates and vaccination rates.
While the city of Georgetown does not have specific guidelines or regulations for outdoor gatherings, the city will follow safety guidelines based on best practices from Williamson County and Cities Health District, state orders and guidelines, and revisit any policy changes based on public health data, Miller said.
For now, many businesses still recommend the use of face masks and implement social distancing guidelines.
"We adhere to the local, state recommendation," said Rhonda Pitchard, Wolf Ranch Town Center general manager. "[We] just remind people to social distance and to wear their masks as recommended."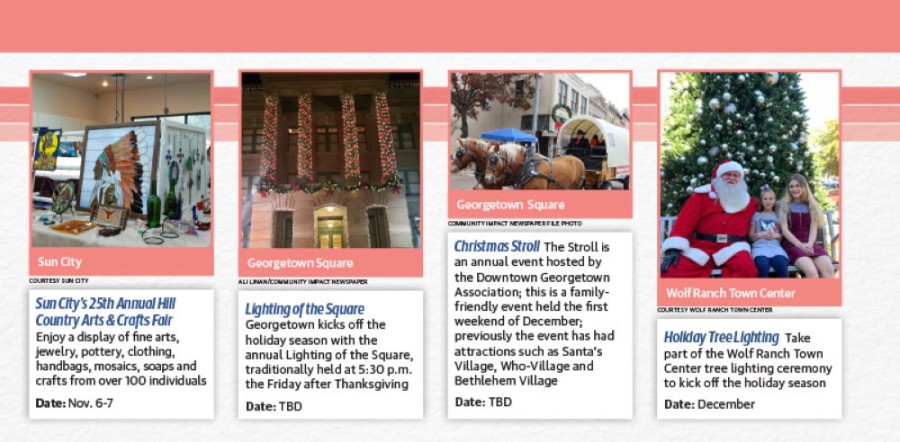 On April 27, the Centers for Disease Control and Prevention announced that individuals who are fully vaccinated should continue to take precautions but would not be required to wear a mask or social distance from others who have been fully vaccinated and do not have to wear a mask outside when proper social distancing is possible.
Approximately 42% of residents are fully vaccinated, and 58% of residents have received the first dose of the vaccine as of May 9, according to WCCHD data.
Williamson County is working through the last of its mass-vaccination site appointments and will formally close all major sites by May 21, Williamson County Judge Bill Gravell said. However, residents will still be able to receive doses from their local health care providers, clinics and pharmacies.
If herd immunity, which is considered between 70%-85% by national experts, is not reached, the CVB plans to continue to host live events following health guidelines, Miller said.
Businesses rejoice
With the return of events, businesses—especially those on the Square—hope for an increase in customers and revenue, which has drastically decreased since the pandemic first hit Central Texas in March 2020.
In late April 2020, businesses were told to shut down to help reduce the spread of the disease. After approximately a month, businesses were allowed to reopen but at limited capacity, which continued to hurt profits, local business owners said.

While businesses found creative ways to operate with restrictions, many said the live events returning will definitely help, especially for businesses that rely heavily on foot traffic.
"I do believe [the return of events] will help businesses who are supported by foot traffic," said Jim Johnson, Georgetown Chamber of Commerce president.
Barking Armadillo Brewing, which hosts many live music events, is one of many businesses that have had to close and then adapt to reopening in a limited capacity. For now, the brewery is hosting its events outdoors until there is a bigger shift toward normalcy.
"I hope that we reach herd immunity," said Jacob Trimm, owner of Barking Armadillo Brewing. "We are looking forward to having more people come out as they feel more comfortable, and I think that we'll be able to open a lot more, more activities inside, return to somewhat normalcy, reach full capacity and not feel uncomfortable about space."
To further help business on the Square, CVB officials are coordinating smaller-scale events to help increase foot traffic, Miller said.
She added that CVB staff will also continue marketing campaigns featuring businesses on the Downtown Georgetown Facebook page.
"[The return of events] will make us more busy," said Shep Shepard, manager of All Things Kids on the Square. "Masks are recommended but not required, and we are still doing our best to maintain a healthy environment for everybody here."
Incoming tourism revenue
Revenue from hotel occupancy tax saw a 30%-50% decrease between October 2020 and February 2021, Miller said.
This money is the CVB's main source of income and is used to put on events that help support local businesses. Miller said she is hopeful funding will return.
"We anticipate that tourism stays will begin to increase as more people are vaccinated and begin to stay in hotels," Miller said. "However, since large events that are typically planned months or years in advance may not return for several months, it may take a while for hotel tax revenue to return."