With more driverless cars expected to be seen cruising Austin's roadways over the coming years, city transportation planners are involved in several initiatives aimed at improving local infrastructure to better accommodate the autonomous traffic that could soon be on the rise.
During a May 13 media briefing, Austin Transportation's assistant director Jason JonMichael detailed recent progress the city has made in its partnerships and preparations for a future where vehicle control is not only out of human hands, but also connected to surrounding cars and the city itself.
The city of Austin and local companies have been plugged into autonomous vehicle
planning
for years, with entities ranging from
Capital Metro
to Ford Motor Co. having recently tested driverless options on local streets. JonMichael said Ford, which has partnered with Austin's Smart Mobility Office, is now running mapping and other operations for its fleet of autonomous vehicles around town. Other potential robotic vehicle initiatives that could be deployed in the near future center on needs such as grocery or meal delivery.
JonMichael said the city does not partner with every autonomous vehicle player that comes to town, and is not aware of the total number of such cars now operational in Austin. However, he said ongoing talks surrounding new corporate initiatives and the programs already in action point to the city's established place in the autonomous vehicle sector.
"It's really a great example of Austin's very vibrant technology marketplace and how we've really built out a worldwide and a world-class workforce here in Austin to be able to support that," JonMichael said. "That's what's really attracting not only the companies but the [connected automated vehicles]. ... We're working with Ford right now, but definitely in talks with every other major [motor vehicle manufacturer] on the planet. And then new ones too that are just now looking to come to market with their new vehicle platforms and solutions."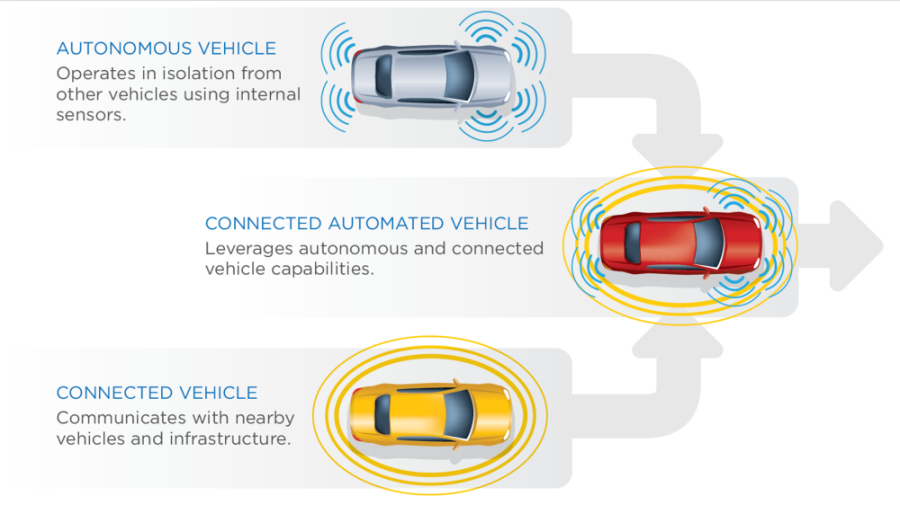 With even more autonomous vehicles on the horizon, JonMichael said city staff across departments are also working to update city facilities to benefit those types of cars as well as mobility for those who choose to "walk and roll" around Austin. One such focus is the expansion of private infrastructure network nodes, or PINNs, which could be built out in existing poles or similar structures to provide community networking services via devices such as residents' phones or a vehicle's dashboard.
"Autonomous vehicles by themselves that don't communicate with any other thing are not that much more intelligent than a human driver, but if we can create a network where those vehicles are able to communicate with one another as well as get information from our built environment—how our signals are about to change, for instance from red to green—that allows a more safe operation of a lot of these new emerging technologies within the Austin area," JonMichael said.
According to a May 13 statement, the city is currently exploring how PINN pilot programs could be rolled out and what such nodes could include. Directional and traffic systems, sensors and computers supporting artificial intelligence are among the possibilities listed by the city and JonMichael.
"We're continuously facilitating partnerships and collaborations with regional stakeholders to ensure emerging technologies meet the needs of our community," JonMichael said in the statement.