Residents of long-term care facilities have been some of the individuals
most impacted by the coronavirus
, in Austin and beyond.
But with the vast majority of residents in senior living communities vaccinated, staff say things are improving. A year ago, nursing homes, assisted living and independent living communities for seniors were locked down, and residents were unable to have visits from family members and loved ones to minimize the risk of COVID-19 spreading among medically vulnerable residents.
Some communities were able to keep infection rates low, such as the North Central Austin retirement community Westminster, which to date has only seen around 1% of residents contract the virus. However, overall, Travis County long-term care facilities have had 3,436 coronavirus cases as of June 9, and 308 of the county's 873 COVID-19 deaths were residents or staff of long-term care facilities, according to Austin Public Health data. Lee Ann Lee, executive director of The Watermark at Southpark Meadows, an assisted living and memory care-focused retirement community in Southwest Austin, said morale improved dramatically at The Watermark when the coronavirus vaccine became available on campus through a partnership with CVS in December.
"We had the biggest party you've ever seen," Lee said. "It was actually quite an emotional day even. The anticipation had been there for so long, and it had been such a rough season of their lives that when we had that vaccination day, it was fun and smiles and laughter."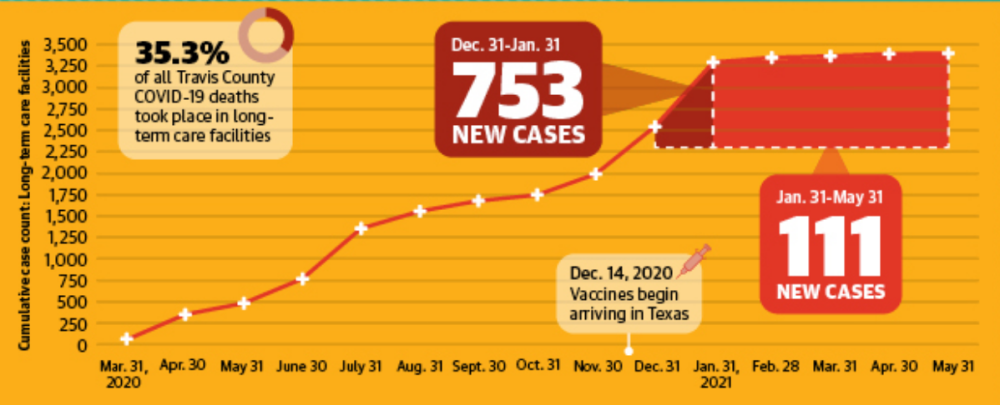 All of The Watermark's residents are now vaccinated, with around 65% of staff vaccinated. Many communities throughout Travis County also received early access to the vaccine last winter. By the end of January, cases in long-term care facilities had plateaued: Between Feb. 1 and May 31, 111 coronavirus cases were confirmed in Travis County long-term care facilities.
The safety provided by the vaccine has allowed senior living communities to relax some of their health precautions. Many, including The Watermark, now allow guests to visit residents, provided they wear masks and undergo a temperature check. Residents are also able to socialize and enjoy activities with one another.
"Brains really thrive on novelty and a stimulating environment," said Annette Juba, deputy director of AGE of Central Texas, which operates a day center for seniors. "People were really eager to be in the same space again to see other people, to interact directly versus through a screen."
Though it was a difficult and at times tragic year for the senior care industry, there were positive outcomes, too. Westminster Executive Director Charles Borst said his residents were inspired to learn new technologies to help stay in touch with loved ones and keep entertained, skills they continue to use.
"All of a sudden, there was a real need to stay in touch with family and see family," he said. "I think it challenged them and helped them break down some barriers to technology that they had."
Many families and caretakers who decided to avoid long-term care facilities in the past year, either because of concerns about safety or isolation, are now reconsidering. Anna McMaster, owner of CarePatrol of South and Central Austin, a service that helps people navigate senior care options, says her business has picked up dramatically since 2020 as older adults and their families seek needed care.
"I've seen a lot of seniors that have really been isolated and spent a good year or even more in their own homes not being around their peers and losing mobility," McMaster said. "I've had a lot of seniors who have let some of their care lapse ... but people are feeling more comfortable in seeking out those services now."