Over the last several weeks, Virginia Waldrop has been regularly meditating.
Meditation is a practice only recently picked up by Waldrop, who graduated on May 21 as part of the inaugural class of the Dell Medical School at the University of Texas at Austin, in an effort to stay sharp as she prepares to enter residency at the Hospital of the University of Pennsylvania. In her preferred meditation technique, "noting," she works to gently acknowledge when her mind wanders off in thought or feeling, to not get lost in those thoughts and to understand and appreciate their transience. The practice aims to help participants remain present and navigate change.
In the weeks leading up to graduation, Waldrop did not expect resiliency training to come through moments of quiet solitude and guided meditations on her phone. Like most fourth-year Dell Med students, she expected to be sharpening her skills and mental toughness at a hospital. Specifically, Waldrop thought she would be in Kenya, gaining hands-on experience in the country's health care system with a small group from Dell Med. Once the virus began spreading locally in mid-March, the school pulled all students from hospitals and canceled international travel.
The graduation of Dell Medical School's inaugural class was meant to be a historic ceremony for the university and Austin community, which, back in 2012, approved a tax increase to spend $35 million annually on developing the new school. Rather than inside a hall surrounded by classmates, faculty and family, Waldrop officially became Dr. Waldrop as she streamed the mostly pre-recorded ceremony on her 13-inch MacBook Pro, seated on her classmate's front lawn in North Austin. Her family remained in Houston for the event, and she remained 6 feet away from her classmate and his family.
Although less ceremonial, the school's dean, Clay Johnston, said the moment remains historic.
"This is really a once-in-a-century kind of thing," said Johnston, who watched the ceremony from his sofa after a long day of coronavirus-related meetings. "The last outbreak we had like this was in 1918 and, yes, there have been other very different points in history where the medical profession was defined differently—in the midst of world wars, the job looked different—but I think this is a really historic and, thankfully, unusual time."
For the 49 students in Dell Med's first graduating class, the pandemic upended many expectations associated with the finale of their medical school careers and the world they enter as healthcare professionals. Many now head to the front lines in the battle against the coronavirus.
Released from the waiting room
Students heading into residencies where they will interact directly with coronavirus patients said the local lockdown and the university's decision to pull them from clinical rotations have left them with little notion of what to expect on the front lines.
After watching graduation from his empty East Austin apartment, Juan Resendez, a Laredo native, began his road trip out to Los Angeles. He was accepted as an emergency medicine resident at the University of Southern California's hospital—his dream program. Resendez found out he would be heading out west in mid-March, when Los Angeles was one of the U.S. cities most impacted by the coronavirus outbreak. As of May 25, Los Angeles County totaled more than 45,000 confirmed cases.
"It definitely made me nervous; being in emergency medicine means you deal with this kind of stuff, I just never thought I'd be starting residency in the middle of a pandemic," Resendez said. "It's something that hasn't quite sunk in and part of it is because I've been home, social distancing and I'm not really seeing what the front line truly look like. I'd be lying if I said I'm not a little nervous."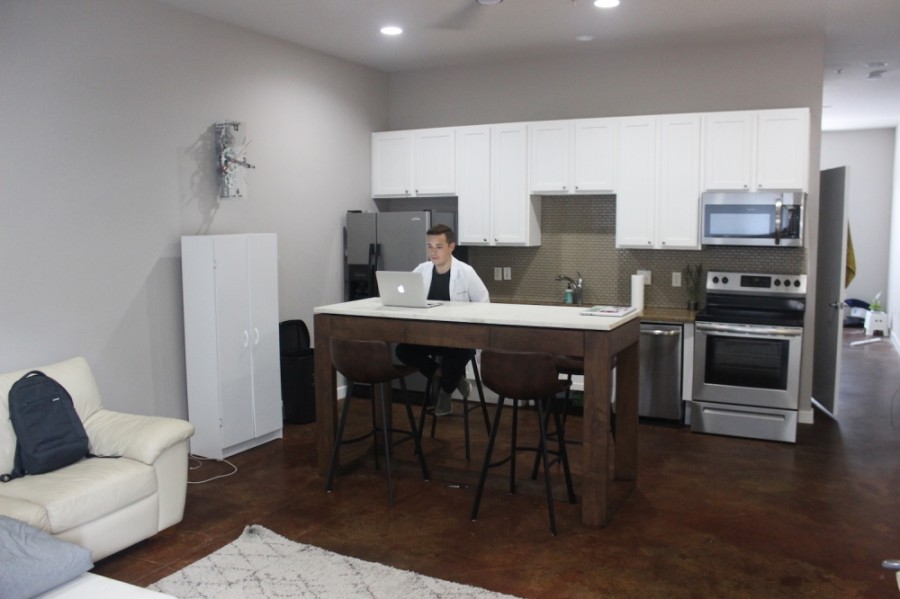 Anatoli Berezovsky, a Wisconsin native who will begin his residency next month in Fort Worth, expressed a nervous excitement. As a family medicine resident, Berezovsky will interact directly with coronavirus patients, of which Tarrant County had 4,711 as of May 25. Berezovsky said he hopes to bring principles of honesty with him into the health care profession and always be upfront with his patients in a moment when people are looking to their doctors for answers.
"It's the responsibility that I've been looking for, but it's a huge responsibility to go into a room and tell people, 'Hey, this is what I think is going on,'" Berezovsky said. "I'm definitely nervous but also excited. You don't want to lead people astray. You just have to work your butt off to make sure you're doing the best you can to help people."
Waldrop said she was worried that the disruption in the clinical schedule and subsequent lockdown over the last two months would make it hard to "hit the ground running" in residency.
Johnston, emphasizing his confidence in school's first class of doctors, said that was nonsense.
"The students are totally ready," Johnston said. "They may feel a little more out of it, a little rust, but it will take them all of one day to remember how to be great doctors. I'm not worried about that part."
Preparing for the pandemic and beyond
Megan Ward, who will begin her residency in family medicine at Cahaba Medical Care in Birmingham, Alabama, in June, said relationship building was part of what pulled her toward a family medicine track. In the time of a pandemic, she said, that will bring its own challenges and require "a lot more intentionality and following up." Jefferson County, which includes Birmingham, had 1,573 confirmed coronavirus cases as of May 25.
Ward said she thought there was a large gap between being a fourth-year medical student and being a doctor during a pandemic. She expects the job to be more emotionally, physically and mentally stressful but said she would not want to be doing anything else during a pandemic.
"Starting residency in the midst of a pandemic is a little interesting and uncertain, but it's what we signed up for," Ward said. "I and all of my classmates signed up to help people and walk alongside them in whatever they're going through. It's really just an honor to be able to go into residency at this time and just try to be the best young physician I can be. We've been placed in a position that is unique and requires a lot of responsibility. I'm just excited to try and help people and get their health back so they can have the best lives they can."
Resendez became inspired to enter the medical profession after spending his middle school and high school years as his mother's primary caretaker and watching how difficult it was for his mother to navigate the health care system on her own. He chose emergency medicine because he felt it gave him the greatest chance to interact with society's most underserved populations. Resendez said he doesn't know what to expect in residency but said his sights are focused on more than just the coronavirus.
"For me, it's really important to think about health disparities and social justice. If I can continue to practice with these things in mind, it's going to be a very fulfilling career for me," Resendez said. "I have no idea what it's going to look like day to day as a first-year emergency medicine resident, but I guess I'm just going to take every experience as it comes and continue to remember that it's such a special, important time to be entering residency, especially as an emergency room doctor.
Once all this coronavirus stuff goes away I really do want to take all these values and skills that Dell Med has instilled in me and continue to innovate health care."
Waldrop, who also gravitated toward medicine with improving the larger health care system in mind, said in the time of a pandemic, she and her classmates are moving forward with a heightened sense of purpose. She expects to face several storms during her medical career, the coronavirus included, and hopes her meditation practice and the skills learned at Dell Med will prepare her and her classmates to handle those storms with grace.