Inside Texas Chili Parlor, an Austin institution at 14
th
and Lavaca streets, Lynyrd Skynyrd's "Free Bird" was playing over the speakers as bartender Sysali Wright helped seat another customer, one of at least 10 occupying the restaurant's dining room.
The clock read about 12:30 p.m. May 1 on the first day restaurants could offer dine-in service since Austin authorities shut down dining rooms across the city on March 17. The measure, meant to curb person-to-person contact and slow the spread of the highly contagious coronavirus, carried
significant economic consequences for restaurants and small businesses.
"Today, we're doing pretty well," said Wright, an employee since November and a customer of the famous Austin haunt since she was 5 years old. "I wasn't even expecting to have to seat people in the back room."
Given the green light by Gov. Greg Abbott earlier this week, restaurant owners across the city and state were faced with a decision. They could open, but should they open? Just one day earlier, Texas reported 50 confirmed coronavirus deaths, a daily record since the pandemic reached the Lone Star State. Officials also confirmed 1,033 new cases of the virus in the state on the same day, the most since April 10.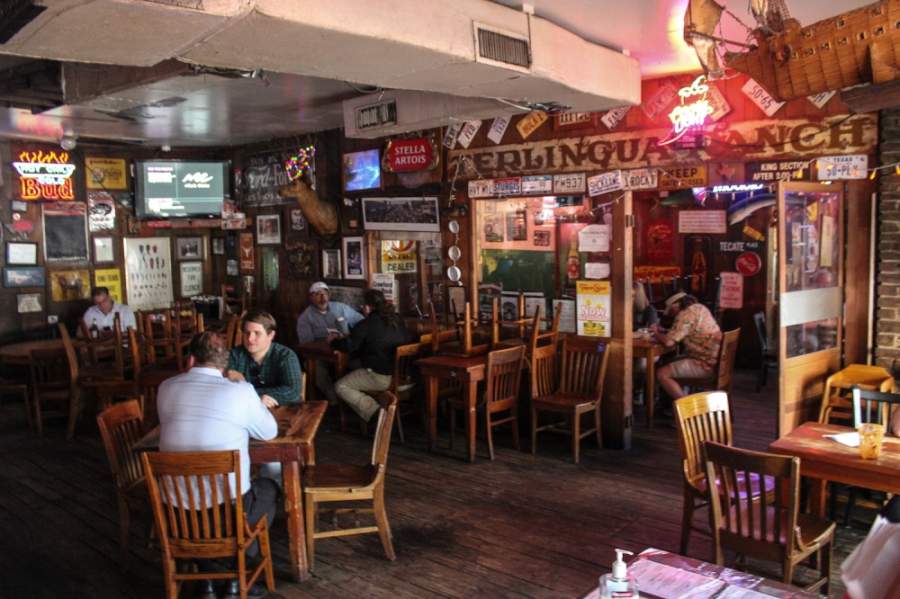 In Austin, where confirmed cases jumped by 63 and deaths rose by three on April 30—bringing the totals to 1,654 and 47, respectively—many restaurant owners decided against opening on May 1. Some have plans to open within the next two weeks. Austin staples such as Sap's Ver Fine Thai Cuisine and Baby Acapulco's said they would open on Monday, May 4. Others, such as Arturo's Underground Café, which has remained dormant throughout the shutdown, posted signage that it would open for takeout on Monday, May 11.
Others remain unsure.
"The very thing that's saving lives, staying home and doing nothing, is also the thing that is slowly killing millions of small businesses and the jobs they create," Banger's Sausage and Beer Garden owner Ben Seigel wrote on Instagram April 30. The pandemic has already shuttered several legacy businesses, from Magnolia Café to Threadgill's.
Some Austin staples open up
Some, however, were ready to go on May 1 and even saw some success.
Terry Black's BBQ on Barton Springs Road buzzed with customers, both dining in and picking up, just after they opened their doors at 11 a.m. Michael Black, co-owner of the popular barbecue restaurant, said he brought on 25 staff, from the barbecue pit workers to greeters and sanitizers.
"When we opened, we brought a bunch of people back. It's yet to be determined if we can pay for all that stuff. We'll see what happens," Black said.
He said he's heard from critics who disagree with the decision to open while the pandemic is still moving through the community. Black said he considers the restaurant to be an essential business, for both customers and employees.
"I hear people say, 'Oh, you guys are money hungry,' ... we're not making any money. We're just trying to break even," Black said. "We're trying to get our employees paid—they've got to get food on the table. It's exciting to see our co-workers come back. Everyone is excited to be back."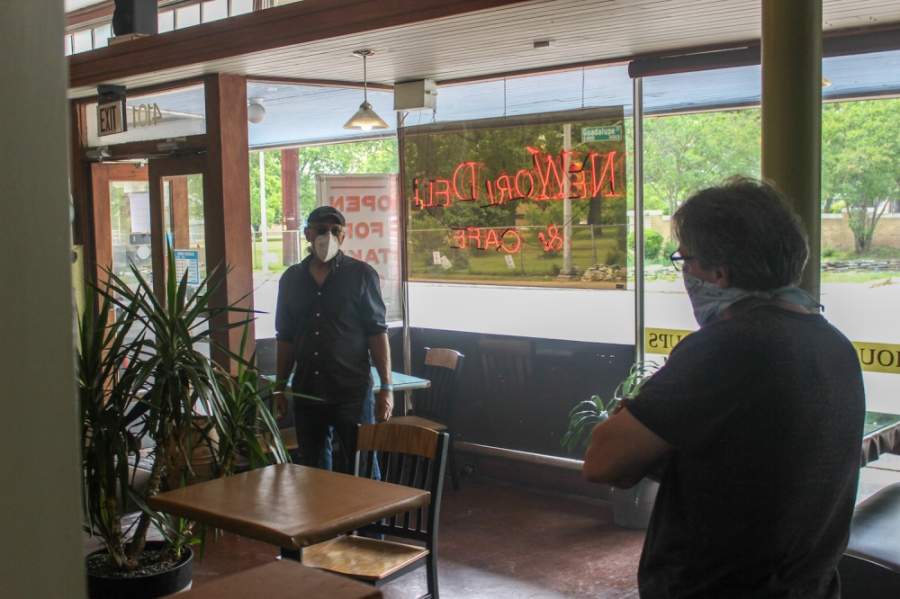 Seated at the far corner of Terry Black's deck was a group of four who were on a day trip from San Antonio. The group was celebrating the victory of a family member and close friend in her battle against leukemia. It was their first time at Terry Black's.
"It's just nice to eat outside on deck rather than in our car," Tony Espinal said. "We were at the lake, and my girlfriend Google-ed 'number one spot to eat lunch in Austin,' and here we are."
At Guadalupe and 41
st
streets, Greg Bontempo's NeWorlDeli opened for lunch. He said his first dine-in customer in more than six weeks was an elderly woman named Daisy, a familiar face during normal times, who ordered a grilled chicken sandwich on sourdough, no onions.
Bontempo said he reopened his restaurant as a test run and will reassess the decision each day. He said he's polling customers as they come in to glean some perspective on how they feel. He said he started the day under attack. Bontempo said a customer called to aggressively vent her frustrations over the decision to reopen. She told him she would never come to the restaurant again.
However, Bontempo said his staff was taking extra precautions. Abbott's order said restaurants can open only at 25% capacity—NewWorlDeli was limiting it to a quarter of that. The orders also mandated that customers remain six feet apart from each other and maintain social distance. Bontempo said they were practicing eight to 12 feet of distancing. He said his staff, only three of which are not family members, were OK with the decision to reopen. He stressed that he would revisit the decision each day.
"We're offering people the opportunity; we want people to decide for themselves," Bontempo said. "You have the option. I don't think the floodgates are going to open. Today, we just said, 'Let's see what happens.'"
As Bontempo talked about serving only four customers all day—they typically would have served 100 by that point—a fifth customer, a regular named Steve, walked in through the back entrance. However, he was unable to sit at his usual table because it was stacked among those temporarily decommissioned by the pandemic.
At Texas Chili Parlor, Wright received another order for a Miller High Life. Although she said someone close to her died because of the virus, she is not overly concerned about working her shift. She said the customers also appeared comfortable.
"The people coming in aren't seeming so afraid, which is good," Wright said. "Everyone is following protocol. That's all we're asking. As long as everyone does what they need to do to be safe, we'll be good."