Law enforcement officials said they will continue to adjust aspects of the Texas Department of Public Safety's ongoing deployment in Austin, while several city officials shared concerns about disproportionate arrests and traffic stops of minority residents through the program's first month.
What's happening?
A
partnership
between the DPS and the Austin Police Department aimed at crime reduction and traffic enforcement began in late March. City and police leaders said the initiative is needed to support the short-staffed police department, and state troopers have primarily been patrolling some high-crash roadways and parts of Austin where police said most emergency 911 calls come from.
In the few weeks since DPS patrols began, the APD said the numbers of 911 calls and violent crimes reported in Austin
have dropped
, while police have been able to respond to emergencies faster. DPS Director Steven McCraw also reported his troopers had backed up APD officers more than 1,100 times, made 780 total arrests, and seized dozens of firearms and hundreds of pounds of drugs as of May 1.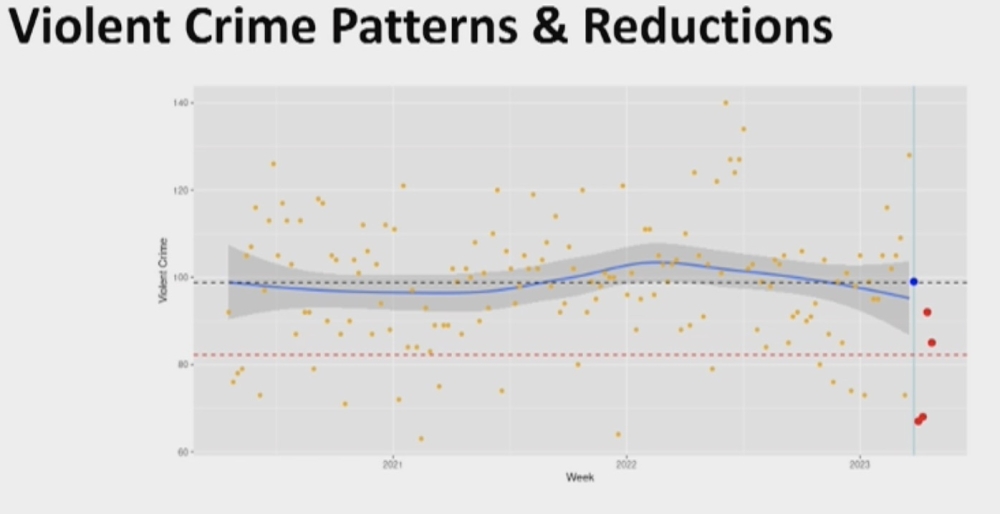 "What we see happening here is exactly what we should expect to happen given what's known about the nature of patrol," APD Chief Data Officer Jonathan Kringen said.
However, he and others also noted the results are fairly preliminary, and more statistical review will be needed. Kringen also said it will likely be several months before data on the outcomes of traffic enforcement can be fully analyzed.
DPS and APD leaders have said the "hot spot policing" deployment is guided by data with APD Chief Joseph Chacon responsible for managing the DPS support and where troopers operate. At the same time, some local groups and City Council members have
expressed unease
about the effects of heightened patrols that have primarily affected Austin's minority communities since March.
In late April, County Attorney Delia Garza's office
released arrest data
showing DPS was mainly arresting Black and Latino people on misdemeanor charges. Traffic stop data provided by McCraw also shows an uptick in the share of Hispanic or Latino drivers DPS troopers have been pulling over in Travis County compared to previous years.
DPS already pulled over more Hispanic/Latino drivers in the county than it did in all of 2021, with more than half of all traffic stops tracked through the Austin operation being Hispanic/Latino drivers.More than 71% of the agency's traffic stops year to date came during one month of the DPS partnership. The number of traffic stops logged in the past month also represents more than 63% of all DPS stops logged in 2022.
A closer look
Concerns over those trends and the overall outcomes of the partnership were raised during a May 2 council work session discussion with Chacon and McCraw.
Mayor Kirk Watson opened the briefing by pointing out APD's public safety reporting alongside the "troubling" lopsided demographic data reported so far. He said there is a need to "recalibrate" the operation and that it cannot be a success if community members continue to feel uncomfortable with the DPS patrol system.
"If there are unintended or unwanted consequences, we must address them immediately," Watson said. "We want to ensure Austinites don't fear that they'll be racially profiled or targeted by this effort."
McCraw said DPS troopers are not engaging in any racial profiling while following APD's lead on directed patrols and enforcing all laws on Austin streets. He also said the jump in traffic stops of Hispanic/Latino drivers was an expected outcome given where his troopers have been working this spring.
"Where the Hispanic population is higher, you can expect that we bring in 80 troopers and 20 special agents, that the number's going to be increased dramatically," McCraw said.
Chacon also pointed to the locations of focus so far as a reason for the disparate outcomes based on race. He said APD and DPS now plan to shift their strategy to cover more of the city.
After initially focusing on certain communities and central highways, Chacon said the DPS effort is now set to expand to different neighborhoods and patrol routes, such as Loop 360, FM 2222, Southwest Parkway, South First Street, South Congress Avenue, West Slaughter Lane and West William Cannon Drive.
After hearing from the law enforcement leaders, several council members pressed for further data reporting from both the DPS and the APD, and asked for more consideration of how targeted patrols end up affecting residents.
"There are areas where I think that this operation could really make a difference and be effective, but it simply cannot be at the expense of our east side communities where we're seeing a disproportionate amount of ticketing happening," District 2 Council Member Vanessa Fuentes said.
District 10 Council Member Alison Alter raised several questions about the police data and how it ties into the experiences of the many Austinites who have lodged profiling concerns since late March. She and others also pressed for more strategic work centered around moving violations on roads and proactive crime deterrence in communities rather than broader enforcement seen so far.
"I know that there's a commitment to making sure this is data driven; I trust that these are very targeted exercises that y'all feel will make our community safer in the long run. But I don't want to discount when our community comes to us and says, 'We are being unfairly targeted,'" Mayor Pro Tem Paige Ellis said.
Council Members Natasha Harper-Madison and Chito Vela, representatives of districts with higher shares of Black and Hispanic residents, also called on the APD and the DPS to weigh the fallout of more heavily policing Austin's minority communities even if the program puts some dent in crime.
Vela warned against the operation becoming "vehicular stop-and-frisk," and Harper-Madison said an exclusively data-based approach by police does not account for the human element of unbalanced arrests—especially if similar crimes are being committed in wealthier and whiter parts of town.
"I understand, and I wouldn't dispute that targeted patrol is going to have an effect on the crime in the targeted area," Vela said. "I guess I would ask that we also be sensitive to the collateral consequences of targeted patrol in minority neighborhoods where we're seeing young kids pick up felony cases, get their cars towed. Those are major events and can be quite damaging for the folks involved."
What's next
Officials including District 6 Council Member Mackenzie Kelly called for updates on the DPS presence in Austin to become a regular feature of council meetings going forward to allow for continued review and community input. Law enforcement representatives also said they will provide more data on topics requested by council.
The DPS program is likely to continue for at least several months. City and police officials laid out the APD's continuing need for staffing support with 1,490 of 1,812 budgeted officer positions filled as of mid-April—a nearly 18% vacancy rate—and daily police patrols still dozens of officers short of levels recorded several years ago.
Watson also said the completion of Austin's
May 6 election
represents a starting point for stabilizing staffing and other public safety issues. Council
effectively pushed off
contract talks with the Austin Police Association in February to allow voters to decide on the two police oversight measures on the ballot, after which negotiations over the next long-term deal with the police union could pick back up.
"This council has been moving, I think, pretty aggressively in trying to address the issues of policing and public safety," Watson said. "And I think this bridge allows us to continue to move with that aggressiveness to get to the proper result and as fast as we can."
Council will next discuss the DPS operation during a specially called Austin Public Safety Committee meeting May 22 at 10 a.m. at City Hall.