Leander business owner Amy Schaffner was alerted Feb. 17 that glass had broken in her restaurant, Farm to Fork.
The main water line froze, ruptured and triggered the fire-suppression system. The restaurant was filled with about 6 inches of water once the fire department was able to shut the water off, Schaffner said.
"It's already been a tough year, and this on top of it—it's pretty devastating for us," she said.
Fortunately, the flood came at a convenient time. The restaurant's lease ends in May, and Schaffner hopes to relocate the restaurant to Liberty Hill in April.
Stories of neighbors and communities forging through the winter storm's aftermath quickly emerged across the area. When news of Farm to Fork's crisis spread, the community responded, donating over $5,000, which is about a week of payroll, to a GoFundMe account, Schaffner said.
"You never want to ask anyone for help, but with COVID in the last year it's already been tight for us," Schaffner said. "We're a small business."
Farm to Fork was one of several Leander and Cedar Park home and business owners that suffered some kind of property damage to their business after a severe winter storm barreled through Texas, bringing frigid temperatures that caused power and water outages and caused many pipes to break.
Community help continued at Hill Country Community Ministries.
HCCM is a nonprofit that primarily serves western Williamson County through a food pantry. When the Leander pantry, volunteers with four-wheel-drive vehicles delivered food to about 35 families in Leander, Florence, Georgetown and Briggs.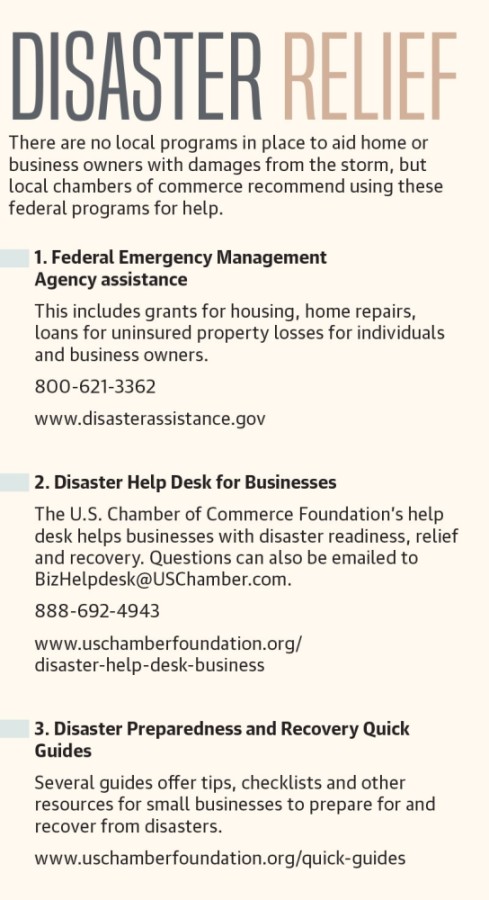 "We just knew people were really, really struggling to get emergency food and—being in Leander—water," Executive Director Tiesa Hollaway said.
With limited availability from its regular partners, the nonprofit's leaders and volunteers pulled donations from other area food pantries and churches to build food boxes for families
Volunteers gave away about 250 boxes of food, which totaled 10,000 pounds, to families at Danielson Middle School on Feb. 20. In two hours, all the boxes were handed out, and people were sent to the Leander food pantry for more food, Hollaway said. The pantry also filled water for 80 families Feb. 19-21.
"There's a lot of people who lost a lot of food, and monetarily it's just hard for them," Hollaway said. "I mean some of these people aren't even out of COVID-19 and the financial effects of that."
The nonprofit is now seeking donations of food, water and money so the pantry can restock its shelves. Volunteers at the Leander thrift store said donations of blankets and coats are also needed, Hollaway said.
Winter storm damage
Requests for plumbers, tree trimmers and other repair companies increased following the storm as homeowners sought to fix damage from winter weather and its effects.
Cathey's Tree Trimming typically receives 10 or 15 calls per day for business. Since Feb. 11, the Cedar Park business has averaged over 100 calls daily. Someone now has to man the phone all day, even though the company cannot service every call, owner Doug Cathey said.
Days of record-breaking, subfreezing temperatures wrecked tens of thousands of trees across the Austin, Cedar Park and Leander area, Cathey said, adding that his waiting list is about three to four weeks long.
"I would be happy to refer to other tree companies, but all the other tree companies are in the same boat," Cathey said. "They have more work than they can get done."
Cathey said trees have gone through roofs and left people homebound while their cars were submerged in branches. He added this is the worst disaster and busiest season he has seen, aside from working in the Houston area following Hurricane Harvey.
"A lot of this work is stuff that the average homeowner can't do," he said. "We use safety ropes, harnesses, bucket trucks—very delicate work that is extremely dangerous."
Becky and Pete Tamez, owners of Isle Acre Farms in Leander, describe this year's winter season as a "tropical blizzard." Days of snow, ice and freezing temperatures were scary for the farmers, but about 90% of the crops survived the freeze, they said.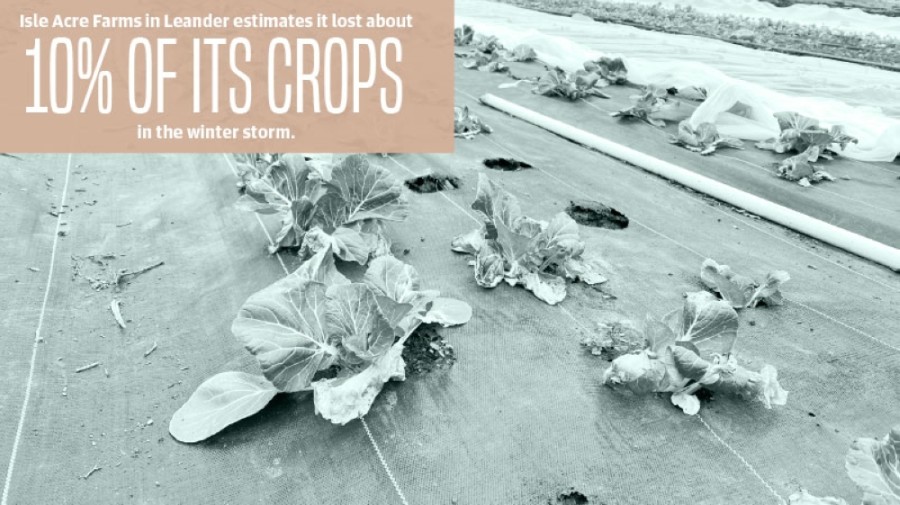 For the surviving crops, the layer of snow worked like an igloo to insulate the plants. But many of these crops will harvest at a smaller size, Becky Tamez said.
With the farm's next Community Supported Agriculture program set to begin in the spring, the Tamezes said they are planting crops that will grow in about 20-30 days rather than the usual 60 days due to limited growing time.
"The next couple of weeks is trying to make sure I can meet that launch date without delaying it for those customers," Pete Tamez said. "A lot of the stuff we have should be about a week bigger by now."
The crops that did not survive the week included all the broccoli and some of the kale, collards and other crops, they said.
"We lost the ones that we were going to be selling as transplants, so we kind of took a hit financially because we projected that income," he said. "At the end I'm sure the community will come out and see that there is food here."
'Neighbors helping neighbors'
HTeaO was one business that opened its water resources to the community.
Marcus Dawes, one of the owners of HTeaO in Cedar Park, said when the iced tea store reopened Feb. 19 at noon, there was a line from the New Hope Road store to the street.
Dawes said they sold more than 1,000 gallons of water that day and more than 4,500 gallons that week. Comparatively, the store uses up to 150 gallons per day on average.
Many customers were from outside Cedar Park where boil water notices were in effect, Dawes said, but throughout the weekend, people in line would pay ahead for several cars behind them.
"It was almost like we were the home base for the community to impact each other at our store," Dawes said. "And I think that was the thing that really overwhelmed me emotionally."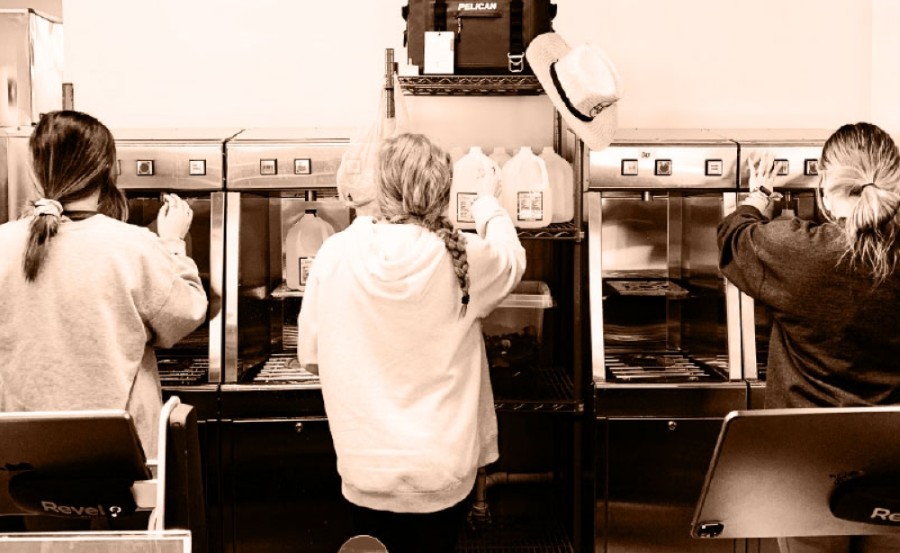 Largely, Cedar Park businesses were not severely damaged from the storm and had no widespread water problems in the city, said Tony Moline, Cedar Park Chamber of Commerce president.
"We certainly were hit, but the community really came together," Moline said.
Moline said there were stories of businesses offering resources to residents and to each other, such as free water filling at Whitestone Brewery and Red Horn Coffee House and Brewing Co.
"Businesses helping businesses just like neighbors helping neighbors," he said.
Similarly, Leander businesses were also generally unscathed from the storm, Leander Chamber of Commerce President Bridget Brandt said. But the city was under a boil water notice from Feb. 16-23, and many water customers did suffer from water outages because of power outages and freezing temperatures.
Some restaurants lost water, which temporarily prevented them from opening, and many businesses closed for about a week, but there was not widespread damage aside from the damage to Farm to Fork, Brandt said.
"If you really want to help people, go shop," Brandt said. "Go to the local business that you normally do. Go do it right now."