Tina Mallach's family opened Cedar Park Fabrics in 1994. Today, the two buildings where the business stood on Old Hwy. 183 are demolished. The business, now Plush Fabrics with new owners, has moved to RM 620.
The city of Cedar Park used eminent domain to take and demolish Mallach's buildings—and several neighboring properties—for the project to realign Bell Boulevard to the Old Hwy. 183 route. As required by law, the city compensated $342,000, which is about $62 per square foot, is nearly equal to what the land was purchased for decades ago, Mallach said.
"That was obviously not what we had expected or wanted considering we had paid $350,000 for it 30 years ago," Mallach said.
This is one example of Cedar Park's recent use of eminent domain, which is the ability for a government to take private land for public purposes such as road, bridge and water infrastructure projects.
Mallach, who is also a real estate broker, said because her property does not lie inside of the Destination Bell project, it was not considered as valuable based on the initial offer. In the ongoing eminent domain case, Mallach is asking for the fair market value of her Old Hwy. 183 property, which she considers to be $250 per square foot. ••At an April 21 hearing, the city's offer increased to $117 per square foot, an 88% increase from the initial offer. Mallach has since rejected the offer and hired an attorney to continue seeking a fair offer, she said.
Mallach is also asking for compensation on the property's area along Old Hwy. 183—6,200 square feet of land that is already under construction—and that county documents show Mallach owns. City documents, however, state the area is public right of way.
Because the lawsuit is ongoing, the city will not comment on Mallach's case.
"The city exercises its right of eminent domain to purchase private property for public use for fair and just compensation in accordance with the Texas Constitution and Texas Property Code," the city said in a statement. "As a general policy, the city will first negotiate with property owners without the use of eminent domain and reserves that right as a last resort."
Once the road work is completed, Mallach said she will be left owning and paying taxes on a smaller property with a narrow entry and ongoing Bell Boulevard realignment and redevelopment construction.
"This project is probably going to go on for a few more years at a minimum," she said. "So the landowner loses, and the landowners that don't have the resources that I have—they go broke."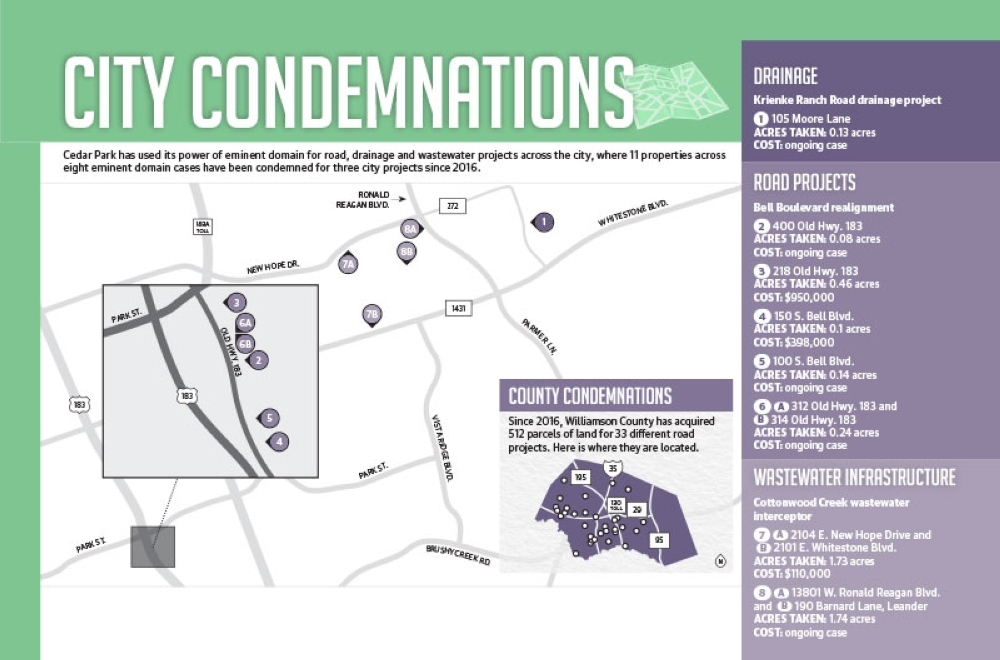 Defining eminent domain
Eminent domain use is when a government entity, such as a city or county, takes private property for a public purpose such as roads or pipelines. The terms eminent domain and condemnation can be used interchangeably, said Dan Gattis, a Georgetown eminent domain lawyer, but eminent domain is the power while condemnation is the process. Public purposes do not include economic development, and the landowner must receive "adequate compensation," according to the Texas Constitution.
Eminent domain is more often used in rural areas because urban or neighborhood land is more costly than ranch land. Nonetheless, Gattis said people are becoming more aware of eminent domain because it is used so much in the Williamson County area.
Gattis added that landowners in many condemnation cases settle or take the first offer because they are "scared to death of getting sued" or to push the entity into a lawsuit.
Gattis, a former state legislator, said eminent domain legislation reform is needed to create standard, minimum terms to help landowners who do not seek law counsel and to ease disparities in land value. Though some entities treat landowners fairly, he said, there is a significant improvement in seeking counsel for help in learning property rights and true value.
"I think they would be better off in the end if they at least get some counsel or get some advice through the process," he said.
Mallach's property was one of several properties bought by the city along Old Hwy. 183 for the Bell Boulevard realignment project, which began construction in November.
Other property owners were not willing to speak to •Community Impact Newspaper• for the story.
The realignment is the precursor project to Bell District, a $350 million redevelopment project to build a mixed-use, pedestrian-friendly neighborhood.
The Bell Boulevard realignment and Bell redevelopment projects tie into the overall Bell District concept, but are separate projects with different funding sources.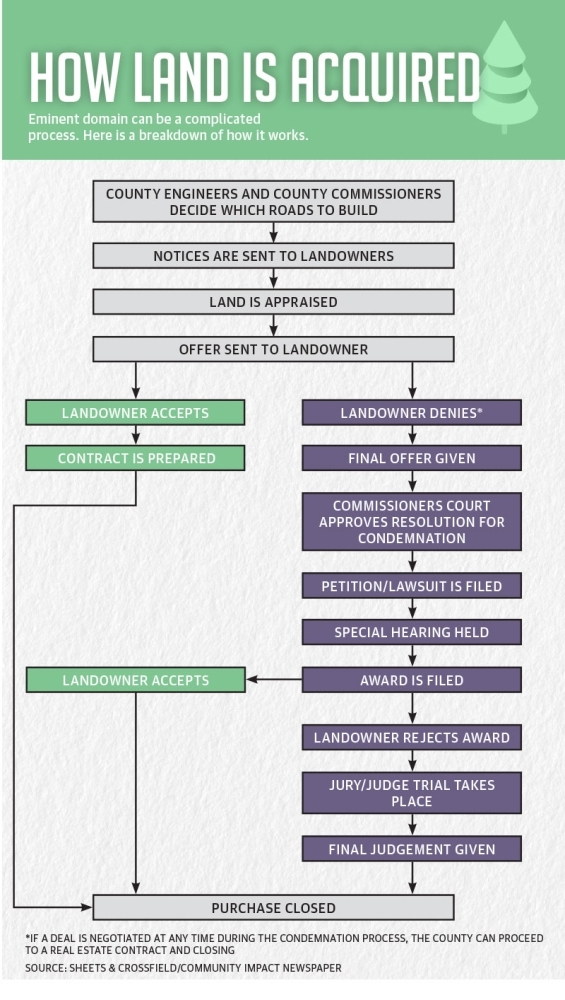 In Texas, eminent domain cannot be used for economic development projects, such as Bell District that uses public and private funds. But land purchased for the road realignment project could be taken through eminent domain as a city road project that used only public funding. The city did purchase land for Bell District but it did not involve eminent domain lawsuits.
The city of Cedar Park has used its power of eminent domain eight times since 2016, according to city officials. Properties were used for the Bell Boulevard realignment project, road drainage improvements on Kreinke Ranch Road and a wastewater project near Ronald Reagan Boulevard.
For comparison, in the same five years, the city of Leander reported zero cases of eminent domain use.
Cedar Park has spent about $307,000 on legal fees as an outside attorney represents the city in these cases between 2016 and April 2021, officials said. Of this amount, the five cases for Bell Boulevard realignment cost more than $273,000 in legal fees.
The "threat of eminent domain" and the power it holds is balanced in favor of the government entity or the "taker," Gattis said.
"The power of eminent domain and the condemnation process is like a gun to the property owner's head," Gattis said. "You're going to lose the property; you better start negotiating on price."
Purchasing land for growth
Gattis said he has seen Williamson County often uses eminent domain with the desire to plan for future growth rather than take land for a current need. Lawyers for government entities argue that purchasing land in advance to "land bank" saves taxpayers money, Gattis said, but he does not believe that is the purpose of eminent domain.
"The [Texas] Constitution says it needs to be for a public purpose and that purpose only," he said. "It can't be for a public purpose for 20 years from now."
Lisa Dworaczyk is the right of way coordinator for Sheets & Crossfield, which represents Williamson County and other area cities in eminent domain disputes.
She said while some entities do take early acquisition—or the purchasing of land before current need—into consideration when land is up for sale, it ultimately comes down to price and whether the entity can afford the purchase with current funding. However, if completed, those purchases are in line with the entity's already established plans, such as the county's long-range transportation plan, she said.
Williamson County as an entity is also using eminent domain to build roads, with members of the Commissioners Court regularly stating that in doing so they are trying to avoid the future traffic problems that can be seen in Austin.
"To be a successful community, there are several things that matter—safety's important; good schools are important; quality of life for employees is important; and what I would call transportability or getting from point A to point B," Williamson County Judge Bill Gravell said. "[Transportation] is the one area that I think the county has been very forward-leaning on and really well prepared."
Since 2016, the county has acquired 512 parcels of land for 33 different road projects. Those projects include Forest North Drainage in Anderson Mill and street signals on O'Connor Drive, among others, according to county data.
Of the 512 parcels, there were 43 resolutions for condemnation, or the threat of a lawsuit, with 28 filed lawsuits. However, only 15 saw a court proceeding, Dworaczyk said. She added that lawsuits are immediately ended when an agreement is made.
Dworaczyk reiterated that when Sheets & Crossfield is involved on behalf of the county or city it represents, the decision has been made, and the land will be purchased. The only thing up for discussion is the price, but even then—after receiving a certified appraisal on the land—there is little wiggle room.
"I would say the majority of our negotiated tracts will come within 20% or so of what we appraised it at," she said. "I can't just give [money] to you because you're asking for it. We have to be responsible stewards of the taxpayer dollar."