Cedar Park mom Ana Giles found herself with two new full-time jobs in 2020—virtual school teacher and parent caregiver.
Giles said her family chose to keep their three daughters in virtual school for family health reasons. Last April, her 82-year-old mom moved just a few blocks away from her house, relocating from Chicago to be closer to family.
Giles is one of many parents, and moms in particular, who have paused their careers in the last year and added the roles of caring for older parents and coordinating virtual classes due to the coronavirus pandemic.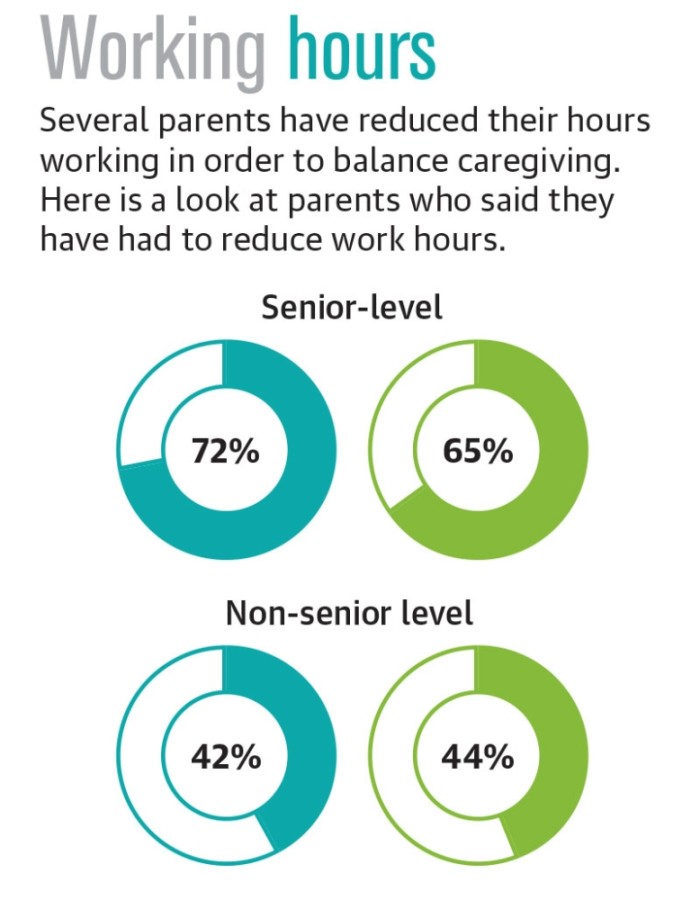 Mothers are more than three times as likely as fathers to be responsible for most of the housework and caregiving in the pandemic, according to a study from McKinsey and Co. about women in the workplace during the pandemic.
As a stepmom to a 13-year-old and mom to a 7-year-old and 4-year-old, Giles said she also became a new type of caretaker for her daughters as she cooks meals at home and spends her days coordinating school Zoom schedules.
The loss of social interactions at playdates and playgrounds has been hard for her and her children, she said. Giles added that she was becoming more involved with other moms and in the community right before the pandemic hit.
"It just compounded the feeling of isolation as a stay-at-home mom," Giles said.
Careers on hold
Giles paused her career as a real estate office manager when she had children, she said. In August, Giles' two youngest daughters would have been at the same school at the same time allowing her to begin working again. But the pandemic and her new roles made her return to work impossible, a decision that took a toll on her mental health, she said.
"When I realized that I was going to have to put my career on hold yet another year, I totally got depressed," she said. "It took me a while to snap out of it."
Giles was not alone in putting her career on hold. According to research by Catalyst, a nonprofit that works to accelerate women in the workplace, 71% of moms have modified their work routine during the pandemic to adapt to caregiving responsibilities compared to 65% of dads.
Giles' husband, Michael, said he became mindful as a husband of how stressful the pandemic was for Ana. Michael Giles, who works as a therapist, said they worked together to adjust his work schedule so Giles could have time to herself.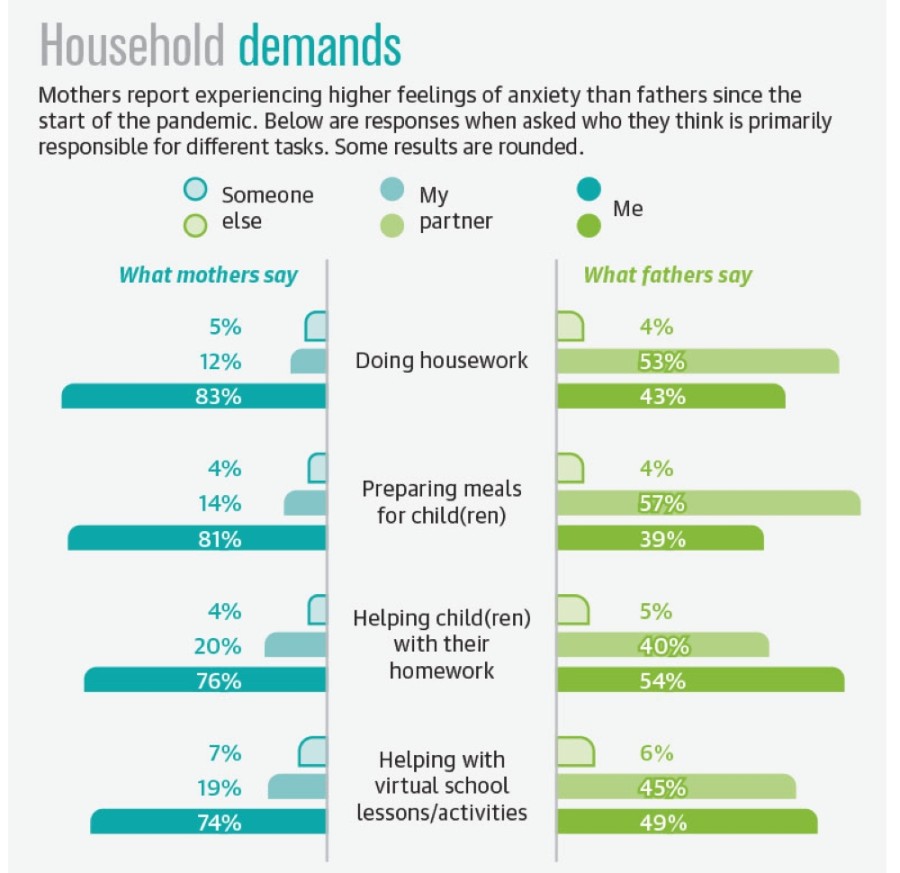 "The stay-at-home parents, especially those with elderly parents, definitely need to be included in our vision of essential workers and heroes during the pandemic," he said.
Anna Aboud left her job in July after a change in position left her unhappy in her career. As a mom to a 4 year old and a 1 1/2 year old, she said her heart was not in the new job, and it made sense for her family.
"Looking at everything, it was either stay in a position where I'm unhappy and continue to try to make it work, or make staying at home with the kids a priority and make that work," she said.
The coronavirus has impacted mothers' work routines throughout the pandemic. About 57% of mothers reported feeling a sense of guilt while working because they were unable to attend to caregiving responsibilities, according to Catalyst data, and 61% of mothers said they worked outside care hours to balance other family responsibilities.
Aboud said she had worked hard to get where she was in her career, so she felt like she lost that part of herself and her sense of purpose outside her family, she said. Aboud said she hopes to get back to work in the next few months.
"I do feel blessed to be able to have the opportunity to stay at home," she said. "But I definitely know that I'm a working mom."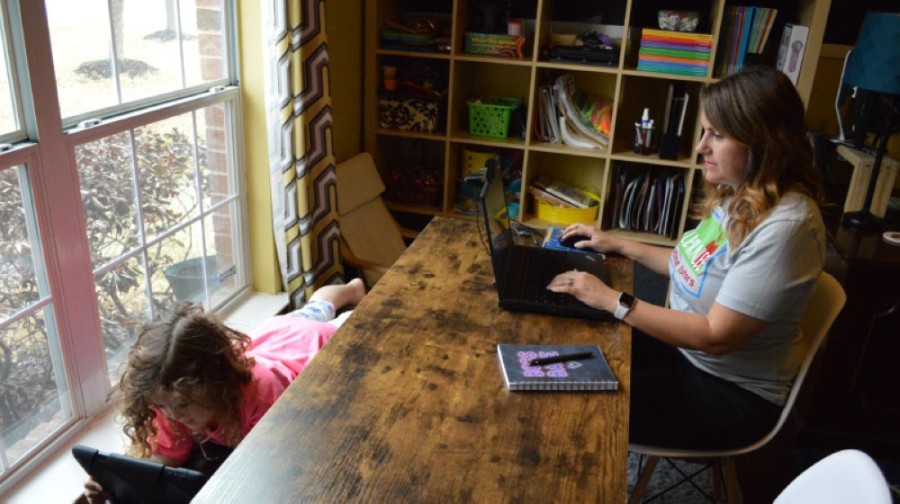 New jobs, new roles
Leander mom Nicole Lee said her biggest self-care choice in 2020 was resigning in July as a teacher. The pandemic put teachers into survival mode, Lee said, but it was difficult to let go of her identity as a school teacher and make herself a priority.
"I'm so grateful for having a little bit of foresight and confidence to take that step of self-care for my mental health and my daughter's mental health," she said.
Lee began tutoring privately in the summer, and it turned into a business, Learnlee. The career change allowed Lee to focus on her 5-year-old daughter while working, she said. According to Catalyst, 57% of moms reported feeling a sense of guilt when working because they were unable to attend to caregiving responsibilities.
Lee said moms' roles have changed as they took on new responsibilities and added a "layer of stress of the unknown," she said.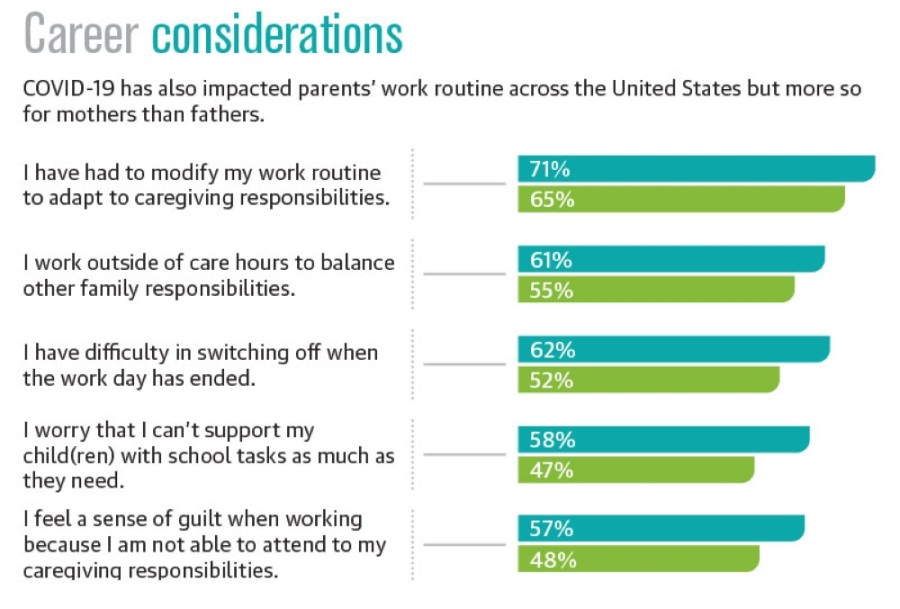 "Many moms are planners, and not being able to plan or not being able to answer our kiddos' tough questions is a huge new layer of stress that we've never really experienced," she said.
At the start of the pandemic, it seemed exciting for Mary Romansky and her family to spend quality, uninterrupted time together while quarantining at home. Quickly, the pandemic turned into a serious issue and gave Romansky new worries about health and her husband's job.
"I definitely had worries that I didn't have before, and just four people in one home constantly has really left me more drained than usual," the Cedar Park-area mom said.
Romansky's husband works entirely from home now, which has put them together for 23.5 hours each day, she said. Finding "me time" looks like reading, organizing and showering, Romansky said, but the family worked to find balance while spending near all of their time together.
"It's truly just learning how to be patient with one another," she said."We've actually had to have discussions about space—how to ask for 'me time' in a way that is respectful."
Romansky is a mom to two and is pregnant with their third daughter. Romansky used to rely on her mom to watch her toddler during the day. She now checks on her parents more often, bringing them food and taking part in backyard visits.
Her parents, who live about 15 minutes away, have not left their home in a year and missed their granddaughter's first year, Romansky said. Watching her mother battle depression was an added challenge.
"I feel very sad for her that she can't participate in our lives like she wants to," she said.
Practicing self-care
Williamson County-area counselor Rachel Saenger said she has seen an increase in stress, anxiety and even depression among her mom clients since the start of the pandemic.
"Moms are struggling with just a lot more transition, and a lot more that they are responsible for," she said.
She added that she has also had an uptick in parents who are seeing mental health issues within their children.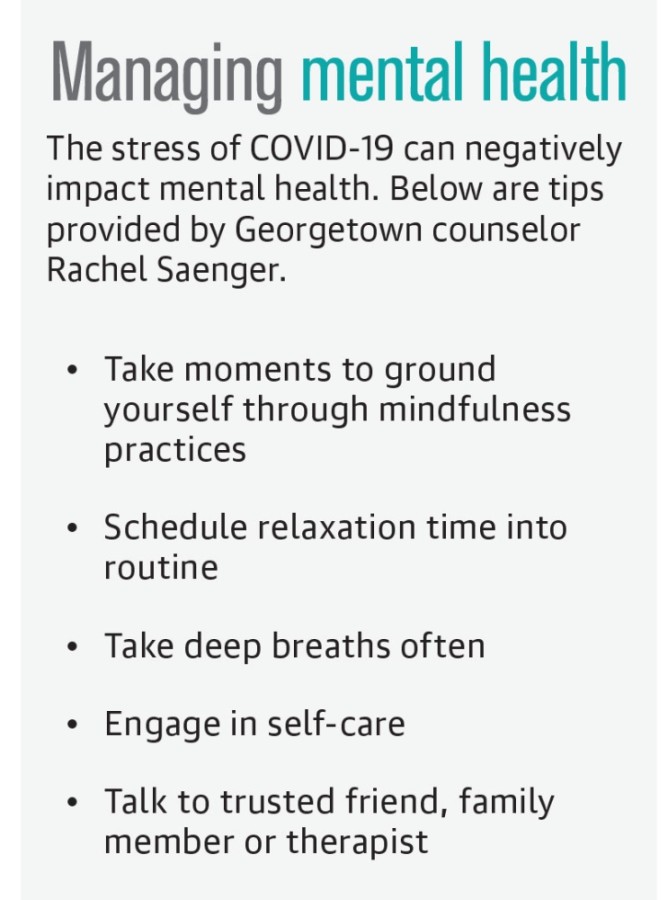 "That's been really challenging for moms to know how to navigate through when they've had a child who hasn't really had any noticeable mental health issues before, and then suddenly with loneliness, isolation or worry about the pandemic, they do," she said.
To help overwhelmed moms, Saenger recommends parents find a moment of relaxation where they take deep breaths and practice mindfulness by grounding themselves in their five senses. She also recommends moms schedule dedicated time to be alone or engage in self-care, and talk their stress out with a trusted friend, family member or therapist.
"I'm a mom myself, and I know how hard it can be when things get really busy to actually go out and do something some weeks. So just take that moment, and [practice] self-care, I think is really critical," she said.
Ali Linan contributed to this report.

Editor's note: This article has been edited to correct an age.