During the February winter storm, Mark Greene's Leander home was without water for about three days and without "meaningful" water pressure for five days, leaving him to question why his city was under a boil water notice and without water while neighboring cities were better off.
Last July, a water treatment plant failure coupled with peak summer water demand left over 20,000 customers boiling their water for six days. This February, an eight-day boil water notice was issued after the city's only functioning water treatment plant had 15 power outages during the winter storm.
In addition, city water users saw nine boil water notices in 2019, six in 2020 and four in 2021, as of April 1, according to the city. These notices ranged from a few affected customers to thousands.
Now Leander officials are considering how to prevent future crises while continuing to build much-needed infrastructure so residents do not have to go without water again.
During the storm, Greene's family drove to friends' homes in the Brushy Creek and Cedar Park areas for showers and water, Greene said. He said his main concern is that the city is not being responsible for providing a basic staple—water—to its residents.
"That's shown through the failures that we have had twice in 12 months," he said.
Without change, Greene said he will become more active in his local government to effect the change needed. For him, adding a generator for roughly $1 million seems like a worthy cost for the city to give its residents assurance, an option City Council may consider.
"I really want the water issue fixed permanently and policy issues adjusted so that we're not in this situation again," he said.

How power impacts water
The February winter storm shook Texas' power grid, leading to water, gas and numerous other issues across the state. Rolling, or more often lasting, blackouts left families freezing without means of finding help outside their immediate surroundings.
Pedernales Electric Cooperative, the Johnson City-based company that serves Cedar Park, Leander and other Central Texas customers, reported its outage peak Feb. 16 with about 170,000 outages across its 351,340 accounts, or about 48%.
Included in those outages were thousands of Cedar Park and Leander customers—and the city of Leander's Sandy Creek Water Treatment Plant.
PEC has a list of nonresidential service locations, such as hospitals, police stations and water facilities, that are prioritized restoration in unplanned outages, according to the PEC.
Approved locations can receive advanced notice for planned outages or nonpayment service interruptions. However, these locations are not guaranteed uninterrupted service.
Mayor Troy Hill said he still has not received answers from the PEC about how it ranks which infrastructure to cut when shedding power.
"I would like to know because I believe we're one of the biggest municipalities that they service," Hill said. "So I would think that when you can inflict on a lot fewer people, you might want to pick a smaller municipality."
During a Feb. 27 Leander City Council meeting following the storm, PEC representatives told council members that the company will shed whatever load to meet its obligations.
Mike Viesca, PEC's spokesperson, told the city that PEC does not pick and choose where to shed power. He said outages affected urban, suburban and rural areas alike as the Electric Reliability Council of Texas, which manages power for 26 million Texans, required load shedding, or shutting down power loads.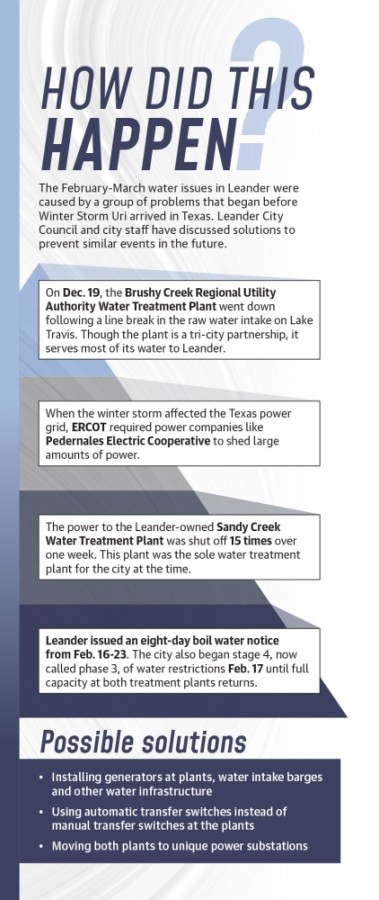 City Manager Rick Beverlin said there was no advance notice from the Public Utility Commission of Texas or from ERCOT to the electric companies of widespread outages.
Leander was already down one water treatment plant when the storm hit.
The Brushy Creek Regional Utility Authority—the water partnership among Cedar Park, Leander and Round Rock—lost use of its water treatment plant Dec. 19 following a line break in the raw water intake on Lake Travis.
The city relies on the BCRUA plant and its own Sandy Creek water treatment plant to service its more than 22,000 water customers. Repairs to the BCRUA were completed in March with water filling into the pipeline March 25, BCRUA General Manager Karen Bondy said.
The cost of the repairs is estimated to be $1.4 million, Bondy said. Cedar Park, Leander and Round Rock would split the final cost.
The two-week filling process is expected to be completed April 9, and the plant will be able to service its customers at full capacity again, Bondy said.
When Leander's city-owned Sandy Creek water treatment plant lost power, its backup power connection also failed. Leander Public Works Director Gina Ellison said Feb. 27 that Sandy Creek's power was shut off 15 times during the winter storm.
Most outages lasted less than 15 minutes. Five outages lasted more than two hours, and two outages lasted more than five hours, Ellison said.
The BCRUA plant and Sandy Creek plant share the same two substations for their power and backup power sources, PEC's Nameless and Whitestone substations, according to city documents.
This creates levels of power redundancy at the water treatment plants, though the plants share the same sources. Redundancies ensure there is a backup option in case a pipeline, power source or system fails.
Neither the BCRUA plant nor the Sandy Creek plant has a backup generator, but this is common across Central Texas water treatment plants, city staff said. There are permanent generators at two of the city's four water pump stations, according to city documents.
Preventing another water crisis
At the Feb. 27 meeting, council and city officials discussed solutions to prevent outages in future similar situations. Installing generators at plants and lake barges, installing automatic transfer switches and having regular maintenance checks were suggested. The city is also considering additional storage tanks to increase available water during potential outages.
Hill said he thinks putting each of the plants on four separate power sources would be a good change. The PEC said it can do this, he said.
The city will have conversations about a backup generator, Hill said, but it is not an easy solution and could still fail.
"There is no fail-safe system," he said. "The question is how can we bring the odds down."
Planning for every contingency and "what if" is Hill's focus, he said. Hill said the growing city has many needs, and discussions about how to spend taxpayers' money are important.
"At a time where we don't have softball fields for girls' softball that they can use year-round, do we spend $1.5 million on something that may happen every 30 years and we have to dust the rust off if we use it in an emergency? That really is the question," Hill said.
The BCRUA plant has a manual transfer switch to move between its two power substations, and the Sandy Creek plant operates with an automatic transfer switch.
Bondy said the utility authority has been in discussions with the PEC to replace the manual switch with an automatic transfer switch since last August. It would cost about $100,000, according to PEC estimates provided to the BCRUA, and would take 22 to 24 weeks to install.
"We are definitely making this a priority, and as soon as PEC is ready to go, we are ready to go as well," Bondy said.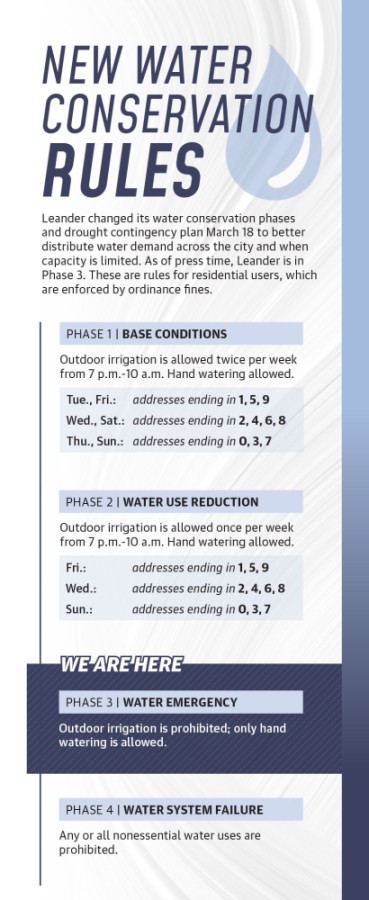 The BCRUA will also complete a plant expansion in the coming weeks. This will expand its water capacity from 10.55 to 14.93 million gallons per day, or MGD—a 41.52% increase. Leander currently uses 5 MGD-7 MGD while Cedar Park and Round Rock use about 1 MGD, according to the BCRUA.
The city of Leander has enough water supply for residents who presently need it, city officials said, but treatment and distribution infrastructure is lagging.
Several high-cost projects are underway or set to begin soon to add redundancy into the pipelines and water system.
City Council also requested its first-ever long-term water study in August 2020. Results from the study will be presented to council in the coming months and will consider water supply and long-term demand projections.
If City Council were to approve water facility improvement projects, City Finance Director Robert Powers said the city could use some of its utility fund surplus and put it into capital projects so that these projects can be cash funded instead of borrowing money.
The city estimated that adding a generator to the Sandy Creek plant would cost $500,000 and $700,000 at the water intake pumps and electrical building, according to documents. These estimates do not include annual maintenance.
The city has also upped its water conservation efforts to diminish issues from peak water demand.
The water conservation and drought contingency plan was amended March 18, which changed residential and commercial watering days to evenly distribute demand.
The largest water users in Leander are residential irrigation, homeowners associations and commercial users, according to the city.
While Leander's infrastructure is in a better position than it was last summer when the initial water issues surfaced, it is still something that needs constant addressing, Hill said.
He said the city is also working to add purple pipes, which is a system that recycles reclaimed water from wastewater treatment plants, to the city's water infrastructure.
Redundancy pipes within the Leander water system and connecting to Cedar Park have prepared the city better for emergencies, he said.
"All those things together, we will be in a much better position [this summer]," Hill said.