Lone Star College System is in the process of adding a baccalaureate program in emergency management to provide additional options for students seeking higher education.
The proposed program is possible because of House Bill 3348—passed during this year's regular session of the Texas Legislature—which increases the total number of baccalaureate programs a community college can offer from three to five.
Valerie Jones, associate chancellor of academic affairs at LSCS, said the decision to add the emergency management degree program was based on the projected need for employees in the field for the next 10-20 years.
"We want to make sure that the programs for our students are aligned with future careers for them," Jones said. "With this case ... we are in an area where emergency management spans into so many different areas, from flooding to hurricanes to fires and pandemics."
LSCS offers three baccalaureate programs: Bachelor of Science in nursing; Bachelor of Applied Technology in cybersecurity; and Bachelor of Applied Science in energy, manufacturing and trades management.Local needs
Christopher Perkins, senior planner at the Montgomery County Office of Homeland Security and Emergency Management, said the field of emergency management is important in the county because disasters are a matter of "when," not "if."
"There's always going to be another emergency or another disaster. The question is the timing," Perkins said. "Since we can't control the timing of it, what we have to do is to be constantly prepared to be able to respond to these types of things."
Perkins said as Montgomery County sees its population grow, expanding public safety capabilities and developing plans in the event of an emergency are necessary."This should give our local students the opportunity to grow and learn about a profession that is becoming increasingly important," Perkins said.
While Perkins said the emergency management field is typically associated with governmental organizations, there is a growing need for emergency managers in the private sector as well. He said the degree program will give students a variety of options for future careers as emergency managers.
"As the demand for emergency management professionals continues to grow, it is important to have academic institutions focused on preparing the next generation of emergency managers," Perkins said.
Next steps
Jones said LSCS is still in the proposal stage for the new baccalaureate program. Moving forward, LSCS will work to get approval from its board of trustees, then apply to the Texas Higher Education Coordinating Board before applying to the Commission on Colleges of the Southern Association of Colleges and Schools. Once all of the steps have been completed, Jones said the college is planning to launch the program in the spring semester of 2023.
"At each stage, we are demonstrating to our board of trustees, the state and our regional accreditors that we have thoroughly thought through this," Jones said. "We are showing our graduates will have employment after this and our community has requested a need for this."
Jones said the program is anticipated to operate in cohorts, beginning with a total of 30 students in the initial class before expanding up to 60 students in the following fall.
"What we experienced with our first bachelor's program was a much higher demand than we expected," Jones said. "We are prepared for the same type of opportunity."
As of August, Jones said it was too early to say which campus will host the program.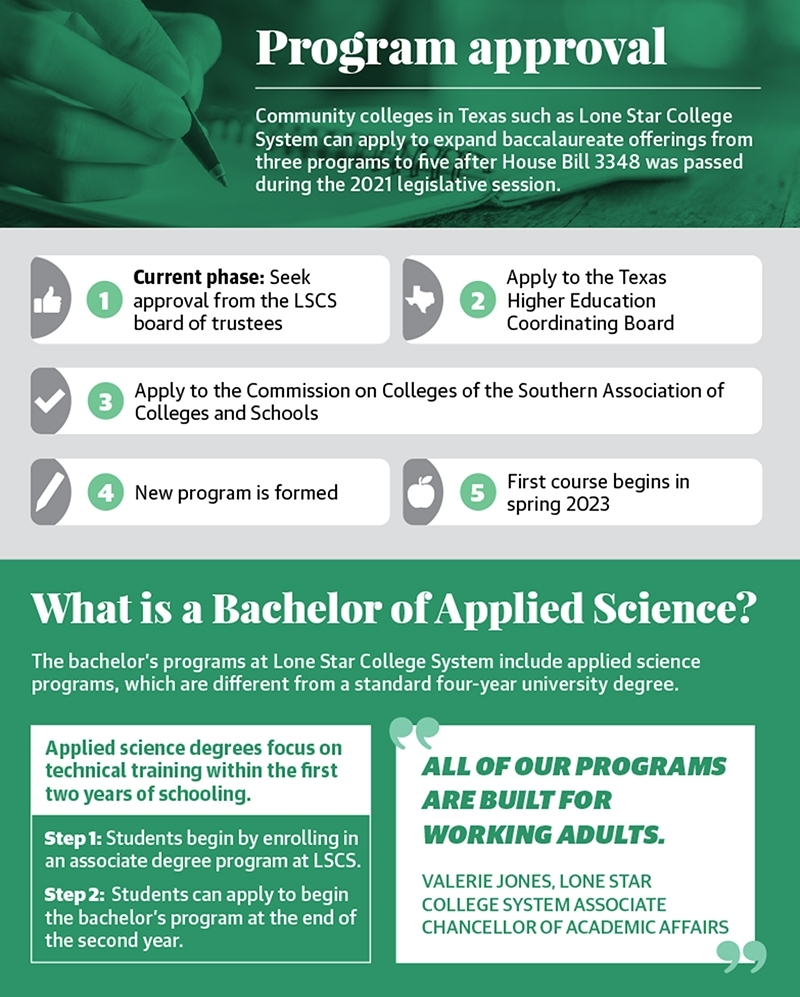 Chandler France contributed to this report.