Much like their counterparts in K-12 education, the higher education institutions serving Gilbert have learned to pivot through the COVID-19 pandemic, school officials said.
Park University-Gilbert
, the University of Arizona and
Chandler Gilbert Community College
steered their own courses in the past year, each relying on varying degrees of online instruction.
The effects on enrollment have been mixed. The two newer programs housed in Gilbert's University Building continued expansive growth despite COVID-19—Park by about a quarter and
UA's nursing program
by more than double. But CGCC, like community colleges across the nation, took a hit, falling about 14% in enrollment.

Officials at all three schools expressed an institutional hope to return to a more normal environment in the fall, although COVID-19 may leave some permanent changes in how much is offered online.
"It's a challenge for everyone, but we're learning through it," said Ben Zibers, Park University-Gilbert campus associate vice president. "And we've been so grateful to our community and to our students by partnering with us, continuing to believe in us and to work with us through time to get to the light at the other side of the tunnel."
Park hard-wired for success
Park officials noted two ways in which the Gilbert campus, a satellite to Park's main campus in Parkville, Missouri, was well positioned to survive the changes brought on by the pandemic.
First, Park has a 25-year history of offering online instruction, sometimes combining classes from different satellite campuses across the country. The other is the University Building, which Park and UA lease from Gilbert. From the beginning, in 2018, when Park moved in, university officials said they have raved about how wired for technology and internet usage the building is.
"We were lucky in that when we opened this campus, the courses had been redesigned to be delivered in a blended format, so partially remotely and partially face to face," campus Vice President Sue Wilcox said.
That was because Park built its initial enrollment on athletics, and such blended classes allowed athletes to attend classes even when on the road with their teams, Wilcox said. Thus, when Park pivoted amid the pandemic, it could do so to hybrid classes with half the students in person one day and the other half doing asynchronous learning.
Wilcox said school officials have focused on student engagement and the student experience during the pandemic.
"We were really wrapping our arms around the students and offering them the services, whether it be mental health or tutoring or mentoring, so they felt engaged with the university and felt like they had a support structure," she said.
Wilcox said faculty members have often taken it on themselves to contact students who missed class to make sure they were OK.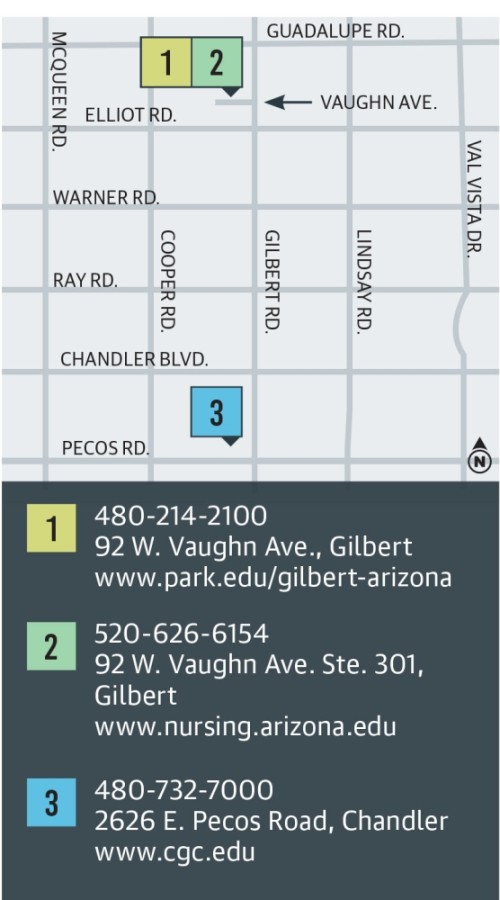 The pandemic has not dampened enrollment. Wilcox said the campus grew from 313 students in fall 2019 to 393 in fall 2020, and the school expects perhaps 75 more this fall. However, she said the pandemic probably has changed some things forever.
"COVID caused all of us to rethink how we do our jobs," she said. "'How do we do what we do?' And we'll continue to maintain some of those things. That personal touch has been perfectly in line with who we are."
UA simulating nursing
The University of Arizona's nursing program for integrative health, also housed in Gilbert's University Building, was still fledgling when COVID-19 arrived in town in March 2020. It was in its second semester with two cohorts of 24 students each.
The program immediately went virtual. It did not admit a new cohort for the summer as was planned, Program Director Betty Parisek said.
Parisek said the program's curriculum, developed by its faculty, is different than what is offered for a Bachelor of Science in nursing at UA's Tucson campus.
"Our faculty did a 180 after half of the second semester that we were operational," Parisek said. "It was an amazing thing to see. It was a humbling thing to see, from my perspective, the faculty come together and work together on making sure the students had what they needed."
Parisek admitted it is not the same providing nursing instruction virtually as in person, but she said the faculty developed high-quality simulations and that nursing instruction has included more such instruction in the past two decades.
"We ran those [simulations] just the same [as in person] except that it was through virtual learning," she said. "We have students practice those skills and record those skills. And that's how we graded skill development and mastery of the competencies."
The school was able to start up in-person clinical rotations again this spring, Parisek said. The program has grown, too, in spite of the pandemic. It admitted 64 students last fall, another 64 in spring and will admit 51 this summer, Parisek said. It graduated 24 students for the first time in December.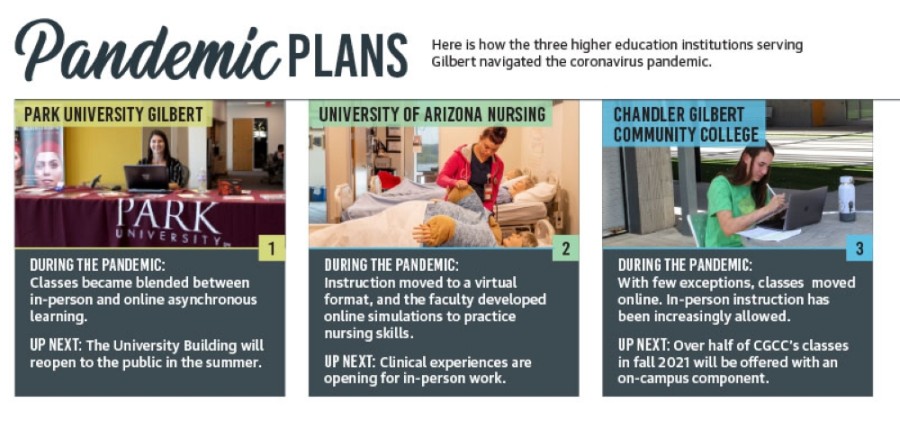 CGCC serves community
Chandler Gilbert Community College also moved mostly to online learning when the pandemic hit.
"All of our faculty went through specialized training about online teaching and learning to bring everybody up to that same playing field and make sure all of our students were equitably served in an online space," said Jenna Kahl, CGCC's associate vice president for institutional advancement. "We moved all of our services online so students could meet with academic advisers, talk about financial aid, connect with career resources, student life. We even had events online."
Kahl said some programs in which in-person learning was needed, such as aviation maintenance technology and nursing, took an extended spring break in March 2020 until the program could work out a way to have instruction meet Centers for Disease Control and Prevention protocols.
The college also found other ways to serve the community through the pandemic. For one, freed-up parking meant the school was able to host drive-thru testing and later a county vaccination point of distribution.
CGCC also partnered with the town of Gilbert to offer workers training through the #GilbertTogether business recovery program. Gilbert paid for workers to take classes to advance or gain new competencies, complete with a certification that could help them change or advance in their careers, Kahl said.
Kahl said, like elsewhere in the nation, the college took a hit in enrollment as students were uncertain about taking classes or work demands affected what they could do with school.
However, more in-person and hybrid classes have come back through the year, which should continue in the fall, Kahl said. She also called the expansion of online services available to students a silver lining to the pandemic.
"Where we are now is that we definitely want people to know we're open and that we have options," Kahl said.