A bevy of transportation projects in Gilbert, aimed at addressing the town's rapid growth, is causing headaches for motorists.
"Every time I try to get somewhere, I am trapped by road construction," said Tina Weizel, who lives near Lindsay and Germann roads. "I have to reroute, and then I get trapped in another tangle of road construction."
However, Weizel said she is looking forward to the end result, and town officials said they believe Gilbert residents will be rewarded with improved traffic flow and safety.
That volume of projects comes from the town's continued growth and a queue of work to be done that has been backed up, sometimes by years, Gilbert officials said. The town's population grew 21.9% from 2010-19, according to U.S. Census Bureau data.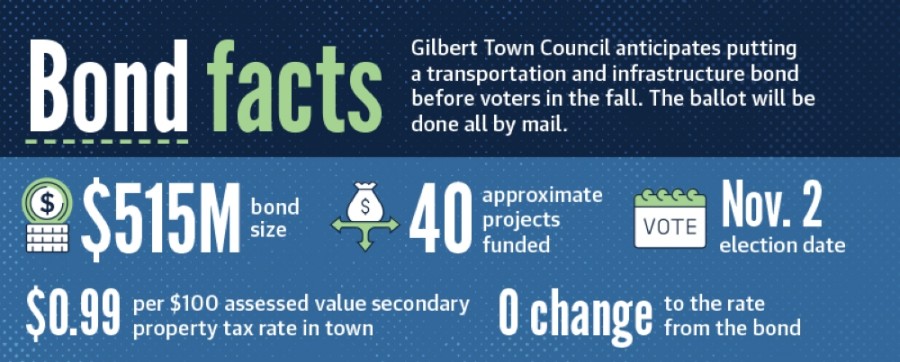 As many as 21 new projects—including improvements to Ocotillo Road, the Val Vista Lakes community and several major intersections—also could have funding come available as early as fiscal year 2021-22. However, the projects could grind to a halt next year if voters do not approve Gilbert's
$515 million transportation and infrastructure bond
in the fall.
The town is spending the final proceeds of its $174 million street bond package from 2007, the last of four passed that decade, to complete current projects.
In addition to bonds to fund future projects, the town is working on a transportation master plan that will guide planning for traffic, among other transportation concerns, over the next 20 years. Transportation Planning Manager Chris Bridges said feedback from residential surveys has given clear direction to the town.
"The No. 1 thing that the residents have come back with—and it's not even close—is maintaining our transportation network," he said.
Projects already underway
The town has funding in place for 15 street improvement projects worth $138.36 million for this fiscal year, which ends June 30, although not all projects will be completed this year.
Those projects include the widening of Germann Road from Gilbert Road to Val Vista Drive, the widening of Val Vista from Appleby to Riggs roads and the completion of asphalt replacement on Val Vista from Baseline to Guadalupe roads.
Officials concede there are a large number of projects, and much of it is a result of delays from previous years. Delays can include coordination with utilities or other jurisdictions, Town Engineer David Fabiano said.
The costliest project under construction—the 2.5-mile widening of Val Vista from Appleby to Riggs roads from two to six lanes—has been planned for a decade.
"This project is one that's literally been in the works and under design in one form or another for close to 10 years—and was originally developed and then delayed and put on a shelf for a while and then brought back out and re-invigorated," Public Works Director Jessica Marlow said.
The $34.28 million project broke ground in 2020 and is set to be finished in the fall, she said.
Not all the road work is from the town, as private developers are responsible for putting in infrastructure to support their developments. Projects along the Val Vista widening are an example, as the town has coordinated with Tri Pointe Homes, which is building in the area, to improve some of the roads along Val Vista, Development Services Director Kyle Mieras said.
"The trick with the private development is they have to have the improvements done prior to opening their business or their subdivision or apartment complex or whatever, because those improvements are needed to handle that traffic," he said. "Anything adjacent to their development, they're going to work with quickly to get that done so that they can open."
Private development can affect traffic through town permits even when developers are not partnering with the town on a project. Marlow pointed to the number of projects up and down Val Vista at present, some of which are the town's and others are private.
Short-term future
The town plans to fund 21 projects in its FY 2021-22 capital improvement plan, but officials said those projects are waiting for funding to become available.
"We have a large gap in time where we haven't had the funding to start new projects and get them queued up because our last bond ask was in 2007," Marlow said. "We've been spending that money on our current projects, making sure we have all the funds in place for construction, but we haven't had any funding available to us then to start designing these new projects. They're all waiting for us to get our next source of funding."
That is the result of town council policy to have all money on hand before any work starts, officials said. As even the smallest projects generally take at least three years to complete, the projects likely will be spread out over several years, Fabiano said.
That makes November's bond package critical, Marlow said. If it were to fail, future projects would halt until another funding source, such as a dedicated transportation tax, could be implemented. Town officials do not anticipate the bond will change the town's secondary property tax rate from its current $0.99 per $100 assessed valuation.
Without bond funds, only routine maintenance—like crack sealing—would take place, as that is largely funded through Gilbert's allotted portion of the state's Highway User Revenue Fund and Vehicle License Tax. The town received $16.4 million from HURF and $10.5 million in VLT in 2020, Budget Director Kelly Pfost said.
Long-term future
The town embarked last June on a
transportation master plan
, which acts as a 20-year planning guide. It completed a public input process March 16. Residents were invited to take surveys about transportation and note where they would like to see work happen. Some of those suggestions could turn into street projects, Marlow said.
The early feedback from residents indicated residents want the town to focus on safety, reducing congestion and improving traffic operations, like traffic signals and getting people through them faster, Bridges said.
The plan—which also includes topics such as walking, biking and transit—is expected to go to council for approval in November. If approved, the document would help guide future townwide transportation planning.
Mieras said he believes the work on roads not only helps residents' travel, but also the town's economic development.
"People are not going to drive places where traffic is so congested that it stops," he said. "People are not going to want to locate businesses where it's too difficult to get to, or their workers can't get to it, or the people they bring in can't get to it. The better we can make our transportation system, the better we are all the way around."