The Lindsay Road interchange on Loop 202-Santan Freeway reached its groundbreaking Jan. 4 after a decade of moving from an idea to the start of construction.
Officials from the Arizona Department of Transportation, the town of Gilbert and other involved parties held the socially distanced ceremony at Gilbert's Zanjero Park, adjacent to the construction site, with Gilbert Town Engineer David Fabiano serving as the master of ceremonies. He called Loop 202 a "vital artery that helps the town to be successful."
The $18.15 million project will give Gilbert's largest north-south street without a freeway interchange access to the Loop 202-Santan Freeway and provide another outlet to Gilbert's growing Central Business District.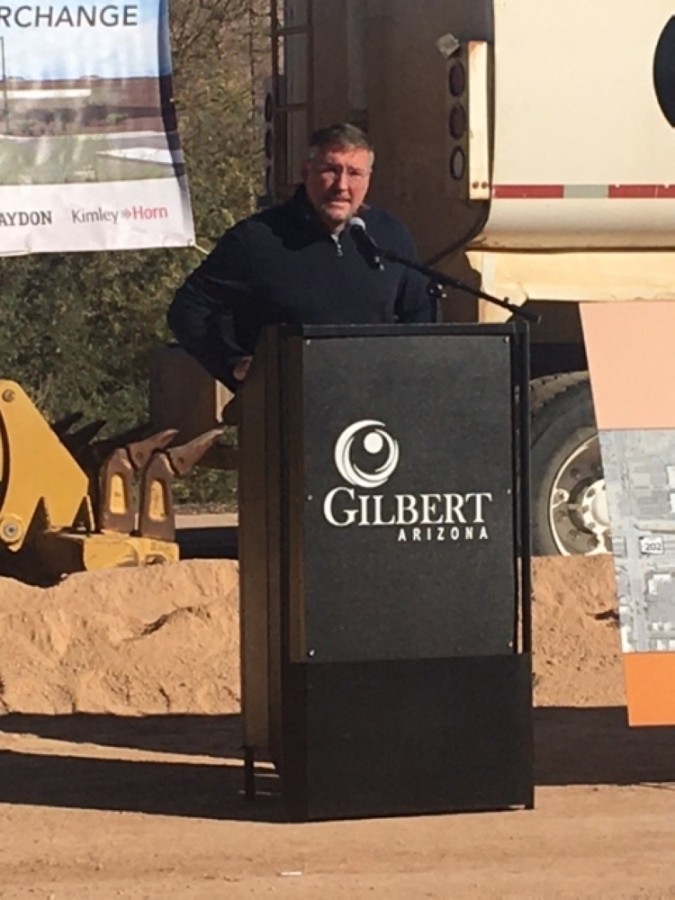 "Many times we don't fully consider the true impact infrastructure has on economic development for communities," Town Manager Patrick Banger said. "These roads, these interchanges, the bridges, they unlock the full potential of ground and the full potential to bring economic benefits to a community. And this single project is probably one of the most impactful projects I've been involved with in that area in my 10 years at Gilbert."
Mayor Scott Anderson thanked the many people involved and noted the progress the area has made.
"I've been around a while," he said. "I can remember more than 20 years ago as the planning director. I never really thought the 202 would be a reality, much less an interchange here at Lindsay Road."
The project is funded through the town's bonds and funds, Maricopa Association of Governmentsfunds and developer contributions. Construction is expected to last 14 months, according to town documents.