Gilbert opened its Public Safety Training Facility under budget and ahead of schedule, officials said, allowing public safety forces to conduct expanded training in town.
The facility, paid for primarily by bonds
approved by town voters in 2018
, was on a two-year construction schedule when it
broke ground in May 2019
. The town declared it open Feb. 24, and trainings are scheduled to start at the end of March.
"They built it so quickly," said Jim Jobusch, Gilbert Fire and Rescue Department chief. "You break ground and you think, 'Oh, it's going to be almost two years before we're in it.' And here we are. It's exciting. Our people are really excited about it."
Furthermore, while a final cost awaits final bills, Town Manager Patrick Banger confirmed it will come in under the $84.6 million budgeted.
"We're certainly thrilled," Banger said. "It's a large project and a very complicated project because of the very specialized nature of the structures out there and the training needs we have."
Moreover, it puts an end to a nearly two decades-long quest for Gilbert police and fire workers to have a training facility of their own. Previously, the town's public safety workers went to neighboring cities or as far away as Florence to get such training.
But that situation is growing more untenable, officials said, as the town continues its explosive growth, requiring bringing in more recruits. A possible wave of retirements, requiring replacements, exacerbates the issue, officials said.
With the opening of the facility, the town's police and fire chiefs said they believe town safety will continue to be enhanced, including in use-of-force situations that came under scrutiny in 2020 following the death of George Floyd in May while in the custody of Minneapolis police.
Model facility
In 2008, the town bought land by the Loop 202-Santan Freeway to build a fire training facility, but the Great Recession waylaid those plans.
The town determined that land was better off sold and put on the tax rolls, and the town-owned land at Power and Pecos roads would be a better spot, Banger said. The nearly $20 million gained in selling the land was applied to construction of the new facility.
"I don't think we would have the facility today that we will have if that effort [had] gone through in 2007," Banger said. "So in some ways there was a silver lining to that effort not getting across the goal line even though I think it created training issues for us during the intervening period."
Banger said he believes the facility will be one of the Southwest's finest.
"We've got a lot of people that are just begging to come in and use our facility because it is one of a kind," Police Chief Michael Soelberg said. "A lot of the agencies have bits and pieces, and that's where we've learned from them and got what worked for everybody else and made sure we had what we needed."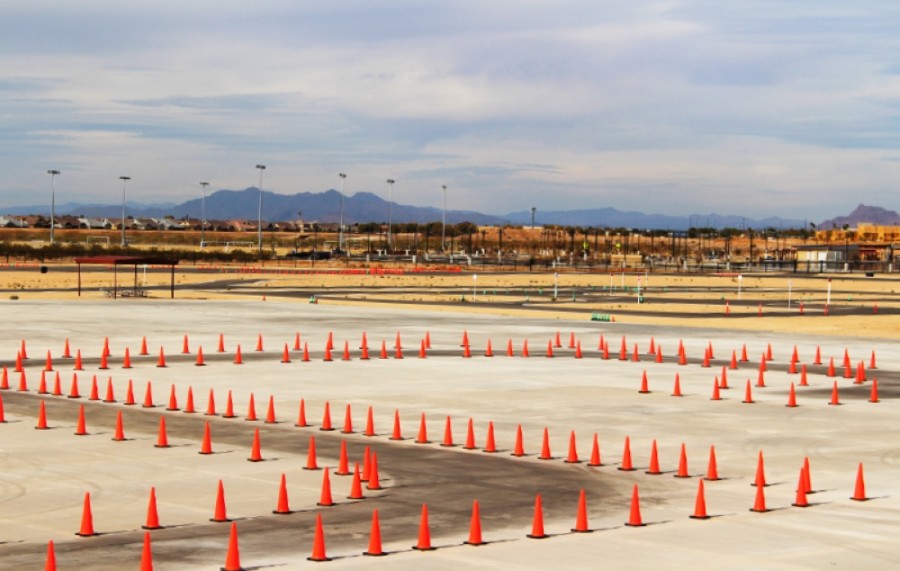 The new 162,350-square-foot facility will include a learning center with classroom space, a firearms range, a tactical warehouse with storage and training space, and four buildings that will be used to train for police or fire and rescue situations in different locales. The campus includes a K-9 training area and driving course.
"It's going to provide us with the facility that we need now and take care of all of our needs into the future," Soelberg said.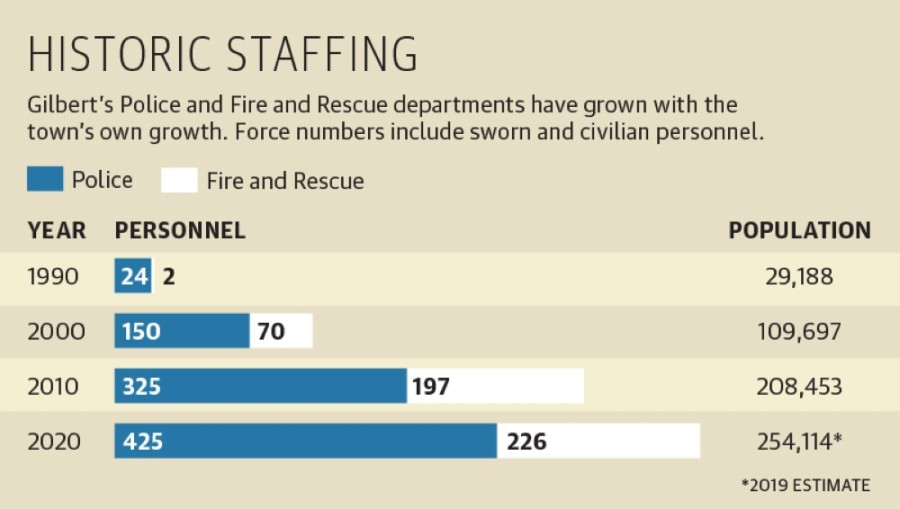 Officials define those needs as keeping force size up with population growth but also replacing a potentially large number of retiring officers and firefighters in coming years. Gilbert's forces have grown from two fire and 24 police employees in 1990, when the town had fewer than 30,000 residents, to 226 fire and 425 police employees in 2020 with a population estimated at more than a quarter-million people.
In the 2018 run-up to putting the facility on the ballot, some council members expressed concerns about the cost per square foot. But Mayor Brigette Peterson, who was then a council member, noted the specialized nature of the facility, such as buildings being designed to burn numerous times for firefighters to continuously train, made it more expensive to build than a typical building.
Enhancing public safety
Gilbert officials boast of its safety ratings, including being No. 2 lowest crime rate in 2019 among the nation's 100 most populous cities, according to the FBI's Uniform Crime Reporting Program.
Those FBI statistics show Gilbert to have half the rate of property crimes of the U.S. average and three to four times fewer violent crimes per 1,000 population over the past decade. The number of property crimes overall has declined in the past decade despite the population growing.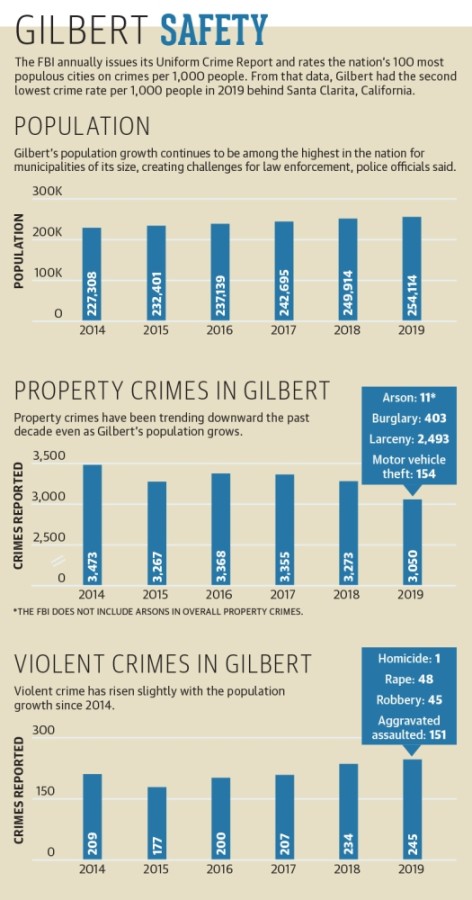 Although public safety officials tout Gilbert's safety rankings, officials believe the new facility will further enhance the town's safety. For example, the facility allows for repetition in facing different scenarios, so sworn personnel gain experience and are not getting their training on the scene, Banger said.
"You always have to continuously be working on keeping that crime down, and that begins with who you hire, how you train them and making sure that they're handling efficiently anything and everything that comes to them," Soelberg said.
Coming out of 2020
Last year saw protests and calls for police reform nationally. In Gilbert, the summer was dotted with dueling protests on Thursday nights near the town's municipal complex between a Black Lives Matter group and another that supported law enforcement and the re-election of former President Donald Trump.
Police officers, including Soelberg, met with Black Lives Matter members after a march, and police patrolled the protests. Only one protest Aug. 20 resulted in arrests.
Town officials said many of the reforms people called for last year were already in place in Gilbert, such as banning the chokehold tied to Floyd's death. Soelberg said police also further revised the department's use-of-force guidelines to make them clearer both for the public and officers.
Both police and fire chiefs said hiring is especially important as they want to diversify and find people who best match their organizations' cultures. Fewer than 1% of applicants are hired for Gilbert police, Soelberg said.
"We've looked at their social media," he said. "We've talked to them. We do psychological tests, medical tests. There's a lot you have to go through to be a police officer."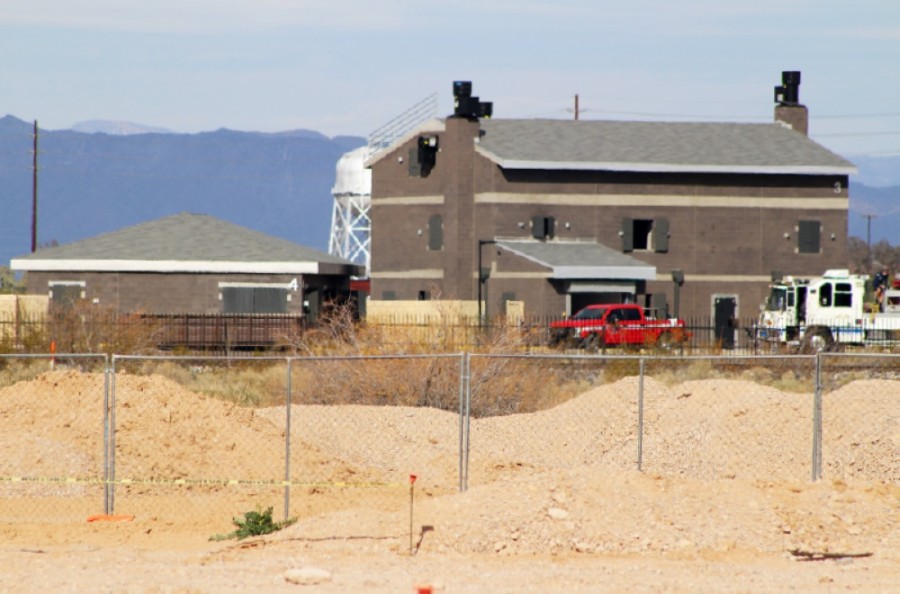 Similarly, Jobusch said some fire departments have a "macho" approach to hiring that has excluded many people over the years.
"For Gilbert, we've always tried to be open to diversity and finding the best people for our organization, not just the biggest and the strongest," Jobusch said.
Officials believe the training facility will help with hiring as well. Banger said he believes the facility will help attract the best recruits to town. It also can help personnel to better recognize and react to what they are facing when a call has them working with someone who suffers from medical or psychological issues, such as post-traumatic stress disorder.
"With everything that happened last year, the majority of what you're hearing is more training, more training, more training," Soelberg said. "This facility gives us the opportunity to continue that training that we've been wanting to do. And we've been getting by with the bare minimum."•