In the coming months, Gilbert will expand its ambulance service from a small line of service out of one station to one that covers the entire town.
Town officials contend the change in 2021 from American Medical Response to a service run through the Gilbert Fire and Rescue Department will result in better, more consistent service throughout town at a lower cost to users without burdening taxpayers.
Gilbert Town Council voted Aug. 25 to initiate the expansion by approving purchases of six ambulances and six ambulance stretchers. Town officials said the costs are among the nearly $2.5 million in initial startup costs from the town's general fund for the expanded service, but they project the service change to result in nearly $2.8 million in net revenue over the first eight years.
Officials from AMR, the town's private provider since 2015, told council they felt blindsided by the action and said they felt improvements could have been made. Ultimately, though, the council approved the provider change 5-2.
"It has been a long journey with a lot of work and research that [have] gone into this that has led us to this point today," Town Manager Patrick Banger said, "where we believe it's in the best interest of this community to expand our ambulance service so that we can provide the fastest possible response times with the best trained and qualified staff to handle the needs when people make the most important phone call of their lives."
The change was not without opposition. The two dissenting votes were from Jared Taylor and Aimee Yentes, who questioned the costs of providing ambulance services. Yentes said she would have liked to have allowed all service providers, including Gilbert Fire and Rescue, to bid for service.
"I would be happy to instruct our legislative team to advocate for more competition in this regulatory environment," she said. "This isn't about AMR. This is about making sure we make the right decision."
The case for change
In presentations made since staff first proposed expanding the town's ambulance service last spring, officials have cited an evolution from not wanting to get into the ambulance business to taking over service.
That evolution is rooted in the 2013 bankruptcy of Rural/Metro Corp., a disruption in the ambulance market that left Gilbert feeling vulnerable to losing service. Rural/Metro serviced Gilbert until 2014.
In 2015, Gilbert reached an agreement with AMR. In fact, AMR and town officials note that Gilbert helped AMR get its certificate of necessity, or CON, from the Arizona Department of Health Services to operate ambulance service in Maricopa County. The town also sought its own CON to protect itself from ever losing service.
But DHS expects ambulance CON holders to use the certificate to implement service, leading the town to run a pilot program and open service last November from Fire Station No. 3 on Guadalupe Road east of Lindsay Road. Meanwhile, Gilbert began to be unhappy with some of AMR's service, officials said.
"It's not just about the CON," Fire Chief Jim Jobusch said. "It's not just about AMR. It's about a list of things, several different things that we need to stabilize for our citizens. And we can do that by providing the service ourselves."
At the top of that list is response times.
AMR's CON for the county requires it to have a response time on 911 calls of 10 minutes at least 80% of the time. Gilbert's contract with AMR requires it to respond within 8 minutes, 59 seconds at least 90% of the time.
However, Gilbert found in its data that in the northeast corner and southernmost portion of town, AMR falls far short of those standards, Jobusch said. The town's data shows AMR not meeting the town's standard 22% of the time in the northeast and 13% of the time in the south.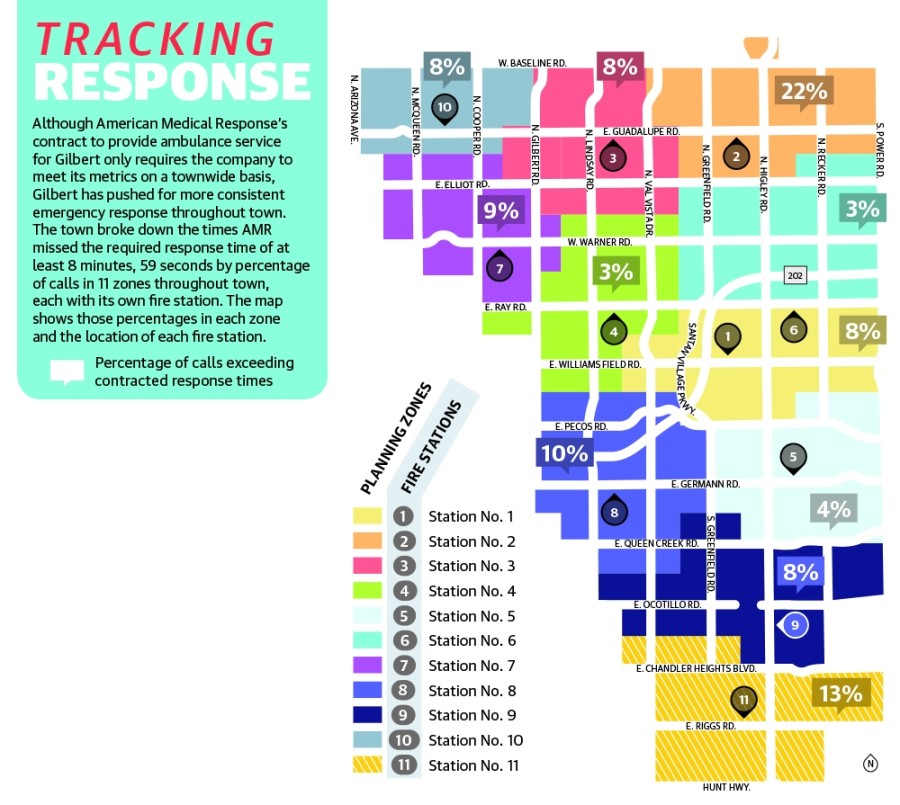 Overall, the town reported 333 times that AMR did not reach the standard between May 1, 2019, and April 30, 2020, with 24% of those coming on life-threatening calls. AMR combines all response times across the town to meet the requirements of its CON and its Gilbert contract.
For its part, AMR officials says they have enjoyed a good relationship with the town and have been open to changes.
"We're always open to looking at how their system can be designed to better service the community," said Glenn Kaspryzk, chief operating officer for AMR in Arizona.
However, Gilbert officials also said they found it increasingly difficult to negotiate with AMR, the area's largest ambulance service provider. Additionally, DHS can reject contracts, which it did last February on a negotiated extension between Gilbert and AMR because it considered the terms too burdensome for AMR to bear within its regulated fee structure.
"We've been told, 'Just negotiate more; negotiate better.' But DHS is not going to allow us to put provisions in that potentially raise the rates in the area," Jobusch said.
The council approved an extension with AMR on Aug. 25 to provide service to the town until its ambulances are running.
Quality control
Gilbert officials said they will achieve better response by expanding the service over what is now offered through AMR. The town will own eight ambulances and have six in service at any given time. If one is out for maintenance, there is backup to maintain the level of service.
AMR had four ambulances in service, adding one or two more during peak service times, with Gilbert providing one more.
The service will be staffed by trained civilian personnel. The town will decide where to place ambulances by looking at data on service calls closer to when service starts, which is expected to happen in mid-2021.
Yentes has asked for a citizens' review commission to make certain the town was maintaining the level of service it outlined to residents.
Council Member Bill Spence, a proponent of the service who said he spent many hours talking to stakeholders and other municipalities offering the service, liked Yentes' idea.
"I'm absolutely a fan of an appropriate snapshot that tells us, 'Do we need to dig deeper? Are there problems, or are we seeing what we expect to get for the money we're paying?'" Spence said. "I think that's good."
Spence said he believes the data supports expansion.
"It's a solid plan," he said. "People that don't see it in spite of the data are just committed to assigning an ambulance service as an expansion of government. That's an ideology that is valid, but lives are at stake. I think the decision that we made will save lives at the end of the day."
Paying for service
Town officials maintain the service is revenue-neutral, requiring no tax increase, because the service's costs are borne by end users in billing. That was the town's position before it launched its first ambulance last fall, but officials said they are more confident in their projections now that they have data to back it up.
Gilbert will have to pay startup costs up front, which were built into the fiscal year 2020-21 budget approved June 16. The six ambulance purchases approved Aug. 25 will cost nearly $1.4 million, while the stretchers and cots will cost about $253,000.
Overall the town projects startup costs at $2.49 million and operational expenses at $30.05 million over eight years with revenue at $35.3 million during that time frame. After recovering startup costs, the town calculates net revenue at $2.76 million. That revenue then can be used to replace aging ambulances and equipment, officials said.
At the Aug. 25 council meeting, Taylor questioned whether the relatively small set of data from one ambulance could scale to a service line for the entire town.
But Jobusch said he was confident the town has what it needs to make accurate projections. Spence said an independent DHS review of Gilbert's financial model, done in conjunction with its CON approval, confirmed the town's financial model was solid.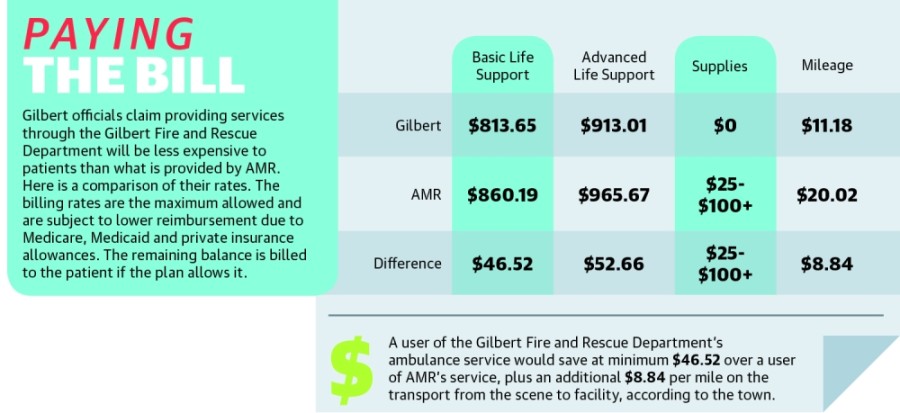 The town also said it anticipates offering the service at a lower price to patients than what AMR charges. Costs are projected to be at minimum $47 less than what AMR charges, plus mileage costs. In town projections of some scenarios, Gilbert Fire Department users would save $100 or more compared to AMR users.
"I've seen the evolution of the services in town, and we've reached a point where this is the right decision to make for our citizens," Jobusch said.•