With the opening of Phase 1B of Gilbert Regional Park in October, the town has now spent more than $32.6 million since September 2018 to offer more amenities at the park and tap its potential for residents and tourists, officials said.
The park now includes athletic courts, a walking path, a lake, an amphitheater and a large event lawn at a cost of $18.2 million for this phase, officials said.
"Phase 1 was generally geared, with a splash pad and playgrounds, to the younger interest," Parks and Recreation Director Robert Carmona said. "Phase 1B really brings in all ages, the teen, adults and senior crowds."
But that is just the start for the town. Gilbert staff have started a campaign to collect feedback from residents on what they want next at Gilbert Regional Park as well as at the fitness-themed Desert Sky Park that opened in November 2019 at a cost of $19.6 million.
Carmona stressed that all ideas are welcome for space still to be developed at either site. The town also is beginning to leverage the new space for community and regional events. The amphitheater and event lawn, in particular, could help the town land future events, officials said.
"We spent a lot of time designing that lawn so it could host those larger events," Carmona said. "We definitely have some groups reaching out that are interested in those larger concerts, larger destination-style events."
New at Gilbert Regional Park
When Desert Sky Park opened last year, much was made of its sports and fitness theme, which included a "Ninja Warrior"-style playground. Most of the developed land went to fill a need for multipurpose fields, which sports clubs have kept in use, Carmona said.
Gilbert Regional, on the other hand, opened six weeks earlier with two playgrounds and a giant splash pad that was geared toward play for children of all ages.
The latest phase brought more sports courts to the park. The additions are six sand volleyball courts, two full outdoor basketball courts, 16 pickleball courts and six tennis courts. The latter three sets of courts opened in July after they were completed ahead of schedule.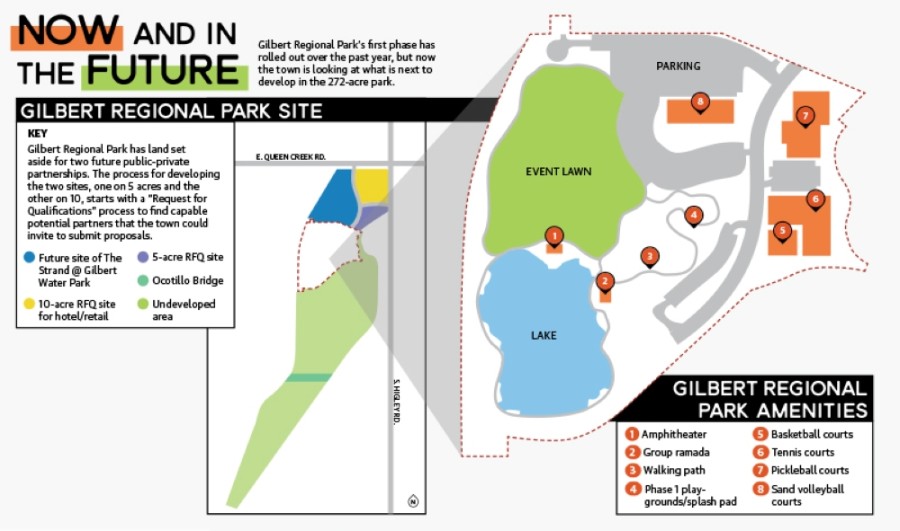 Carmona said those courts have stayed busy since they have opened.
"The 16 pickleball courts are quite honestly full morning and night all week," he said. "The six tennis courts are also doing very well, and then the two basketball courts, which at night, you can definitely find that teen crowd out there and a lot of excitement around those sports courts."
Park users have given their approval to the new courts, too. Gilbert resident Amber Gatej said she has enjoyed the sand volleyball and pickleball courts.
"I'm just excited that we have something so big that Gilbert residents can take advantage of," she said. "It's nice to have."
The new lake is open to fishing for residents with an urban fishing license, while the event lawn in front of the amphitheater is large enough to hold 8,000-10,000 spectators once COVID-19 restrictions on large group gatherings are lifted, Carmona said.
Programming the park
The size of the event lawn is critical for attracting larger regional events to Gilbert, officials said.
It also could be the key piece to attracting a signature event for the town, a longtime desire of Mayor Scott Anderson, who once was the town's parks and recreation manager.
Anderson said he wanted the town to have something similar to the Tucson Gem, Mineral and Fossil Showcase—an annual collection of shows in late January through mid-February—or the Newport Folk Festival in Rhode Island.
"And now we've got a venue that could handle something like that," Anderson said.
Carmona said such large-scale events are possible with the amphitheater, but that is not where the town plans to start. Carmona said it will be with community events.
"In our conversations as a department and [with] council, we wanted to work on a lot of those community-style events and make sure this is a park for the Gilbert community, and then down the line, mix in the availability for some of those larger events with a main-stage-type name," Carmona said.
Anderson said he supports the park being for the community first.
"But we are getting to a point where we have planned some significant destinations, like this park, where we need to think beyond just offering things that our local residents would do because they are probably smaller scale," he said. "We need to start thinking bigger scale, and this park lends itself to that."
The opening weekend for Phase 1B included a series of events that could be seen as a trial run for future programming in the park. Those events included a concert in the park, movie in the park with fireworks, morning yoga class, a fishing derby and a dine-out night.
Some regional events are coming, too. The town has partnered with the Sand Club, a sand volleyball tournament organizer, to put on a large regional tournament with music and activities in the park Nov. 20-22. The Sand Club co-owner Allen Alexander said he hopes his group will be able to put on a few such events through the year
"The first time I just looked at [the park] as a volleyball player," Alexander said. "Then you're looking it from an event promoter perspective. And, yeah, it's got everything."
Smaller events are possible, too. Carmona mentioned weddings, with the San Tan Mountains as a backdrop, as one example.
Coming soon
Beyond programming, the town already is looking at future development. It opened a webpage to get feedback from residents and held a virtual town hall with the park designer, Dig Studios, to gather feedback Nov. 17 and has scheduled another for Jan. 10. Similarly, Kimley-Horn held a session Nov. 5 on Desert Sky Park and will hold another Dec. 10.
The feedback gathered there will be presented to Town Council in the spring as parks and recreation seeks to plan future parks phases.
Between past and future expenditures, the town has planned to spend as much as $190.42 million at Gilbert Regional Park and $98.71 million at Desert Sky Park when they are completed in the coming years. The funds come from several sources including capital improvement funds, system development fees, the general fund and bonds.

Gilbert also would like to establish public-private partnerships to develop 5-acre and 10-acre parcels at Gilbert Regional Park. A hotel, which could host visitors to large events, is one example of a development town officials could pursue there.
The town already has a partnership to develop a 30-acre parcel in Gilbert Regional Park for The Strand @ Gilbert, a water park that could host surf competitions, although COVID-19-related delays have pushed the opening of that back to August 2022.
From the early feedback, Eva Kirschbaum, Gilbert Parks and Recreation digital marketing coordinator, said a skate park and dog park are two popular suggestions. The land at Desert Sky Park could easily turn into more multipurpose fields if the need remains, Carmona said, but it also could add a dog park.
Anderson said he would like to see some of the park's undeveloped land in the southern portion remain as-is desert landscaping. Considered the father of the Riparian Preserve, Anderson said he also would like to see the proposed Ocotillo Bridge built between the park and an adjacent riparian area. He has talked with a wildlife rescue group in Cave Creek about opening a southern rehab facility at Gilbert Regional Park.
He said some of the burrowing owls in the habitat at Zanjero Park could be relocated to Gilbert Regional Park during construction of the Lindsay Road interchange for Loop 202-SanTan Freeway, which affects Zanjero Park and the habitat.
"Most of the feedback they get from most of the public is to build more ballfields and build more soccer fields," Anderson said. "I can understand that because we have so many kids in the community. But I think we need to look at offering a variety of things."