The Gilbert residential real estate market has mirrored the trends around much of the nation as sales prices soared in the winter and early spring, local data shows.
Real estate professionals tell tales of low inventory, high competition, bidding wars and fast turnarounds on home sales. The reason, the real estate professionals said, is a simple one: supply. Maricopa and Pinal counties' population increased about 290 people per day in 2020, according to Vintage U.S. Census estimates, but only about 32,000 homes were built, about 0.3 per person coming in.
"We have underbuilt horribly for the population that's coming in," said Celeste LaRoque Wolfe, a Realtor from Realty One, which serves the Chandler-Gilbert area. "We just can't keep up with it."
The result, LaRoque Wolfe and others said, is an exceptionally strong seller's market. Sellers have needed to do little in the way of repairs or offering home warranties and have even been able to get buyers to make concessions in areas like inspections or appraisals.
People who are waiting for this real estate bubble to burst will be disappointed, experts said. It is not a bubble, and experts do not expect a real estate crash like the one that occurred during the Great Recession. However, signs from later in the spring and into summer show the strength of the seller's market is waning.
What that means, the experts said, is it will take longer to sell a home, and the process will look more like traditional home selling from the past couple of decades with fewer bids and buyer concessions.
"If you're in a weak seller's market, [prices] won't rise as fast as right now," said Tina Tamboer, senior data analyst for
The Cromford Report,
which provides detailed information on the Greater Phoenix residential resale market. "You might see it like 1% [per month], and that's a 12% gain a year. That's pretty amazing."
A 'critical' shortage of homes
LaRoque Wolfe called the situation a "serious, critical shortage of homes," and she said the effects of it have manifested in several ways.
"Sellers were not even looking at typical offers anymore," she said. "They had 30, 40 offers on a house, and they were going straight to the cream of the crop."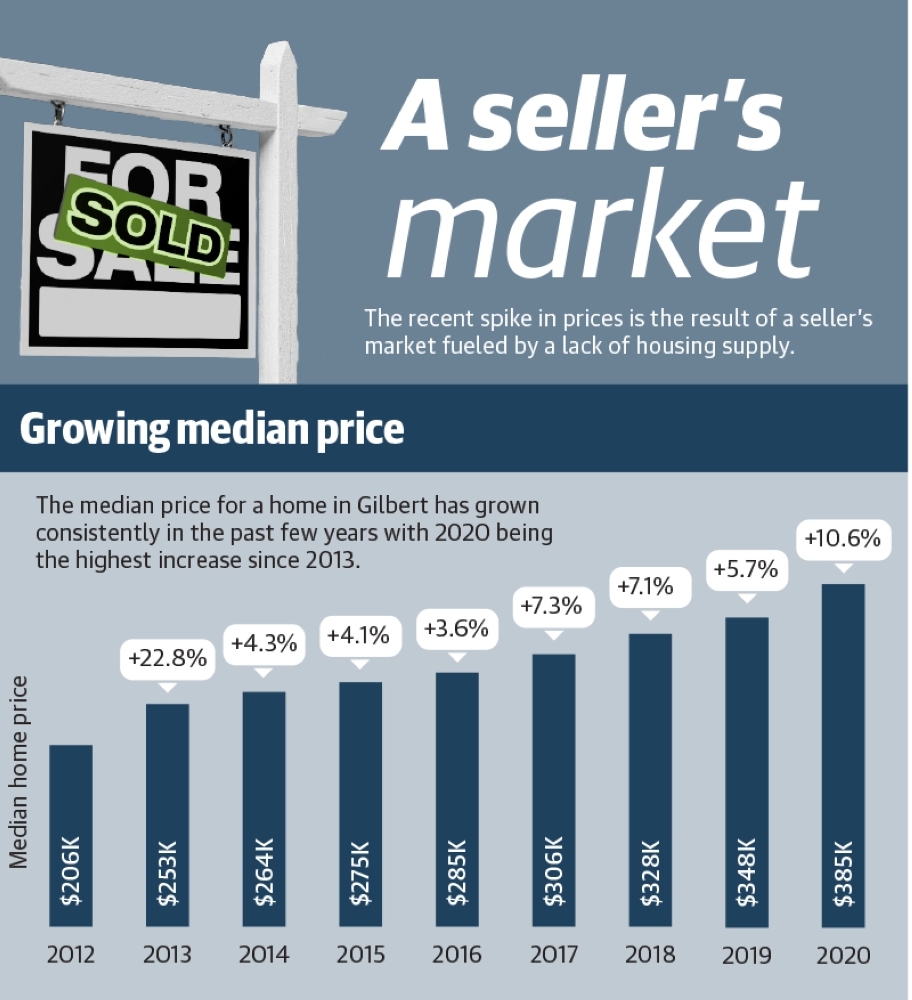 Sellers are asking buyers to waive the appraisal contingency or forego inspections, she said. Buyers sometimes were paying $100,000 over market value, and buyers trying to use
Federal Housing Administration
loans or putting down 20% as down payments could not compete.
Homes are moving quickly, too, LaRoque Wolfe said.
"A lot of agents would put the house on the market on a Friday," she said. "They would say, 'OK, we're going to have an open house on Saturday. We're going to review offers on Sunday and we're going to make the decision on Monday. And it went that fast."
Mark Stapp, the director of the
master in real estate development program at Arizona State University
, said the pandemic further exacerbated the problem for working-poor buyers, a category he said can include residents from teachers to phlebotomists.
"In places like the southeast Valley, the greatest share on a percentage basis of new home building growth is built for higher median incomes," Stapp said. "People are getting pushed out of the market to places like Florence or Coolidge where the price of land is cheaper."
Most new home construction in Gilbert is in the town's southern ZIP codes of 85297 and 85298, where the median home prices for June rose to about $600,000, according to data from the West and SouthEast Realtors of the Valley. In contrast, the median prices in Florence were $315,000 and in Coolidge $243,500.
Different from the Great Recession
Real estate professionals said they are frequently asked when the market will crash.
"When you say 'crash' to somebody like me or a real estate agent who lived through 2008, they think of a drop in value by 50%," Tamboer said. "So that's why you're going to be like, 'Nope, not going to happen.'"
The difference, Tamboer said, lies in what was happening before the Great Recession and what is happening now. Then, overbuilding led to a glut in housing, and investors had pushed prices "into the atmosphere," she said. The issue now is from a lack of supply.
"We had 57,000 listings in the [Multiple Listing Service then]," she said. "Where are we going to get 50,000 listings today?"

Tamboer pointed to the
National Association of Home Builders' Home Opportunity Index
, which showed the median income family then could only afford 27% of what was selling before the recession, as opposed to 63% in first quarter 2021.
"You had nobody there [to buy], you know?" she said. "So [prices] had to come down. There's no way around it. But this time around, over the last 10, now 11 years, we have been underbuilding for our population, and we slowly turned that into a shortage."
Stapp said the recession did affect the situation today.
"What we are living with now is a result of and reaction to the Great Recession," he said. "The reason we have prices escalated as high and as quickly as we do is a lack of inventory. The Valley continued to grow during and after the Great Recession, but the entire homebuilding marketplace stalled and under-built from 2008 to 2015. We set ourselves up for this problem."
LaRoque Wolfe said she has heard concerns that when forbearance—a temporary pause or reduction in mortgage payments—comes to an end, the result will be a flood of homes on the market. That will not happen, either, she said.
"We have approximately 707,000 homes in forbearance in Arizona," she said. "But most of those are going to refinance. ... Probably about 15% will come to the market. Once those come to the market, they're going to be gone in probably a day."
Looking ahead
Tamboer stressed that no one can predict the market. She said she only projects where the market is headed based on the data trajectory from the moment, which now shows the seller's market weakening.
The Cromford Report uses a proprietary formula to come up with a market index number showing if it is a buyer's or seller's market or if it is in balance. In balance, the index is 100. Anything above 110, she said, is considered a seller's market. Early in the spring, the index was over 700. On July 1, it stood at 397.7.

"Even though we are seeing this crazy, insane market soften, and it has been softening for three months, we're not necessarily expecting it to go into this buyer's market that we saw in 2006[-09], because that was the result of over 10 years of overbuilding and speculative buyers," Tamboer said. "Now we have people who actually need a place to live."
There is some softening in demand, LaRoque Wolfe said, although it may be temporary.
"The only reason it's going down is because buyers are just fatigued," she said. "They're tired. They go out there. They're fighting against 20 offers. They just don't want to give away the farm."
Tamboer said she believes the news is not all bad for buyers as affordability—measured from median incomes against median home prices—is good.
For sellers, prices will still rise, but a weaker market changes how many offers are received, how quickly homes are sold and what sellers can demand from buyers, LaRoque Wolfe said.
LaRoque Wolfe said she anticipates Gilbert and similar cities coming into more of a balance this year.
"It's a wonderful time if you're a seller right now and you don't want to do anything," Tamboer said. "You can do as-is. You can get cash. If that's what you want, then you should probably sell now. But if you're not in a hurry, it's not like we're going to go into a buyer's market."
Alexa D'Angelo contributed to this report.