The Gilbert residential real estate market has heated up despite fears of what the coronavirus pandemic could do to housing prices.
In fact, some Realtors and agents said they see few effects from the pandemic, mostly in small segments.
"It's definitely a great time for people if they're still looking at buying or selling," said Realtor Adrianne Lynch from Conway Realty in Gilbert. "Gilbert is still a great opportunity."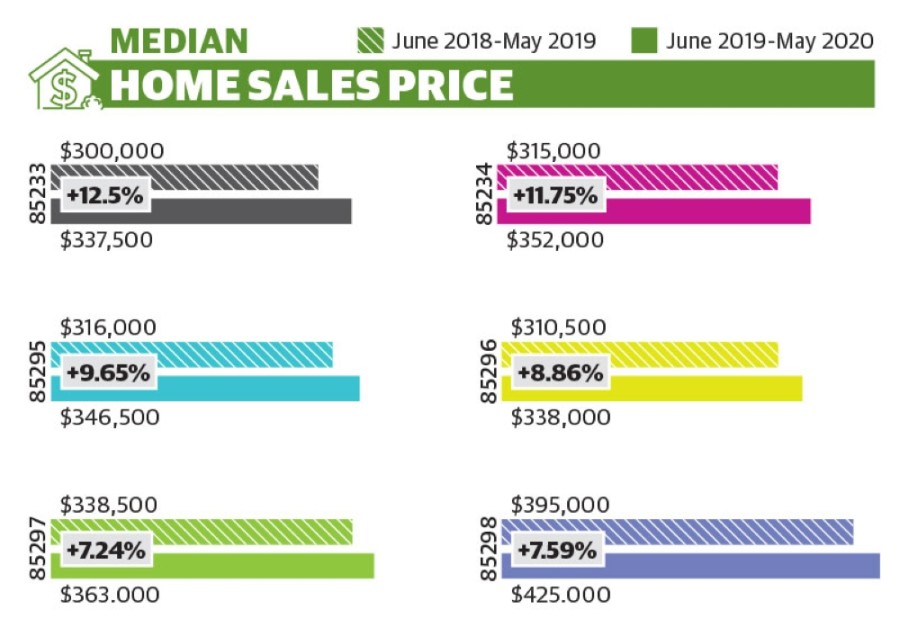 While the pandemic may have affected some market segments, the greater effect was on how homes are sold with technology, such as utilizing virtual walkthroughs to make sellers more comfortable.
The biggest issue facing the market is not COVID-19, but low home inventory—a condition that predates the pandemic, Realtors said. This in turn has caused increased demand, which increases competition for homes on the market and drives prices up, in some cases above asking price.
Additionally, a dip in activity during the state's shutdown is over now, agents said.
"Once the buyers felt even more comfortable to come out, they have come out in droves," said Realtor Dena Greenawalt, who is president of West & SouthEast Realtors of the Valley, or WeSERV, a networking group that supports Realtors with resources and education.
Effects of COVID-19, low inventory
Gilbert resident Amanda September, a Realtor from Comfort Realty, said she saw just a short-term effect: less listings during the shutdown.
"People were hesitant ... not knowing what the market was going to do," she said.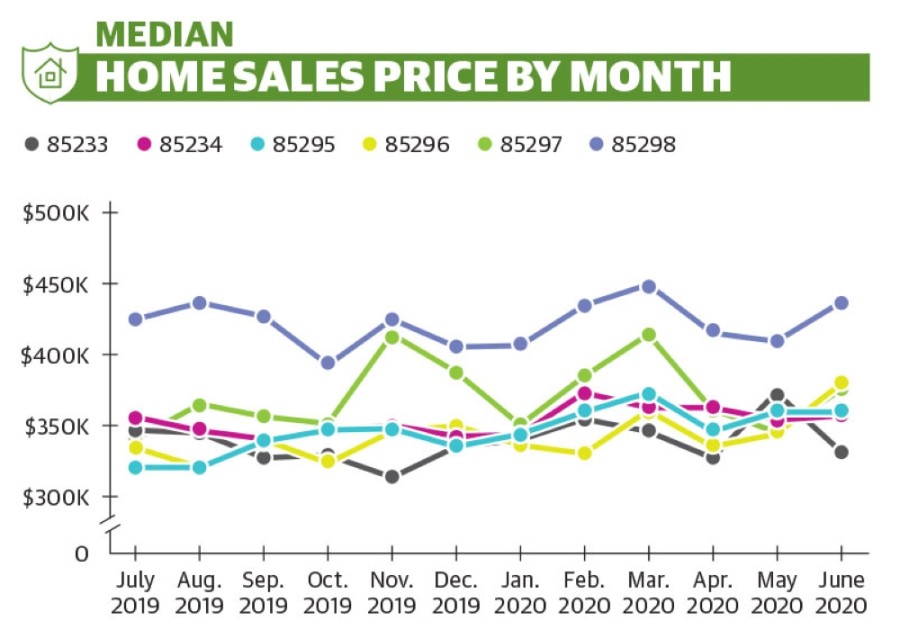 September said listings were down 15% in April and 22% in May, a time that is normally the peak for the Valley's real estate market. But the listings have come roaring back in June and July, and she expects data will back that when it comes in.
That is particularly true in Gilbert, said September, who called the town an anomaly.
"I think the optimism lies in the fact that the days on market have decreased, and the demand is still there," she said. "People still want to come to Gilbert. Gilbert is still one of the top and hottest cities in the Valley right now."
Greenawalt said certain market segments, like retirement communities for the 55-plus age group, found the market more difficult than the market at large.
What has affected the market more than the pandemic has been the low inventory of homes available for sale in Gilbert. That situation started before the pandemic.
With demand not waning, competition for homes is fierce, driving prices up in all price ranges, Greenawalt said.
She said she listed a home in late June for $325,000, which she thought was a fair market price, and one she did not expect to start a bidding war. However, within the first two days of it being listed, it had 95 showings and 54 offers.
Similar cases indicate Gilbert is a seller's market in Gilbert, Realtors agreed.
However, the news is not all bad for buyers, particularly first-time buyers who have been paying rents, which have been historically high in the Southeast Valley. That stands in contrast to historically low interest rates.
"It's a great opportunity for [renters] because it's affordable," Lynch said. "And with the interest rates, it's comparable to what they're paying in rents."
And, with its high ratings in many quality-of-life rankings, Gilbert remains attractive to buyers at all prices ranges, September said.
"I certainly don't think we're in for a housing crash that a lot of people think we are," she said. "I think Gilbert is going to be one of those little areas where we're here to stay," she said. "It's going to continue to be a highly desirable town to live in."
Technology comes into play
September said part of the hesitancy for sellers about putting their homes on the market during the pandemic was having strangers in the home.
"I heard that a lot," she said. "We're worried about people coming in, and are they going to respect our space and wash their hands and not touch things? And how many people are they going to bring in the home? People were hesitant to have open houses and generally wanted to respect the stay-at-home orders."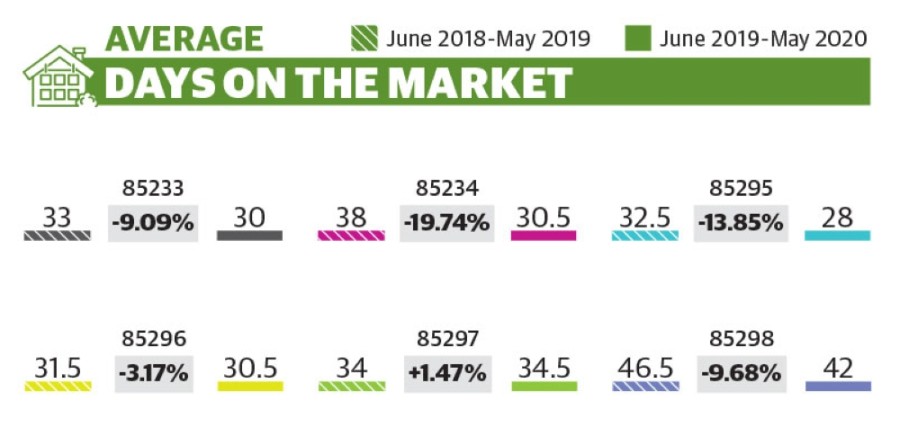 That's where technology came to the rescue, Greenawalt said.
"We obviously had to get very creative," she said. "We were deemed essential by the governor, so we were able to work and do things. Open houses, those things didn't happen, but we worked through it with more virtual tours, more video walkthroughs with clients, things like that."
Lynch said a virtual tour with photos gives people an idea of the home, but a video walkthrough allows buyers to see all they want to see.
"If you're on FaceTime or Zoom and you're physically walking through the property with them, they're seeing everything they want to see," she said. "I've had clients that wanted to look at the doorknobs or what the tile looks like, and I'm walking them through the house as if they're there. We sold several homes that way."
Housing market stays strong
While COVID-19 has shaken the economy through the labor market, retail sales and stock market, real estate is a different story, said Greenawalt, who is from the RE/MAX Alliance Group in Gilbert.
"Real estate economists and experts are trying to make sure that agents understand and the public understands that what was going on with the pandemic was not a real estate-related issue, and that [the real estate market] might have been an innocent bystander in some ways," she said. "We're not going to see the same things we saw in 2008 when the market took a huge nosedive."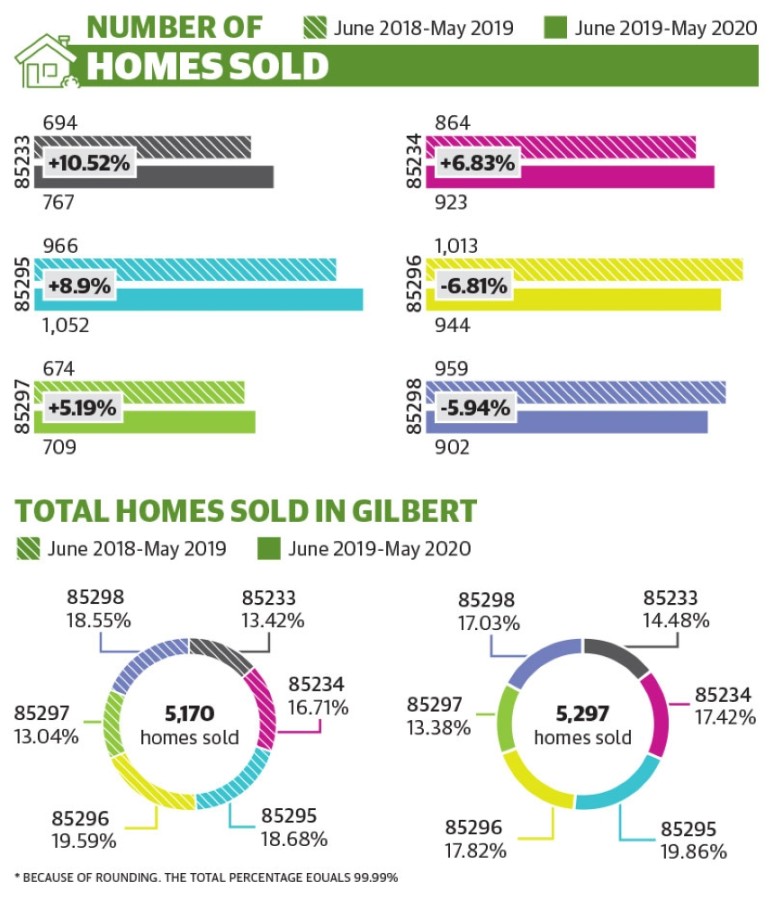 The 2008 housing crash came because the Great Recession came out of the housing market with the subprime mortgage crisis.
But studies on the last several recessions showed that prices continued to rise through all but the Great Recession, Greenawalt said, with the housing market acting as a stabilizer to the economy.
"People are still buying homes [in recessions], and they tend to hunker down then, so they'll do remodel projects and things like that," Greenawalt said. "So the homeowners are still keeping that economy going."
Another difference from 2008 is how much equity homeowners have. Greenawalt said data shows about 42% of homeowners own their homes free and clear, and more than 60% have positive equity in the home.
"We don't really know what's going to impact us going forward, but we don't expect the market to slow down," she said. "We don't expect prices to go down."