Health care may continue to hold significance in 2021, but in Gilbert, it will not just be about the coronavirus.
The town will see a medical industry expansion of nearly half a billion dollars this year. Most notably, the $250 million Women and Children's Pavilion is anticipated to open this spring on the campus of Mercy Gilbert Medical Center. The pavilion is the product of a partnership between Phoenix Children's Hospital and Dignity Health, which operates Mercy Gilbert.
That comes on top of the Gilbert Planning Commission's December approval of a $243 million expansion of the Banner Gateway Medical Center, which will bring an additional patient tower, an expanded diagnostics and treatment area, and more parking to the campus.
Banner, Dignity and PCH are nonprofits.
Construction for Banner's project is anticipated to begin in mid-2021, with completion projected for the first quarter of 2023, town and Banner officials said.
Gilbert Economic Development Director Dan Henderson said that given the pandemic, the expansions, including additional capacity and inventory of beds, could not come at a better time.
The importance of the projects will be clear not just in Gilbert but also in the East Valley and the whole of the Greater Phoenix metropolitan area, Henderson said.
"We know community needs roll up to regional needs," he said. "They want to be complementary."
Serving the region
Henderson pointed to several ways the medical center expansions will benefit more than just Gilbert.
"The number of surgery cases is growing," he said. "Having women and infant services pairs really well with our young and rapidly growing community and with the number of births forecasted for the East Valley, not just Gilbert. ... Hospital capacity is important to manage. More beds are urgently needed to alleviate overcrowding."
The expansions are also important to the town in terms of employment, town officials said. Health care and social assistance is the largest employment sector in Gilbert, and it grew by 18%, or by more than 2,400 jobs, from 2015-20, according to labor market analytics firm EMSI, and is anticipated to grow by another 16% through 2025.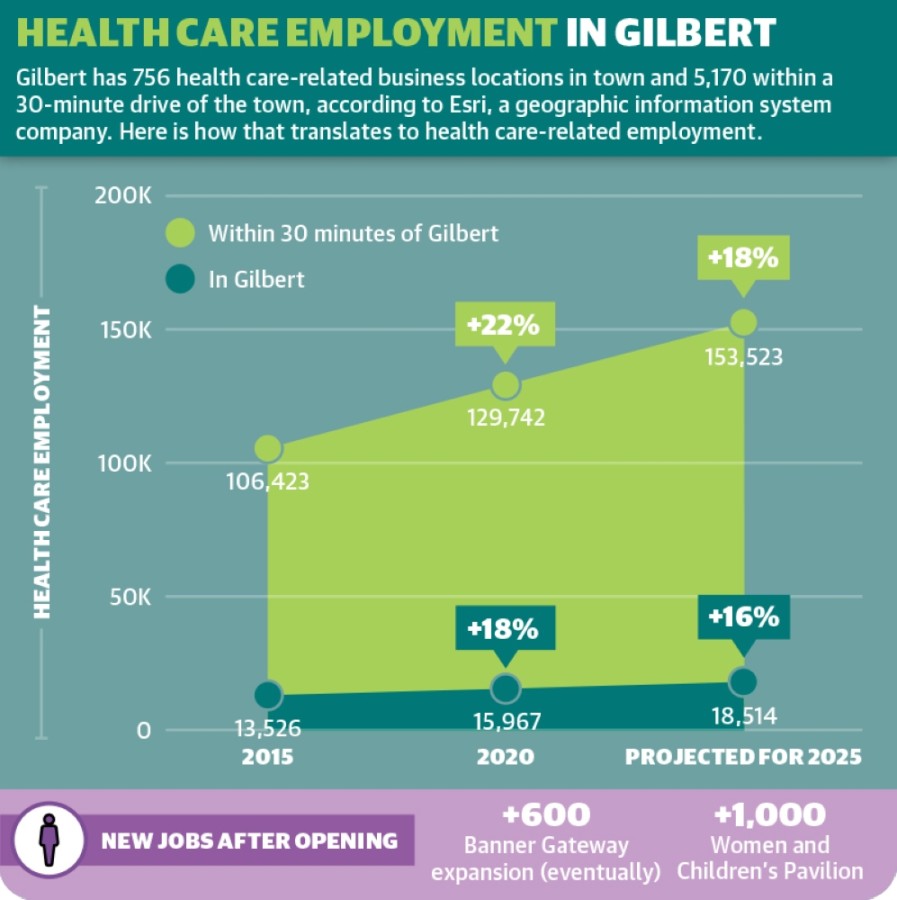 Banner, which also operates the MD Anderson Cancer Center next door to Banner Gateway, is the town's second-largest employer, and Dignity is the second-largest employer in Gilbert's Central Business District, according to town data.
Henderson said Greater Phoenix has been a destination site for health care advancement, with Banner, Dignity, Phoenix Children's Hospital and the Mayo Clinic all in the market. Health care companies have made $7 billion in strategic investments in the market since 2009, according to data from the Greater Phoenix Economic Council.
Henderson also cited data that shows nearly 4,300 clinical trials are being conducted in the Valley, including more than 300 in Gilbert, as an example of the innovation and collaboration that has resulted.
The Banner expansion alone will add more than 600 jobs over time, Banner officials said. Dignity officials said the Women and Children's Pavilion will support about 1,000 jobs once it is operational.
"It's a tremendous economic generator for the region and the East Valley," Henderson said. "We have a skilled and diverse work force that is being recognized globally. We have ... [Science, Technology, Engineering, Mathematics] and STEM-related jobs that drive the economy because they are high-wage jobs."
Planned expansion moves ahead
When Banner Health built Banner Gateway Medical Center, which opened in 2007, it did so with room for planned further expansion. Henderson said the town has long talked to Banner Health about future expansion and understanding its needs.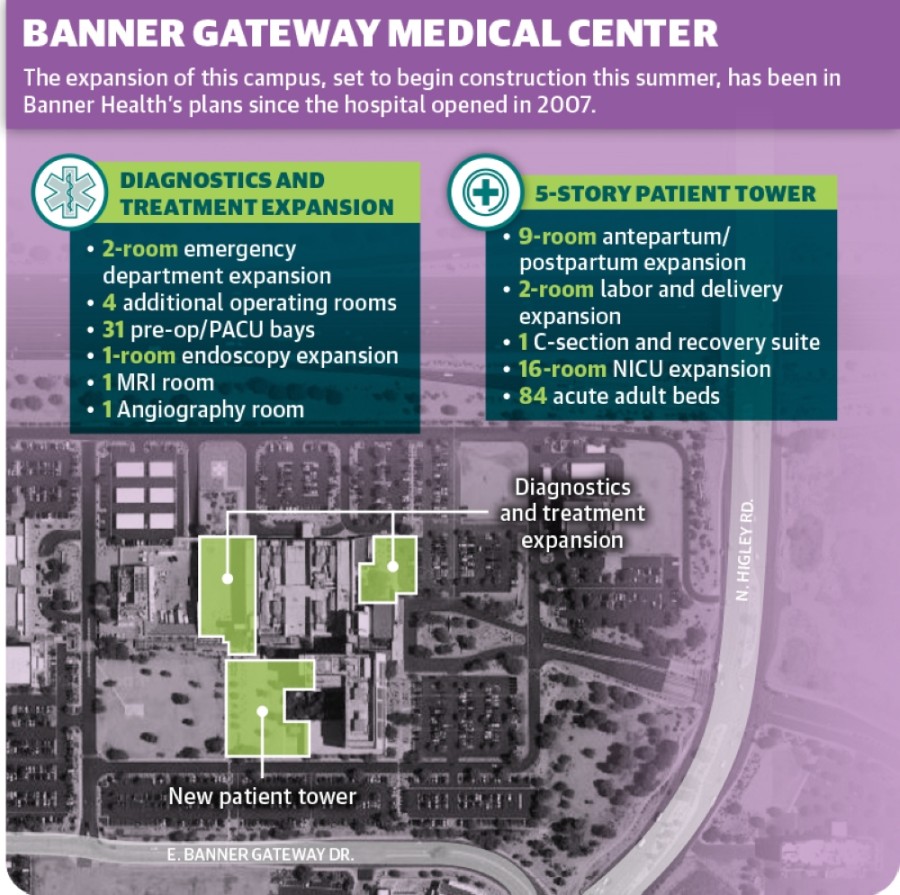 Banner Gateway CEO Lamont Yoder said Banner evaluated current need and projected community growth in Gilbert for 10 years as part of its master planning process, something it does with all large construction projects.
"There is a fine line between overbuilding and underbuilding for the stated demand, so we build infrastructure to support the next 10 years of growth, including shelled space, utilities, technology bandwidth, etc.," Yoder said. "This allows the campus to grow and adjust with community needs."
The project, which represents a $243 million investment from Banner, will add about 351,000 square feet to the Banner Gateway campus, which is approximately 380,000 square feet now, Yoder said.
The plan includes a second five-story patient tower, a two-story expansion of the existing diagnostics and treatment facility on the east and west sides of the building, and two new surface parking lots, according to documents presented to the Gilbert Planning Commission.
Banner officials said the expansion is slated for completion in the first quarter of 2023, and it will grow in the new spaces as demand requires.
Yoder said the facilities have seen rapid growth in demand to deliver babies at Banner Gateway and cancer cases at Banner MD Anderson.
"This demand presents the need to increase our women and infant services and oncology departments and spaces dedicated to these patient populations," he said.
The infant services expansion includes a larger nursery with a higher level of newborn care for babies that might require more complex care, Yoder said. He added that Banner Gateway is at the forefront of piloting and implementing innovative technologies to improve the health care experience.
"As we build this expansion, we will continue to look for and act on those opportunities," he said.
Regional growth was also a factor in the decision to expand at Banner Gateway, Yoder said.
"Many people living in the Southeast Valley communities are enrolled in and receive care through our Banner Health Network, so expanding the hospital will give them greater access to acute care close to home," he said. "Our mission is to make health care easier so life can be better, and expanded access is part of that."
Pavilion nears opening
Dignity Health and Phoenix Children's Hospital have partnered before the Women and Children's Pavilion, including PCH opening a specialty clinics building on the Mercy Gilbert Medical Center campus last January. The partners broke ground on the pavilion in November 2018.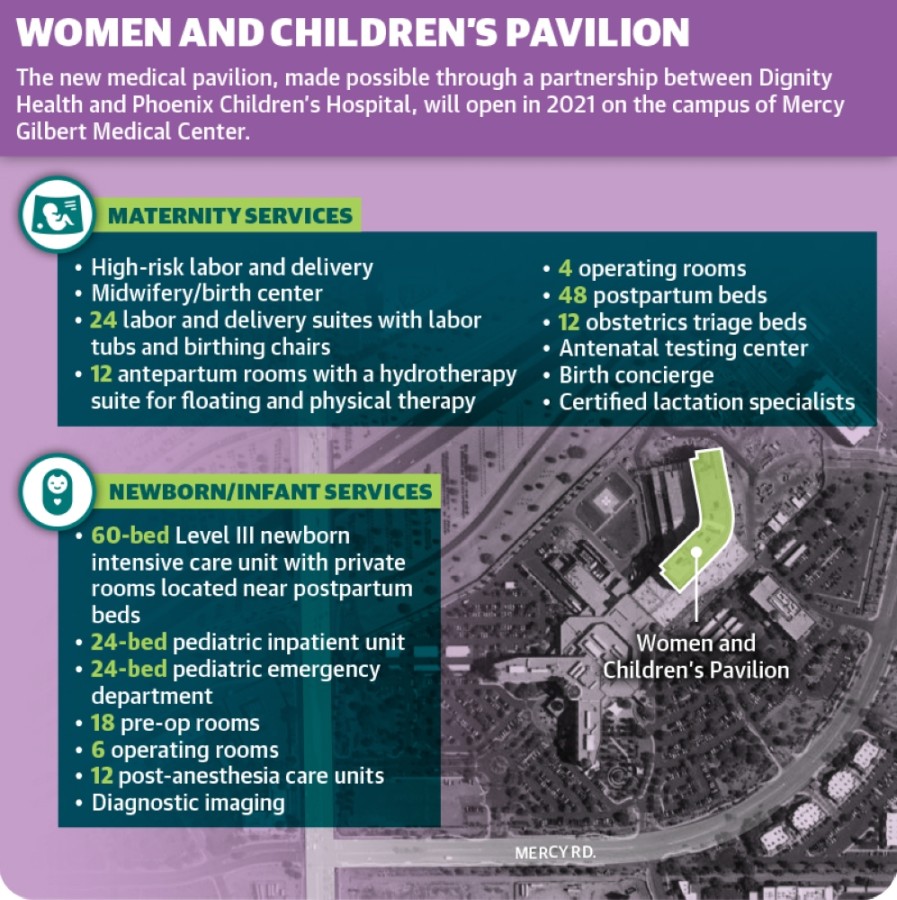 The COVID-19 pandemic has delayed construction of the pavilion, which was set to open this spring, but work will resume this year to finish it, Dignity Health spokesperson Abby Friedemann said.
The pavilion received $250 million in investment from the partners, and its footprint, at about 378,000 square feet, is larger than the adjacent hospital, which is 350,000 square feet.
Mark Slyter, president and CEO at Mercy Gilbert Medical Center, told •Community Impact Newspaper• in May 2019 that Gilbert's growth and central location within the East Valley made it an ideal place for the pavilion.
"What we've put together over the last few years is a combination where we would extend and expand our women's services on our current Mercy campus and then add in the children's hospital adjacent to these women's services and really be the first true women's and children's pavilion or hospital in the state of Arizona," Slyter said in 2019.
The women's health expansion will include 12 antepartum rooms, 12 obstetrics triage beds, 24 labor and delivery suites, and 48 postpartum beds, among other features, Dignity officials said.
Slyter said in 2019 that Dignity was investing in a more complex and comprehensive labor and delivery unit, one that would give women the amenities they now look for when they are giving birth.
The expansion of PCH's services for children will include a 60-bed Level III newborn intensive care unit, a 24-bed pediatric inpatient unit, a 24-bed pediatric emergency department and six operating rooms.