Telemedicine has been a line of service in the health care industry for several years, but the coronavirus pandemic has ignited exponential growth in the past three months.
That growth could be seen in Gilbert throughout the pandemic, when practices and hospitals implemented or expanded their offerings.
The waivers that temporarily relaxed federal regulations that previously defined how and where telemedicine could be practiced proved critical in this growth burst, doctors said.
Doctors are being allowed to use telemedicine in ways they previously had not and getting paid for it for the first time.
"I think that the rapidity and the orderliness of which the transformation has taken place, it's really been inspiring," said Dr. Ronald Weinstein, director of the Arizona Telemedicine Program run from the University of Arizona. "I think people realize the time had come, and they were set to go."
The future, however, is less certain. While continued growth is expected and many providers see telemedicine as one component of a permanently changing health care landscape, whether expanded services or payments will be allowed to continue when the governor-ordered medical emergency is over is unknown.
Potential unleashed
Political response to the pandemic greatly increased what was available to patients. Federal officials loosened restrictions in March and April related to the Health Insurance Portability & Accountability Act, or HIPAA, a 1996 federal law that governs the flow and security of health-care information.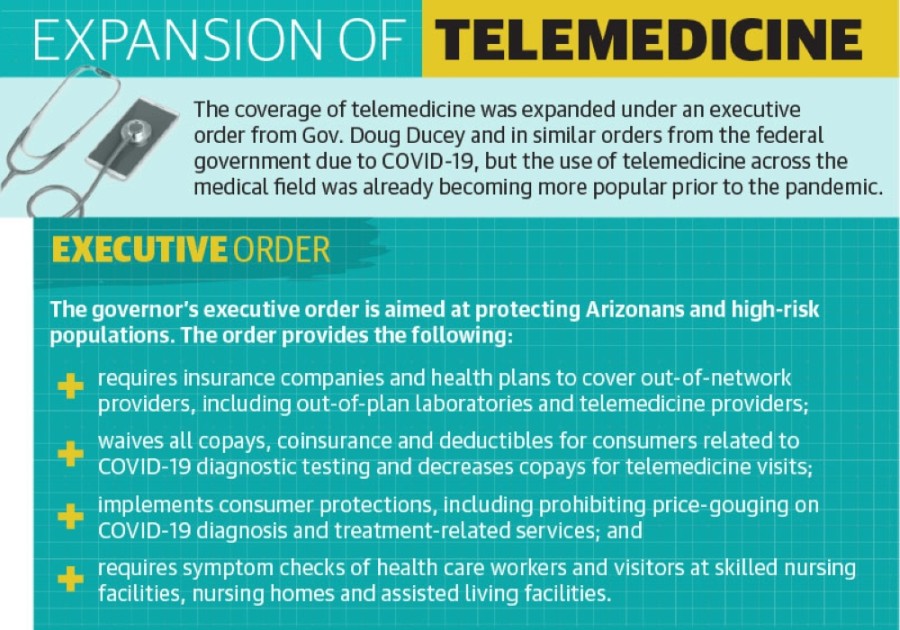 In Arizona, Gov. Doug Ducey signed an executive order March 25 that required insurance companies to expand telemedicine coverage for all services that would normally be covered for an in-person visit.
Weinstein said these directives allowed telemedicine service to urban areas, telemedicine directly into people's homes, use of smartphones at workstations for telemedicine and interstate licensure for providing telemedicine.
"The waivers were crucial and by making those waivers, all of the things for which enormous pressure had been evolving over the years became a possibility," Weinstein said.
Most critically, Weinstein said, is the waivers allow physicians to be reimbursed in these areas. Weinstein said usually one to two billing codes are added per year relating to telemedicine; in the past three months, it has been 80.
Holmes said being able to be reimbursed for providing telemedicine services pushed Desert Shores Pediatrics to add it in March, said Dr. Christie Holmes.
"We actually have looked at it in the past," she said. "The main reason why we had not fully instituted is we weren't going to be paid for it. The insurance companies really are not paying for telemedicine, and that obviously is a huge hindrance for us."
With the waivers and lessened restrictions, the practice was able to quickly implement the service, which she credits for helping keeping the business afloat. She said perhaps 60% of the clinic's visits in March and April were through telemedicine, though that has lessened since then.
Uncertain future
The federal actions, executive orders and waivers all have a shelf life to them. Ducey's order is to the declared end of the state's health emergency, which had not happened as of mid-June.
Holmes said Desert Shores would have to invest in a more HIPAA-compliant platform for continued use, but that only makes sense if the practice continues to be reimbursed.
"The fear is that some of the insurance companies may end it with the primary care doctors, but offer it with their own telemedicine docs," she said. "That really interrupts the medical home. We know our patients. It's so much better for them to keep these patients in our medical home where we're so well versed with their care and their treatment plan and their history versus some telemedicine doctor that's never seen them, never laid eyes on them."
Weinstein said he thinks telemedicine is here to stay now that its potential has been seen.
"Theoretically we can fall off the cliff," he said. "But that's very unlikely to happen."
Instead, Weinstein, who said he was the first resident physician to rotate to a telemedicine service in 1968, said he sees a changed landscape for health care. He even predicts that the big-box hospital of today may be a thing of the past as remote medicine increases.
Weinstein said robotics, artificial intelligence, automation and telehealth will drive medicine in the future.
"The rush is on," Weinstein said. "Now that everyone is telemedicine-enabled, what else can they do to streamline patient care? I think that's where the exciting activity is going to take place."
A time of growth
Telemedicine— allowing health care professionals to evaluate, diagnose and treat patients at a distance using telecommunications technology—has been available to some extent as far back as 1968 and has enjoyed steady growth despite regulations that limited the way it could be used.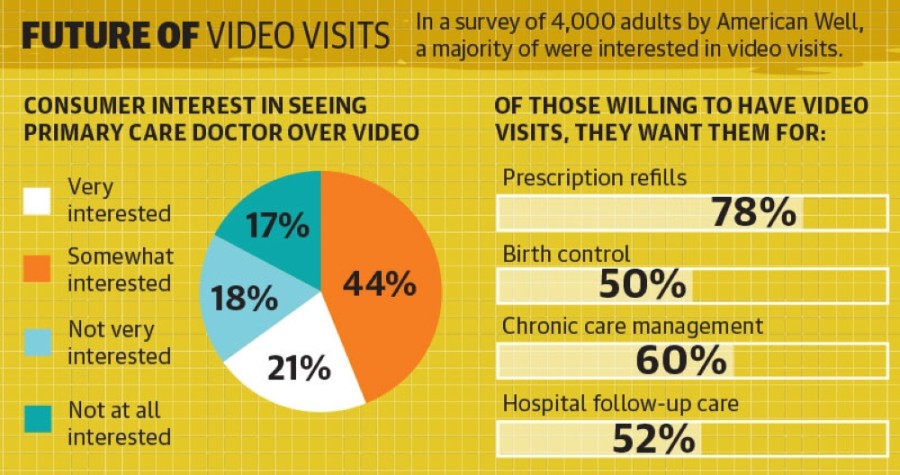 "Telemedicine was waiting in the wings for a long time," said Weinstein, who also is president emeritus of the American Telemedicine Association. "After all, last year there were 37 million cases done in the United States. It's not that it wasn't there. But now it jumps up to probably, I've estimated, a billion cases this year."
Weinstein noted that two of the largest private telemedicine providers, Teladoc and Amwell, have reported up to 30-fold increases in visits through the pandemic.
In Gilbert, expansion was visible as practices began advertising telemedicine as an alternative to coming into the office for a visit.
"Telemedicine has always been around in the background, but this pandemic really thrust telemedicine to the top, that it really needs to be implemented," Holmes said. "We implemented it emergently, but we were able to transition fairly quickly, and it's really working well."
Holmes said patients not having to take time off from work or travel into the office has been an advantage, though she said about 20% of telemedicine visits have to be converted into in-office visits. Another advantage: less exposure to the coronavirus.
"It's less exposure for the patients," she said. "They can remain at home. It's less exposure for the staff here at the office, decreasing the number of patients, especially ill patients, that we are seeing."
The way telemedicine is most frequently used at Banner Health facilities—which in Gilbert include two hospitals, six urgent care facilities and a health center—is different than many practices in town. The health care company has used telemedicine since about 2005, most prominently with tele-ICU service that has allowed Banner to give critical care service at night even to smaller, rural facilities where it would not make sense to have a critical care doctor working overnight, Dr. Michael Simons said.
Simons, Banner's telemedicine director, said that during the COVID-19 shutdown, the company rushed out two additional telehealth services that it had been planning for later and slower implementation: virtual urgent care and virtual primary care using Banner clinicians.
Simons said during COVID-19 there has been a new clamor for such services.
"Truthfully, we expected this to be a very slow rollout when we rolled it out, one, because providers weren't necessarily embracing it," he said. "They recognize maybe there's some potential here, but it wasn't clear that it was something they needed."

Simons said the new landscape leaves telemedicine addressing two extremes: low-acuity cases on one end, where not much is required of the physician and she or he can have time freed for more complex diagnoses; and more critical cases, such as with tele-stroke services where time is of the essence.
Weinstein said he believes perhaps 70-85% of health-care visits can be appropriately managed through telemedicine. But not everyone falls in line with his thoughts. Holmes said pediatrics requires more in-office visits because many of the patients are non-verbal.
Mark Slyter, president and CEO of Mercy Gilbert Hospital, encouraged people not to delay care out of coronavirus concerns because hospitals with enhanced procedures are safer than grocery or hardware stores. Toward that end, telemedicine has been helpful, but not in every case.
"Telehealth is an absolute positive addition in continuing care and accessing care, but does not replace more urgent and emergent visits," he said.