With travel restrictions, quarantine and stay-at-home orders initiated during the coronavirus pandemic, the tourism industry has been hit hard statewide, including locally in Gilbert.
In warm-weather Arizona, the
Office of Tourism
considers tourism the state's No. 1 export industry with 46.8 million people visiting the state in 2019, spending $25.6 billion. However, in 2020, measures of the industry's health showed decline from 2019 across the board—airport passenger traffic was down 52%, and visitation to Saguaro, Petrified Forest and Grand Canyon national parks dropped 48%, according to the office of tourism.
Gilbert also suffered losses with one study showing declines from 6.5%-25% in lodging measures.
However, Gilbert, with no resorts, large attractions or regional events, relies on tourism less than other cities in the state, town officials said. The smaller slice of the tourism pie means the town was less affected by the decline, too.
Still, Gilbert, like the state, is awaiting recovery.
"What's going on locally is that things were hit hard, but the trend is moving upward," said Council Member Scott Anderson, who as town planning director started the town's ad hoc tourism advisory group and now serves as council's liaison to the group. "It was in early April, May, that time frame, things really took a nosedive, and it's in a steady uphill [climb] since then. We aren't back to anywhere near the pre-COVID[-19] level, but I think we're making progress toward that."
COVID-19's hit
Warm weather draws tens of thousands of snowbirds to Arizona away from colder climates. Sports fans come to enjoy the PGA Waste Management Phoenix Open or Cactus League spring training games. Car enthusiasts gawk at the Barrett Jackson Car Auction. Nature lovers enjoy three national parks, 13 national monuments, two national historic sites, two national historic trails, two national recreation areas and 31 state parks.
But COVID-19 hurt statewide tourism in the last year, according to data from the Arizona Office of Tourism across a broad spectrum of measures. Tourism-related industry sectors—lodging, restaurants and bars, retail, and amusement—saw 8.5% less revenue and taxes paid to the Arizona Department of Revenue through November in 2020 than 2019.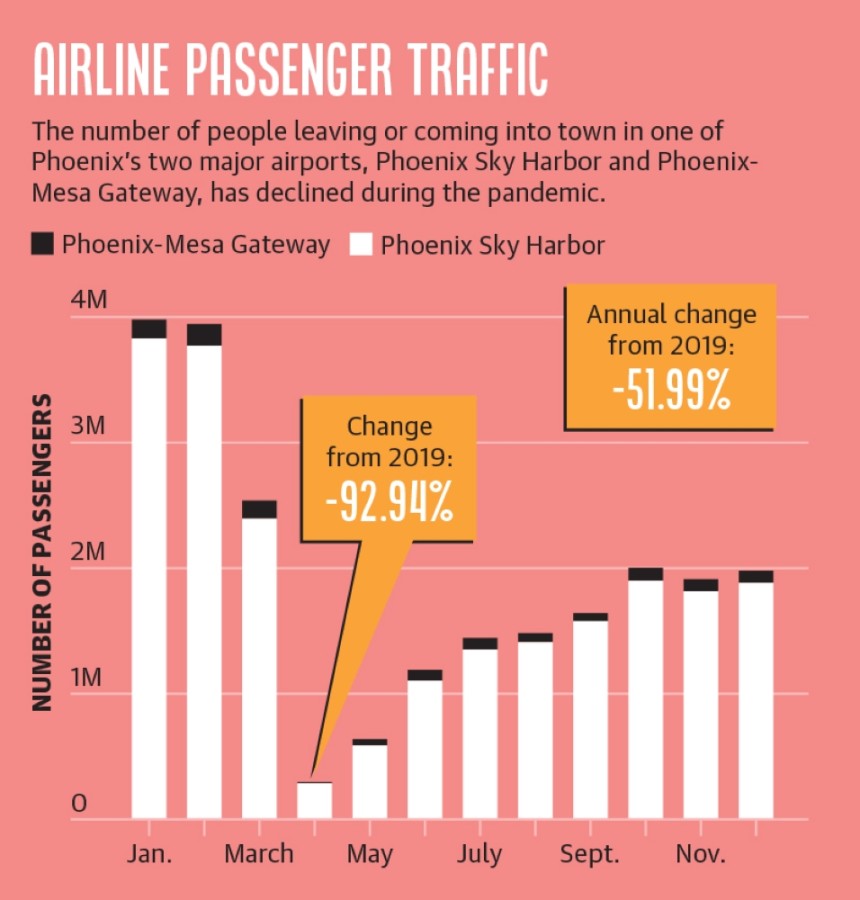 Arizona's airports were down 52.2% in enplanements and deplanements during 2020, according to the Arizona Office of Tourism. Phoenix Sky Harbor had 54.8% fewer domestic flights and 56.9% fewer international flights, while Phoenix-Mesa Gateway, adjacent to Gilbert, saw 41.6%, 92.2% and 11.8% fewer domestic, international and chartered flights, respectively.
Arizona's lodging industry showed a 27.1% decrease in occupancy, 11.9% decline in average daily rate and a 35.8% drop to $54.72 in revenue per available room, figured by multiplying occupancy by the average daily rate, according to the Arizona Office of Tourism.
Gilbert officials said they believe the picture is different in town—down, but less than the state as a whole.
"When you say you're down only 20% and that's relatively good, that's only to put it in perspective," Gilbert Tourism Administrator Glenn Schlottman said. "A lot of other folks have been dealing with some pretty dire numbers, and the climb out of those lows from the April timeframe hasn't been as robust."
Hotel occupancy was down 19.7% year over year in 2020, while average daily rate is down 6.5% and revenue per available room dropped 25%, according to hotel data company Smith Travel Research.
Jeffrey Johnson, manager of the Home2 Suites by Hilton, said his Gilbert hotel has stayed relatively busy during the pandemic.
"I think it's mainly because Arizona really didn't shut down much," Johnson said. "We still have a lot of out-of-state people."
Gilbert's tourism strategy
Gilbert officials claim the town's tourism strategy and the travelers Gilbert attracts are reasons Gilbert's hit has been less severe.
Gilbert officials define four key audiences for the town: youth and amateur sports, business travelers, travelers visiting friends and family, and the "Arizona visitor" who visits for regional events or stays nearby.
Youth and amateur sports in Arizona benefited from adjacent states, particularly California, shutting down events. Gilbert's Cactus Yards sports complex has COVID-19 protocols in place, officials said, but has remained open to tournaments.
Officials said Gilbert's hotels also are not resort-style but are friendlier to business travelers or people visiting family and friends.
"Our occupancy of those hotels is due to ... people who are traveling more out of necessity than anything right now," Schlottman said. "Our hotels are doing relatively well through that makeup of visitor."
Economic Development Director Dan Henderson said the town piggybacks off regional events outside Gilbert, such as baseball spring training, day hiking through the Riparian Preserve or dining in the Heritage District.
Even so, the town has less reliance on tourism dollars for its budget, which has helped Gilbert steer through the pandemic for residential services, town officials said.
"Our revenues, like everyone else's, are down, but percentage-wise, that gets back to some of our early optimism," Henderson said. "Those percentages haven't found us relying on 21% of our annual budget coming from tourism and tourism-related travel. Our budget expenditures on those are much different than some of our neighbors."
Gilbert makes more of a regional play for the Arizona visitor, as a result, Henderson said. There is no big national event, and the venues are smaller.
Those venues, such as the Higley Center for the Performing Arts, were affected but are starting to come back with smaller audiences and mitigation strategies. Higley Center Manager Robert Zucker said the center has been operating on a limited basis, first to school groups and later to rentals, but strict protocols are in place.
The venue has public performances planned for April and August, but Zucker said they could be delayed.
"I joke with people who ask what I do for a living, and I say that I'm a rescheduler," he said.
Making a comeback
Anderson cautions it could take another year for tourism activity to return to pre-pandemic levels in Gilbert. Meanwhile, Schlottman said he sees signs of hope with people planning trips for summer, but those plans keep getting derailed.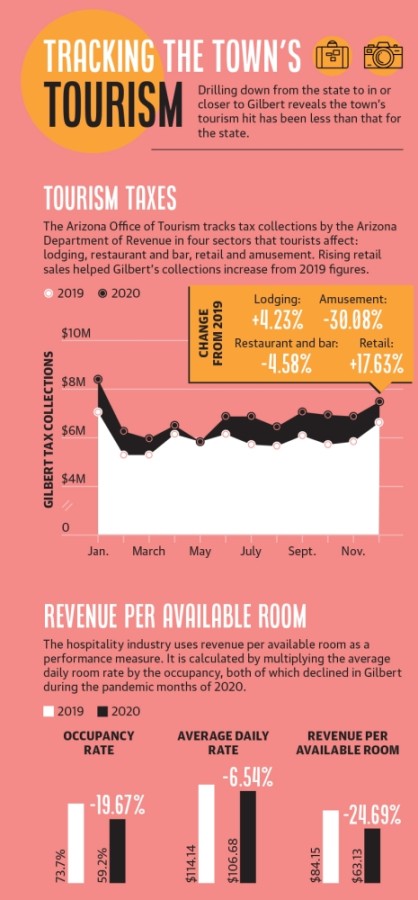 "I don't think we'll be back to our numbers next spring that we have been in the past, but I would be encouraged to say the year after that we should be back on track," he said.
Town officials said they hope to grow tourism through landing or creating some signature event that would be a regional or national draw, using a venue such as Gilbert Regional Park's event lawn. But COVID-19 temporarily shelved those efforts, Town Manager Patrick Banger said.
"As it eases—and I think we all feel confident the light is at the end of the tunnel, that 2021 is going to end better than it started—we're certainly going to continue to work on a signature event to bring people into this community, to enjoy this community and celebrate it the way we do, but to the benefit of our local businesses as well," he said.
In the meantime, Gilbert is capitalizing on the travelers it has. The town released three interactive, themed itineraries last fall to help residents and visitors plan what to do in Gilbert—a best of Gilbert with
kids
,
pets
and
on bikes
.
"The ability to get out and about on bike, with your animals and certainly with your kids—I think really gets to the heart of what our destination experience is really about," Henderson said.