The town of Gilbert plans to resume normal operations in its utility department in January and is moving toward that goal.
That means residents need to be prepared to catch up on their accounts or face the possibility of disconnection, which the town stopped doing after March 10 because of the coronavirus pandemic that at one point spiked the unemployment rate in town to as high as 11.4%.
Gilbert provides water, wastewater and environmental services—trash pickup and recycling—for its residents.
The number of accounts eligible for disconnection has risen as much as 415% over its monthly average in the year before the coronavirus's arrival.
"It can be hard and overwhelming in a time where people are overwhelmed enough as it is," local nonprofit AZCEND CEO Trinity Donovan said. "But to relieve that burden is an important piece of our entire community becoming healthier and getting back to where we need to be to move forward."
The money not paid to the town thus far has not hurt it financially or operationally, Budget Director Kelly Pfost said. The effect is on individual residents.
Town officials said they believe the timing is right—even as coronavirus cases are climbing again in the town—because assistance has been made available to residents through nonprofits such as AZCEND.
The town has used a portion of its federal Coronavirus, Aid, Recovery and Economic Security, or CARES Act, money to bolster how much the nonprofits can help Gilbert residents in need.
Growing delinquencies
It can take at least 45 days—usually more like 120—from billing for a utility account to be disconnected, said Håkon Johanson, Gilbert's director of finance and management services. Thus the effect of suspending disconnections after March 10 was not immediate. But in February the number of accounts disconnected was 267, and by May 18, the number eligible for disconnection had grown to 1,206.
That number continued to grow until July 23 when it reached a peak of 1,559 accounts eligible for disconnection, according to town data. Those accounts owed the town a collective $303,411, an average of $194.62 per account.

In August the town made efforts to reach out to those behind in their bills. The meter services team would attempt to contact the resident or leave a door hanger if no one was home.
The campaign's result, officials said, was a reduction in the delinquent accounts, and data bears that out: By Aug. 18, the number of accounts eligible for disconnection had fallen to 1,058 and the total amount owed to $251,747.
Thereafter, however, the number of accounts behind began to grow again. By Oct. 13, 1,515 accounts were eligible for disconnection. By Nov. 9, the amount owed to the city was up to $356,221.
The number of accounts was relatively small, at 1.61%, as it has 88,800 customers as of Nov. 9, officials said.
Pfost said the town's water, wastewater and environmental services enterprise funds, which get their revenue from residential and commercial utility billings, remain healthy.
In fact, revenue collected in the first quarter of fiscal year 2020-21 on the water, wastewater and residential environmental services accounts are all slightly up year over year, though commercial environmental services are down.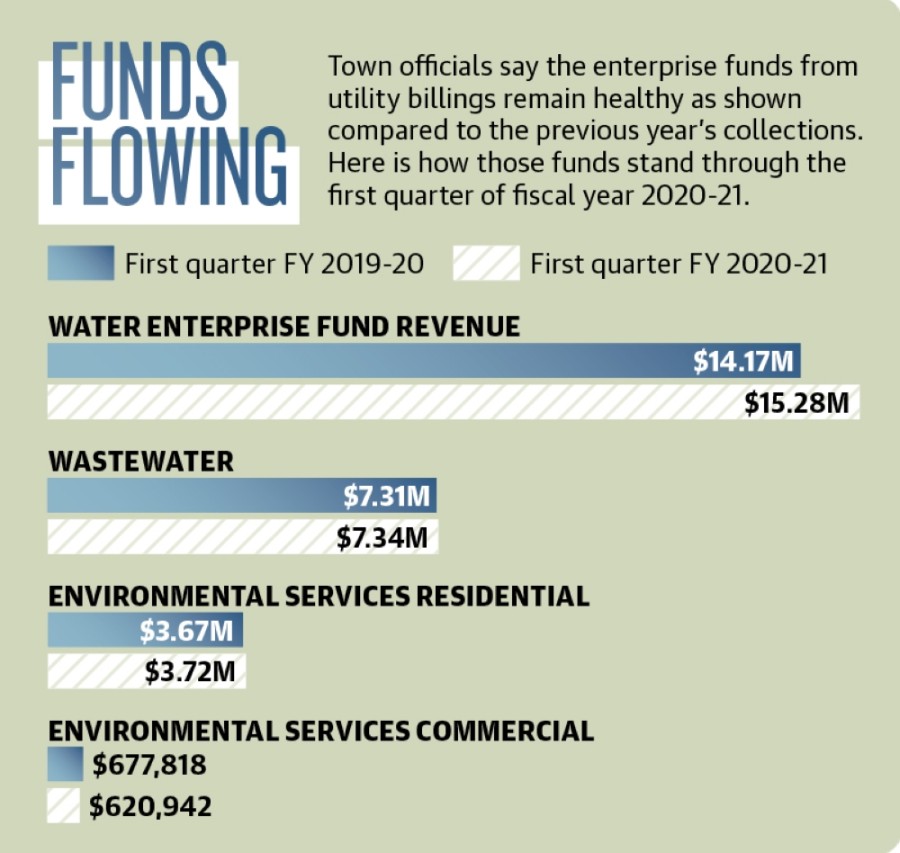 "It's not really lost revenue," Pfost said about residential enterprise fund revenue that is yet to be collected. "We expect to receive that money. It's more a matter of timing on when we get it."
Residents' burden
While the town is able to withstand the downturn, officials say they recognize for some residents the situation may be more serious.
Pfost said some residents' bills have not been paid since January, meaning such a resident could owe the town several hundred dollars.
Accounts that delinquent may mean the account holder is frozen by fear in facing the problem, Pfost said, and disconnection has often been the tool to force a needed conversation with the town.
With shutoffs suspended, the town still is trying to encourage those conversations. Before the allocation of CARES Act money, the town had an automated email that directed residents to different resources they could contact. Now the town has one for the Community Action Program that AZCEND administers as well as a similar note that points to the program when customers contact the town.
Even as late fees resume being charged to accounts in November, town officials continue to stress that they will work with residents who reach out to them on a flexible payment plan.
"We're always willing to work with them," said Leslie Giltner, customer service manager in the utilities division. "It really just depends on how much they owe and what their individual situation is."
Help for those behind
The granting of CARES Act money to AZCEND to help residents with town utilities was critical, Johanson said.
AZCEND was awarded $280,726 in Community Development Block Grant-CARES Act funds in June to assist with rent and utility assistance for Gilbert residents in response to the pandemic. Gilbert Town Council approved an additional $200,000 to AZCEND in a special meeting Sept. 29.
"We have really seen a ramp-up in the need and then in our ability to provide services with funding, much of it from the CARES Act," Donovan said.
As demonstration of that, Donovan said in a typical week before COVID-19, AZCEND would assist 11 families with $5,500 in aid. But for the week of Oct. 19-23, the nonprofit helped 138 families with $241,000, covering rent and different utilities.
"[Families] can let our eligibility specialists know what their needs are and what hasn't been paid and those circumstances of their crisis, and then [the specialists] will find what funding they qualify for," Donovan said.
Families looking for help can get a packet online at
https://azcend.org
or in person at an AZCEND site, including in Gilbert at the Gilbert Community Center, 132 W. Bruce Ave.
Pfost also said Gilbert families who are in position to help can do so through the town's Neighbor 2 Neighbor program, where donations can be made through utility bills.