Gilbert, like much of the nation, entered a period of introspection about racial justice in May and June.
Protests spread across the nation after the death of George Floyd while in the custody of Minneapolis police May 25.
The protests included Phoenix and eventually Gilbert, a town that is 69.7% white, not including Hispanics, according to U.S. census estimates for 2019, and only 3.6% Black. The biggest protests happened June 6-7 on Gilbert Road, organized by Chandler Black Lives Matter.
"We are the United States of America for a reason—we're united," said TURBO REP, Chandler BLM's founder. "We the people of the United States of America—a lot of people forget the Constitution, how it starts. The fact that we're founded on being united, we're founded on diversity. That's what makes the United States of America amazing, different from other countries and more successful."
In response to the fast-moving events following Floyd's death, Gilbert launched an initiative for town leadership, police officers and school officials to listen to residents' stories and begin implementing changes.
"This isn't just a [police department] issue," Gilbert Police Chief Michael Soelberg said. "This is a community issue. It's a human issue."
Town creates plan
In the days after George Floyd's death, Gilbert Mayor Jenn Daniels spoke twice publicly about the need to listen to the voices rising in protest.
"I have a lot to learn, and I want to take time to listen and to hear the messages that are being sent to us," she said from the dais at the June 2 town council meeting. "So I would encourage the community to reach out to us as a council and make sure that we hear your voice."
At the time, Daniels said the town was working on a way to do that. That evolved into Daniels launching the "Listen. Learn. Act. Amplify." initiative. The plan started with the creation of Gilbert's Listening Spaces, a series of forums that asked the community to share their stories, experiences, and feedback with police officers, town leadership and Gilbert school districts.
The goal was not just to listen and learn but to create actionable change, Jennifer Harrison, deputy director of digital government, wrote in an email.
From the town, more than 20 staff members participated, plus Daniels and council members Scott Anderson, Yung Koprowski and Bill Spence.
"Following the 'listening' phase, town leadership will be reviewing the feedback and 'learning' more about what actionable changes need to be made throughout the community," Harrison wrote. "Following will be the 'act' phase, where changes, programs, and resources (if identified as needed) will be put into place. As a community, we will continue to 'amplify' those voices around us that need to be heard."
Town Manager Patrick Banger said the town will address diversity, equity, inclusivity and responsible policing with four subcommittees that will focus on education, recruitment, development and retention, mission, policies, and interviewing and hiring.
Police department considers changes
At a June 6 peaceful protest in Gilbert by Chandler BLM, protestors were escorted by Gilbert police officers, and protesters also asked Soelberg questions.
"Our jobs as law-enforcement officers are to remain impartial and to make sure that everyone's heard," he said. "Our role is to keep the peace, and anything we can do to help facilitate a conversation and have some meaningful dialogue I'm willing to do."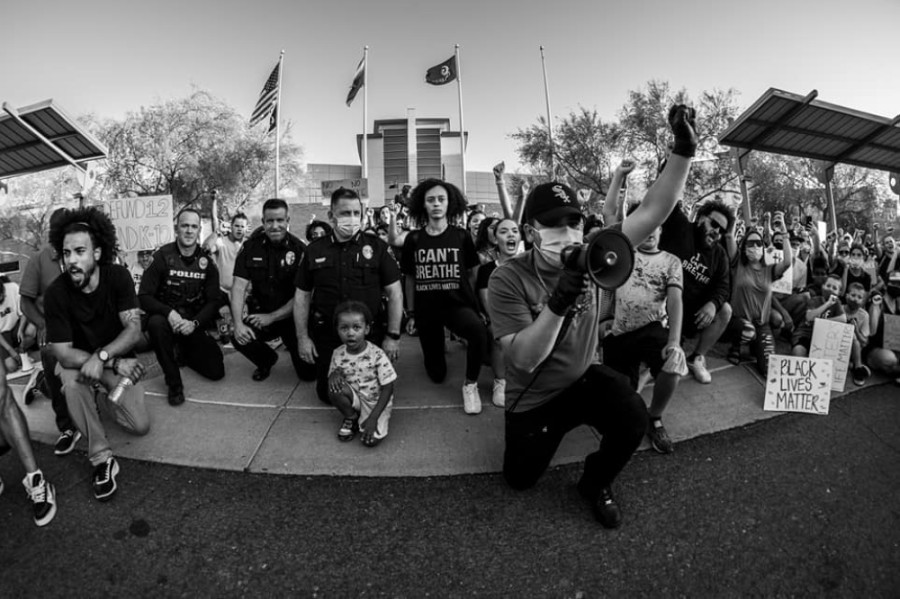 Soelberg's handling of the protests earned high praise from Chandler BLM founder Priciliano Davalos, a music engineer and dance crew leader who is commonly known by his stage name TURBO REP or just TURBO. Davalos called Soelberg "amazing."
"Honestly, I take my hat off to [Gilbert police], and I pray and I do hope they really do mean what they did and what they said," he said. "It seemed like they did."
Soelberg said they did mean it, and he wants the message to filter down to his officers.
"We said we don't want this to be something we do for a couple of weeks and we check the box and say we're done," Soelberg said. "This needs to be long, ongoing."
Davalos' fellow organizer, James Phillips, said his goal is always unity, coming from his faith in all things working together. He has a brother who works in law enforcement for the Arizona Department of Public Safety.
"From a law enforcement perspective, I see that side, needing to support law enforcement," Phillips said. "But from me as a Black man, I see the other side far too many times."
For the police's part, Soelberg pointed to several longstanding community outreach initiatives from the GPD, including the chief's quarterly community forum meetings that include churches, schools, nonprofits, and groups such as the East Valley NAACP and Hispanic Chamber of Commerce.
The department also updated in June the department's use-of-force guidelines, adding clarifying language and adding explicit prohibition, except in deadly force situations, of the chokehold and carotid control technique, which already were out of bounds for GPD officers but not in writing, Soelberg said.
The department also keeps an early intervention tracking database that can spot trends with officers. While some of the complaints might not raise to the level of policy violations, it can help the department identify and intervene when an officer shows they may a problem with courtesy, demeanor or anger management.
One area Soelberg said has been difficult is diversifying the police force, saying hiring for police is always a challenge but particularly for diverse candidates. He said that is especially true after negative incidents are in the news.
School districts "Historically, law enforcement has been predominantly white males," he said. "We've done a good job with our female hiring, but our minority hiring—our Hispanic [hiring] is lower than the community average, and our African American [hiring] is a lot lower than where we would like to be."
Soelberg said he has been thinking about what more can be done to attract more minority candidates. Davalos said Chandler BLM would "love to assist."
"We would love to see more diversity in the police departments," Davalos said. "I feel that would really help solve a lot more problems because at that point you have equality going on in our law enforcement."
Schools make own efforts
The public schools have not escaped scrutiny during this period, and they were represented at the town's listening spaces events.
Gilbert Public Schools received some negative feedback on social media about its handling of past incidents, particularly at Highland High School. While the incidents were older, some feedback at the listening spaces indicated problems continue at the school. In response, Superintendent Shane McCord pledged more training for employees.
The district hired Mesquite High School Principal Joyce Meyers as
executive director for talent management-human relations June 30. In her new role, Meyers will be charged with
implementing inclusive practices regarding equity and diversity, in addition to cultural awareness and training for staff and students.
Marketing and Communications Director Dawn Antestenis said in an email that the district and site administrators have started meeting with students and parents to listen to concerns and needs for the future.
Additionally, principals have started working on plans for the coming school year to include principal roundtable discussions with students, community/parent listening spaces meetings, and various programming including cultural awareness recognition and events on campus.
Higley USD schools offer a number of programs that include equity education, such as No Excuses University at Gateway Pointe Elementary School, and Leader in Me at San Tan and Chaparral elementary schools, said Michelle Reese, the district's public relations coordinator. At the secondary level, all four schools belong to the Anti-Defamation League's No Place for Hate program. Other secondary programs also fall under the umbrella of equity education practices.
The campuses are also looking at more opportunities, Reese said. The Listening Spaces forums, in which Student Services Director Jennifer Corry participated,
gave the district "a baseline to get a clearer understanding of what the community believes are issues," Reese wrote in an email
At Perry High School, Chandler USD's lone high school in Gilbert, parent Nene Hendrickson wrote district officials and Principal Dan Serrano to see if something could be done proactively before problems arose. Serrano brought in Hendrickson and another visible parent, Marc Beasley, plus staff members, and Pumas for Progress was born.
"If the adults are having trouble figuring it out, I can't imagine what the kids are going through," Hendrickson said.
Hendrickson notes Pumas for Progress is a parent group and not a district group, though she says the district has been supportive and it rolls up well with district initiatives on inclusiveness.
"We're not pushing any agenda," Hendrickson said. "We're simply providing information. We're giving parents and students the tools that helps them deal with these social issues."
Hendrickson, who is Black, and Beasley, whose father is Black and mother is Japanese, said they want the group to be helpful to all students, not limited to Black issues. They plan to start with parents but said they can see forums, a campus group and even identified allies on campus.
Both said their children have had positive experiences at the school, which has a student population that is 4.4 percent Black, according to the CUSD. They consider it to be safe.
They also believe the group's proactive nature is part of why the school is so receptive.
"What are you going to do when you have kids on your football team who are going to take a knee?" Beasley said. "How is that going to be addressed?"
Beasley extended the example to those on a team who do not take a knee or a student who wears a BLM shirt or a MAGA hat and wondered if they would be bullied or ostracized.
"I'm hopeful that school administrations across the East Valley are going to be understanding that you better put something in place and you better address these concerns and these questions because I don't think it's going to be smart to be reactive," he said.