A USS Arizona survivor's granddaughter who will serve as sponsor to the battleship's namesake submarine has endorsed the town's efforts to be the sub's municipal sponsor.
Nikki Stratton said she believes Gilbert treasures its veterans and would be a good choice as the municipal sponsor.
"There are so many cities in Arizona that have at least one or two ties to the USS Arizona," Stratton said. "But for me, I really want a city that would put their arms around the entire Arizona project. And I got that sense from [Council Member Bill] Spence. He seems like he's a very much a go-getter, and our family appreciates that."
Spence, as the Gilbert Veterans and Military Advisory Committee's council liaison, and Chairman Les Presmyk wrote a letter of intent June 29 to Mayor Jenn Daniels asking to
seek sponsorship of the USS Arizona submarine
, a Virginia-class, fast-attack submarine the U.S. Navy is building, which was named after the battleship that was lost in the Japanese attack at Pearl Harbor on Dec. 7, 1941.
Stratton's grandfather, Donald Stratton, was among the survivors, though he suffered burns on more than 65% of his body and had shrapnel wounds. Stratton died Feb. 15 at age 97, leaving just two survivors remaining from the 335 who lived through the attack. The ship lost 1,177 crew members during the attack.
The Stratton family was among those who fought for Joe George to be awarded a posthumous Bronze Star medal for valor in saving Stratton and five other USS Arizona crew members by giving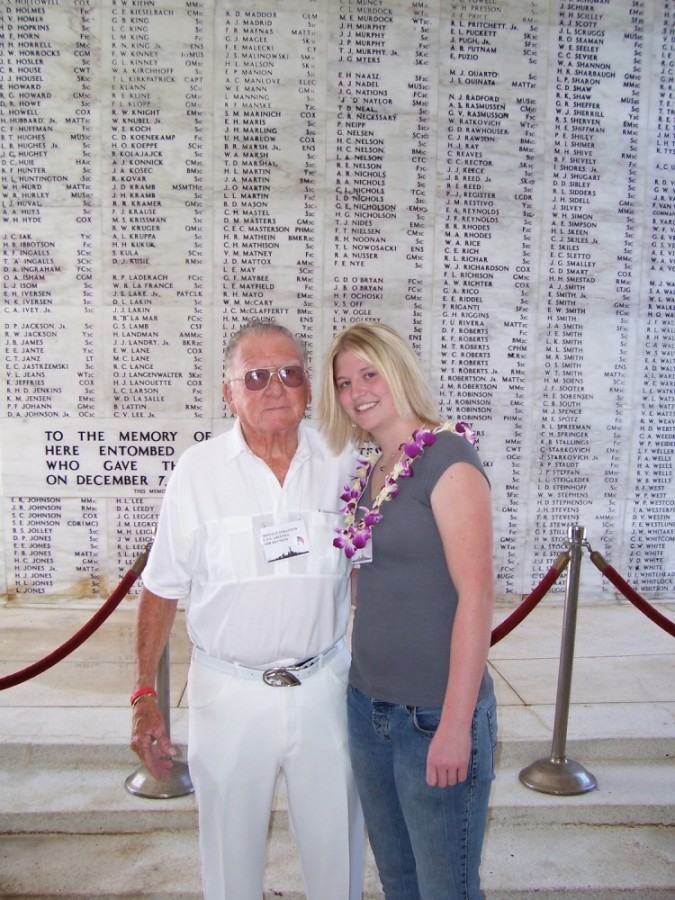 them a rope from the repair ship USS Vestal to cross from the burning Arizona to safety. The act was depicted in a scene from the 2019 movie
Midway
.
Nikki Stratton said she enjoyed a close relationship with her grandfather and said the first time she visited the USS Arizona Memorial in Hawaii was with him.
"It was one of the most powerful experiences of my life," she said. "I don't think there's really words to describe just how different my grandfather was walking on the Memorial."
Nikki Stratton said her grandfather was a jokester who always was laughing, but he saluted the flag above the Arizona and became somber at the memorial.
"As soon as he boarded that ship and he looked at those names on that wall, he became the 19-year-old back on the ship that day, remembering the lives that were lost and remembering his shipmates," she said. "Obviously, it's a horrific day, and the trauma was still with him until the day he passed."
Then-acting Secretary of the Navy Thomas Modly spoke at Donald Stratton's funeral and pulled Nikki Stratton aside later to ask if she would be the USS Arizona submarine's sponsor. She said he told her to think about it because it was a big responsibility.
"For me, it was—it was a moment where I knew that it would connect me back to my grandfather," she said. "It would connect me back to the sailors on the Arizona. There was no hesitation at all. I knew that I was going to say yes. ... It's quite an honor."
Nikki Stratton, who lives in Denver, has visited Gilbert briefly once when she played college basketball for Washington State and the team was playing at Arizona State University. The game was at Christmastime, and the family was out to spend the holiday together and searched for an open church Christmas Eve. They found one in Gilbert.
"This whole sponsorship thing is new to me, and I'm excited to see where it takes me," she said. "If that means that Gilbert's involved, that's great. Either way—if they do get it, if they don't get it—I'm definitely going to make a trip out to Gilbert to make sure I see everybody out there."