Gilbert's revenue in March, when the effects of the coronavirus pandemic first hit, along with the town's experience navigating the Great Recession, have left the town optimistic about making it through the fiscal year relatively unscathed.
March revenue was close to flat from March 2019, and collections through the first nine months of fiscal year 2019-20 generally have been ahead of projections.
That leaves the town in position to absorb the expected impact in April and May with some revenues, particularly for sales tax, expected to decline in the coming months after a record-setting start to the year.
"[The coronavirus] really hit in about mid-March," Town Manager Patrick Banger said. "And it was like that needle across the record. The music is moving along and then that definite scratching sound."
Even so, the town prepared its FY 2020-21 budget with a recession of unknown impact in mind. It includes trigger points where cuts, already identified, will be made if necessary.
Final approval on the $992.84 million budget will not come until June 2. The budget is about $56 million less than the Fiscal Year 2019-20 budget of $1.05 billion.
Council also passed a tax levy of $25.88 million on May 5, an increase of $1.63 million, but maintained a secondary property tax rate of $0.9896 per $100 of assessed valuation. That action reopened a debate within council of whether that represents a tax hike.
Revenue pools
The town's most volatile revenue pools are from the Transaction Privilege Tax, or sales tax, according to Management and Budget Director Kelly Pfost.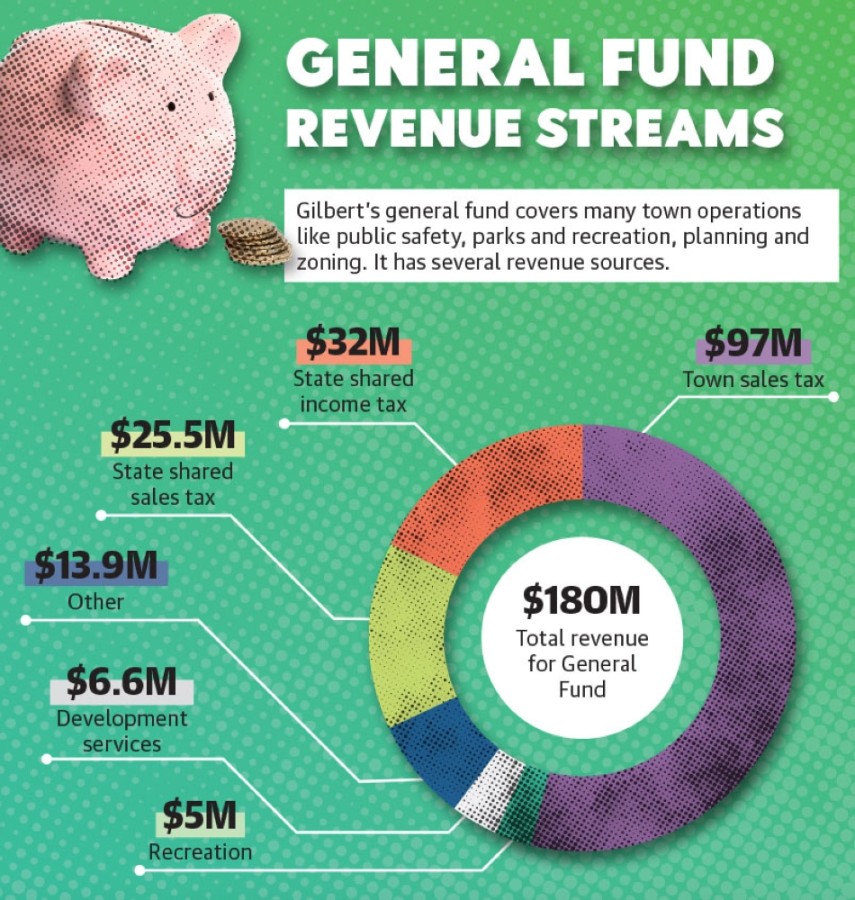 The town has two such funds, one for the town's sales tax of 1.5%, and the other from state shared sales tax, a payment Gilbert gets from the state from the state's 5.6% sales tax. Those two rates, plus Maricopa County's 0.7%, make up the 7.8% sales tax that customers pay on retail items purchased in town.
The town sales tax makes up more than half of the revenue that feeds the general fund. It pays for things like police, fire, parks and recreation, planning, zoning and human resources, Pfost said.
For its budgets, the town uses revenue projections that forecast low or no growth, but through March, the town has collected $80.1 million in town sales tax, nearly 83% of its budgeted total for the year. Though the town is no longer on track for record collections, officials believe they are on track to withstand a sharp downturn in the final three months and meet projections. That's true for nearly all of its revenue funds.
Also helping the town handle the impact was the timing of the crisis.
"It's never good timing to have a worldwide pandemic, but to have it happen with just a few months left in our fiscal year when we've had a really good first eight months—the eight good months are able to help offset likely losses that we would have for the last four," Pfost said. "So it balances. If this happened July 1 and we had a complete year of lower revenues, that would have been a lot harder for us to weather."

Budget triggers
In building the FY2020-21 budget, the town did two things to protect itself from the coronavirus downturn.
First, rather than use this past year's revenue projections of, for example, up to $109 million in town sales tax, it rolled over the projections from FY 2018-19.
But beyond using that lower starting point, it built in trigger points that would induce certain cuts.
The town figures it can manage balancing the budget through control of expenses, even if town sales tax revenue falls to $90 million, Pfost said.
However, if projected revenues fall below $90 million—what the town considers a "medium impact" from the virus—some budget cuts will be enacted. If it falls below $88 million, a "large impact," more cuts are triggered.
If the revenues project to be less than $85 million, the budget priorities will have to be revisited.
"As the path unfolds and we get data over the next several months, we will be able to make different changes in our expenditures to match whatever the revenue forecast is looking like," Pfost said.
One of the concerns expressed when council gave preliminary budget approval was the additional hiring included. Most of those positions are for additional police officers and firefighters to meet the demands of a growing town.
Of the additional 82.01 full-time equivalents budgeted, 75.46 are funded through the general fund. However, some of those positions are in identified cuts to be made if revenues fall to trigger levels.
In building the triggers, the town looked to the Great Recession to see what kind of impact it had on the town, Banger said.
"We took the 2008 recession, which is the greatest recession since the Great Depression, and used that as a baseline model for our forecast, that if it should get that bad, what does that look like?" Banger said. "And then we worked some modeling out from there, and we'll just have to evaluate."
How the town weathered that recession is one of the reasons staff say the town is ready to handle the coronavirus downturn. A study from the Economic Innovation Group of the 100 largest cities in the U.S. showed Gilbert to have the lowest signs of economic distress coming out of the recession.
Tax hike—or not?
Setting the tax levy for the coming fiscal year was a separate but associated council action.
Gilbert does not use a primary property tax to cover town's operating expenses. It only has a secondary property tax that covers the debt from voter-approved bonds for streets and the Public Safety Training Facility. The levy covers the year's obligations to which voters previously agreed.
Still, council has debated for several years whether a higher levy represents a tax hike.
Council Member Jared Taylor said it is a tax hike at a time of the worst economic downturn in our lifetimes.
"We have a lot of people that are already struggling, and as long as we keep these restrictions on our businesses, more people are going to lose their jobs and more small businesses are going to close," Taylor said. "And to tell them that we're going to raise their taxes for something that was not fiscally responsible [the Public Safety Training Facility] is completely inappropriate."
Mayor Jenn Daniels pushed back against Taylor's assertion that the town was raising the secondary property tax on residents.
"Regardless of what the levy is, our community has grown," Daniels said. "We have far more commercial businesses, far more rooftops, so how that money is spread out is very different than it was in 2009. So I'm proud of the work that we've done to lower that [tax] rate."
With the rate stable, the amount of property tax a resident or business pays is based on Maricopa County's valuation of a property. If the valuation goes up, as generally happens, the amount paid will go up. But if it should fall, the amount paid also will go down.
There is a question on whether home and commercial values will continue to rise or experience a fall in the wake of coronavirus, though the county's valuation is not strictly tied to market values.
"I think without a doubt, we can say that we get a tremendous value in the town of Gilbert for every single dollar," Daniels said. "I don't like to compare us to other municipalities, frankly because it's not fair to them. Gilbert does an amazing job with a lean budget and a lean staff."