Gilbert has long touted the kindness of its residents as a primary attribute of the town. It has gone so far as to get a designation from the post office and Google Maps as Kindness USA.
While the fourth year of Gilbert Kindness Week, designated for the last week of April, comes amid a pandemic, the town is carrying on the celebration digitally via its social media platforms and through
Nextdoor
.
"It's just a great reminder of the kindness that's already happening in our community," Digital Communications Specialist Lauren Oxford said.
The town is carrying on a Gilbert Kindness challenge this week, in which each day the town posts activities that people can participate in and then share with the town via #GilbertKindness for the chance to win a Gilbert Kindness T-shirt.
For April 27, residents were challenged to pick among checking on an elderly resident to see if they need groceries, making a sign to support essential workers or to reach out to someone who lives alone and may need human contact.
On April 28, the kindness challenge will be to support local businesses for #TakeoutTuesday, take a selfie wearing a face mask or have a video chat with a friend or family member.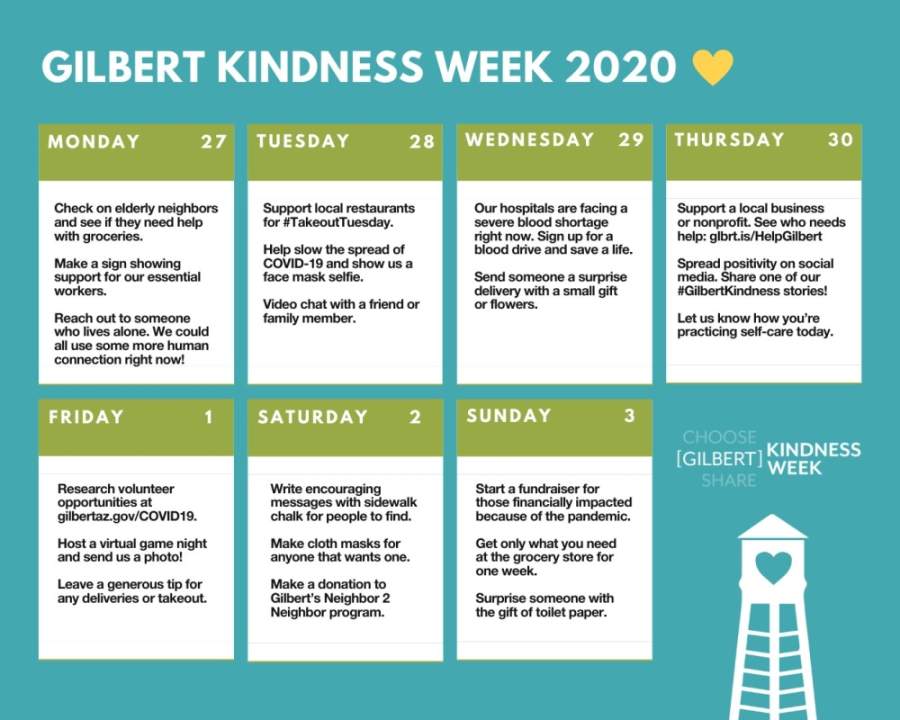 In addition to sharing residents' stories of acts of kindness during the pandemic, the town plans to post some favorite throwback kindness stories from earlier years, Oxford said.
"I don't think that the Gilbert Kindness Challenge or even Gilbert Kindness Week is necessarily something to ask people to do kindness because it's happening already," Oxford said. "But it's just a way to celebrate the ways that people are providing kindness in our community every day."