Town staff is taking a fresh look at options for transportation services to the disabled community after council tabled a decision on scaling back its Paratransit offerings.
Tabling the decision will allow staff time to reassess how to proceed and in what manner the service can be offered to residents.
However, doing so will have a budgetary impact, at least for the coming fiscal year, which starts July 1, as the anticipated shortfall would have to be covered through a general fund expenditure, Town Manager Patrick Banger said.
Nonetheless, the decision to table changes was welcomed by the service's proponents.
"Paratransit has been a life-saver for us," said resident George Majus, whose wife, Doreen Majus, is an Americans with Disabilities Act-certified rider.
Tapping the brakes on change
Council was scheduled to vote March 3 on staff's recommendation to roll back Paratransit service from throughout the town to just what federal law mandates—service within three-quarters of a mile of existing fixed-route bus service. That would have put 34% of the town outside the service area, according to town documents. The areas affected were in south and central Gilbert.
However, after hearing residents from the disabled community and seeing the collected comments about the changes, council tapped the brakes on the cost-cutting measures.
"We can look at all the data that we want, and it may seem very clear to us the choice that we need to make," Mayor Jenn Daniels said. "But when it comes down to it, these are humans. These are people having a human experience in our community, and we want them to be participating in our community. We do not want to alienate them."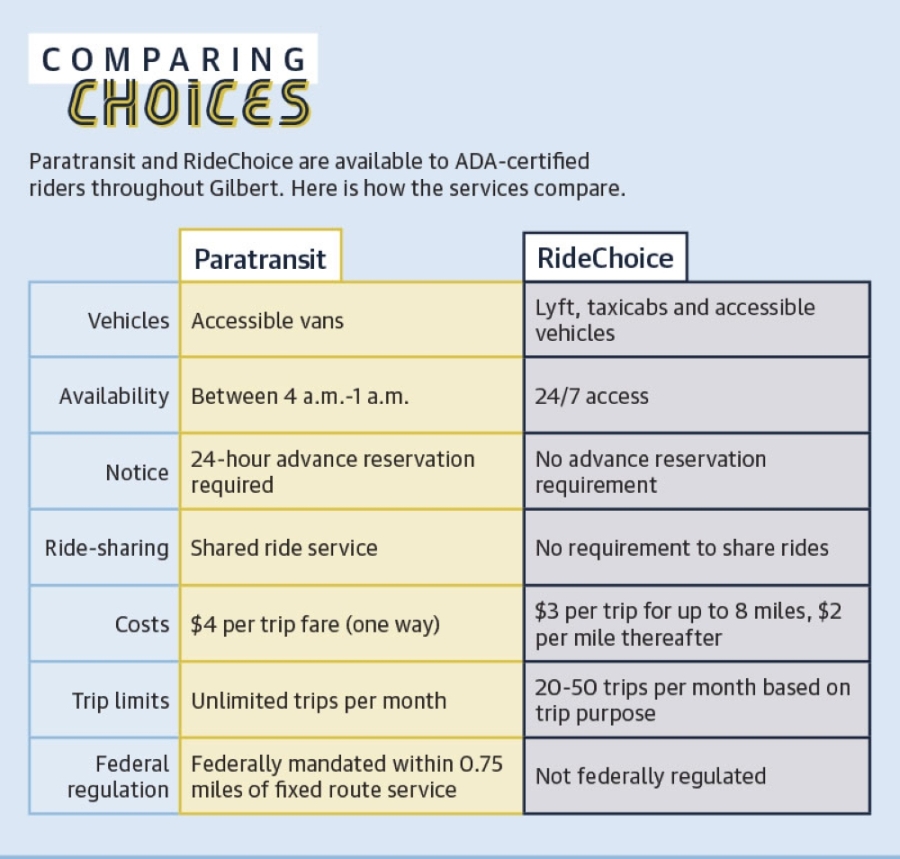 Paratransit, mostly known locally as Dial-a-Ride, is a door-to-door, shared-ride service for riders certified under the ADA who are unable to use conventional bus service. Users must call for a ride at least 24 hours in advance of when the ride is needed. The service costs the user $4 per ride. However, the service costs the town an average of $50 per ride to subsidize.
An alternative service, RideChoice, also runs throughout the town and would have continued to be available in the areas where Paratransit was to go away. It is a door-to-door, private-ride service for ADA-certified riders that provides discounted access to taxi companies, wheelchair-accessible vehicles and services such as Uber.
RideChoice costs $3 per ride and the town only subsidizes $20 per ride. However, a charge of $2 per mile kicks in when riders go past 8 miles. Disabled community members said that makes RideChoice prohibitively expensive to those who need longer rides for work, school or appointments. Furthermore, it confines many to an area within 8 miles of their homes, community members said.
"Reducing these boundaries greatly impacts those families that rely on [Paratransit] as a lifeline to carry on their daily needs," Gilbert resident Virginia Morrison told council. "They have relied on the service to enjoy the independence that defined their quality of life."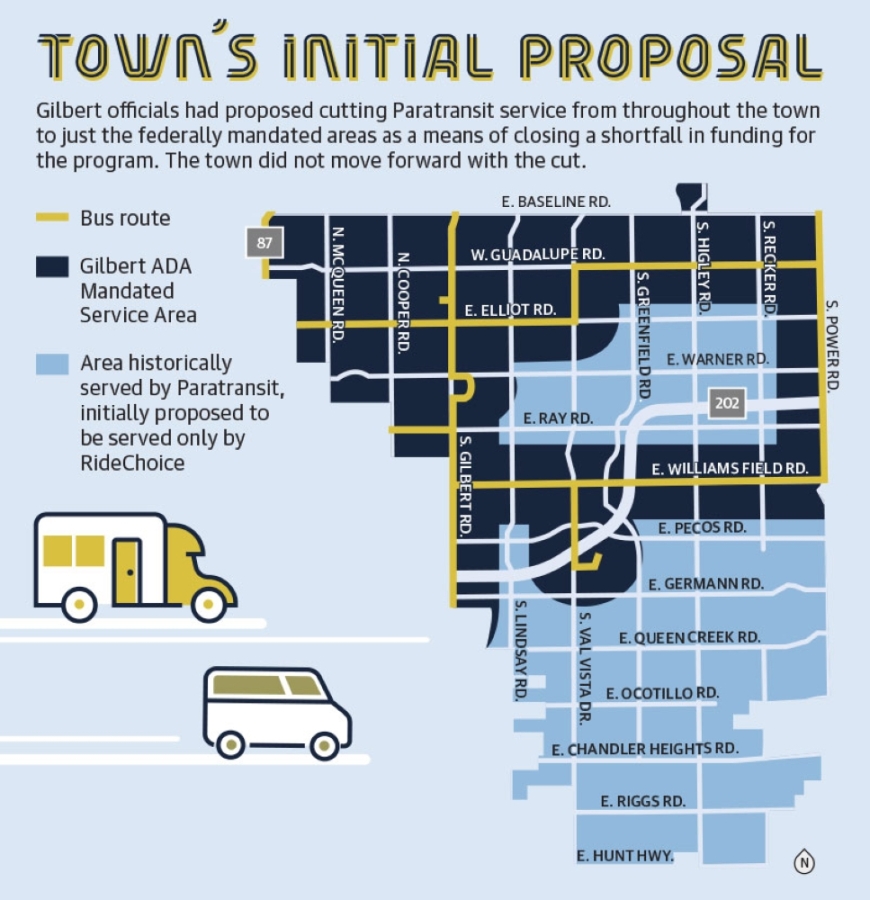 George Majus said he and his wife live about 1.25 miles from a fixed-service bus route, which would have made his wife ineligible to continue using Paratransit starting in October, when the changes would have taken place. Doreen Majus, who has balance, respiratory and heart problems, is a Paratransit user, and said she has found the service extremely reliable.
However, the one time they tried RideChoice, George Majus said the service called 15 minutes before her scheduled ride to say they had no available drivers. George Majus left his own doctor's appointment to get his wife to hers. When they returned home a couple hours later, they found a RideChoice driver there having just arrived.
But George Majus also recalls a time when Paratransit was willing to rearrange its previously scheduled destination to get Doreen Majus to where she could get an emergency transfusion. That, he said, saved her life.
After public comment at the March 3 meeting, Daniels challenged staff, Valley Metro Regional Transportation Authority officials and local schools to find a way to continue serving those who have relied on Paratransit.
Bridging the budget gap
The service reduction was proposed because the town is facing a $375,000 shortfall in funding to cover the service and wanted to ensure its continued viability, Development Services Director Kyle Mieras said.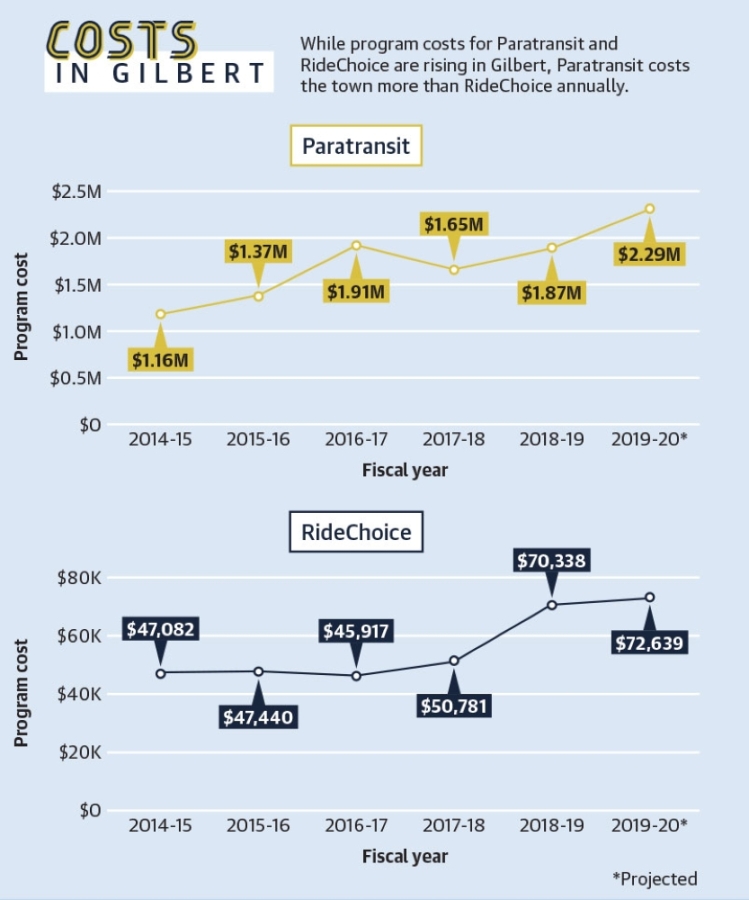 Costs of the service previously were covered from Arizona Lottery and state Proposition 400 funding payments to the town. The costs were rising from increased numbers of trips, higher operating costs and an aging population that is becoming more dependent on public transit, Mieras said. The fiscal year 2019-20 shortfall is the first time the town will have to pay from the general fund to cover service costs.
Staff said at its current level of service throughout town, with no new riders, Paratransit is projected to cost the town $550,000-$700,000 per year in the future beyond its outside funding.
Banger told council before it tabled a decision that the shortfall would have to be built into the fiscal year 2020-21 budget as no adjustments could be made in time to do otherwise.
New options to consider
Gilbert Transportation Planning Manager Ellen Kennedy said the town is now working with Valley Metro to look at the cost implications of operating at different levels of service.
Among the options could be a less severe rollback of service—for example, to within 1.5 miles of existing lines—or implementing a transportation tax, as some neighboring municipalities have, Kennedy said.
"There are just a lot of opportunities that open up where you can innovate financially when you do something like that," Kennedy said. "There again, it would need to be palatable to Gilbert residents and to our council. But it really isn't something that's been explored before."
She also said the town also can look at innovations in routes and vehicles as a means of solving the problem.
"We can start thinking very differently about how and where we're moving people," she said.