In the wake of the coronavirus pandemic, the three school districts that serve Gilbert have lost enrollment this school year. Now districts must square that with funding that is reliant on student counts as they put together budgets for fiscal year 2021-22. And each has a different outlook.
Gilbert Public Schools
' enrollment losses this year left the district with a surplus of teachers that led to the district being the first in the state to announce layoffs of certified staff for next year.
"It's not a pleasant circumstance to have to communicate to our staff, for sure," GPS governing board President Charles Santa Cruz said. "Enrollment is our driver, and this is yet another consequence of this pandemic."
On the other end of the spectrum,
Higley USD
lost 271 students from 2019-20 to 2020-21, mostly from kindergarten and preschool students, which receive half and no funding from the state, respectively. That meant the loss was 117 in average daily membership, or ADM. ADM is the total enrollment of fractional students and full-time students, minus withdrawals, of each school day through the first 100 days in session for the current year.
That number is a key figure in state funding formulas, and with low losses and a healthy balance to carry forward from this year, HUSD anticipates its maintenance and operations budget growing and giving employees a 5% raise.
In between,
Chandler USD
suffered even more severe enrollment losses than GPS, but officials believe that between federal aid this year and attrition, the district will navigate the pandemic without any reduction in force from the pandemic.
State Rep. Jennifer Pawlik, D-Chandler, said she feels terrible for the financial situation putting teachers, like those from GPS, at risk of losing their jobs.
"We are certainly in almost a perfect storm because there are so many layers to this," Pawlik said. "We have kids that didn't come back to their schools this fall, and enrollment numbers are down. But the other issue is that before we recessed last spring, we passed the enrollment stabilization grant that was intended to hold districts harmless if enrollment dipped below 2%, the most districts would lose would be 2%. In January, the governor announced new numbers. That's a really big deal. Gilbert [Public Schools] was expecting around $34 million in those enrollment stabilization grants but got $14 million."
GPS layoffs
GPS
laid off 152 teachers
March 26 in response to a projected maintenance and operations budget decrease of $8.24 million for fiscal year 2021-22. Those layoffs came after the losses of 1,344 students this fiscal year and the projected loss of another 400 next school year.
"With a district that really speaks often about how we're a family, that we're part of the GPS family, you know, that's a big chunk of our family," said Heather Schlemmer, a special education teacher at Gilbert High School who was not among those cut.
The news came as a surprise to the Gilbert Education Association, which represents district teachers, GEA President Amber Franco said. Franco said the association has turned its efforts to supporting the teachers in transition and understanding how decisions were made.
Business Services Assistant Superintendent Bonnie Betz said the layoffs were necessary due to overstaffing for the district's declining student population, given the student-to-teacher ratios the district historically has used to make those decisions. She said the district survived enrollment losses this year because of federal and state aid that paid for pandemic-related costs and propped up the extra salaries in the district. But that aid was from one-time funding and could not sustain those positions.
That aid included $2.36 million in the first round and $9.72 million in the second round of the federal Elementary and Secondary School Emergency Relief, or ESSER, funding, plus a $14.3 million enrollment stabilization grant from the state.
Although more aid may come, too, from a third round of federal money and more-than-anticipated sales tax collection, those are also one-time payments best used on one-time costs, Betz said.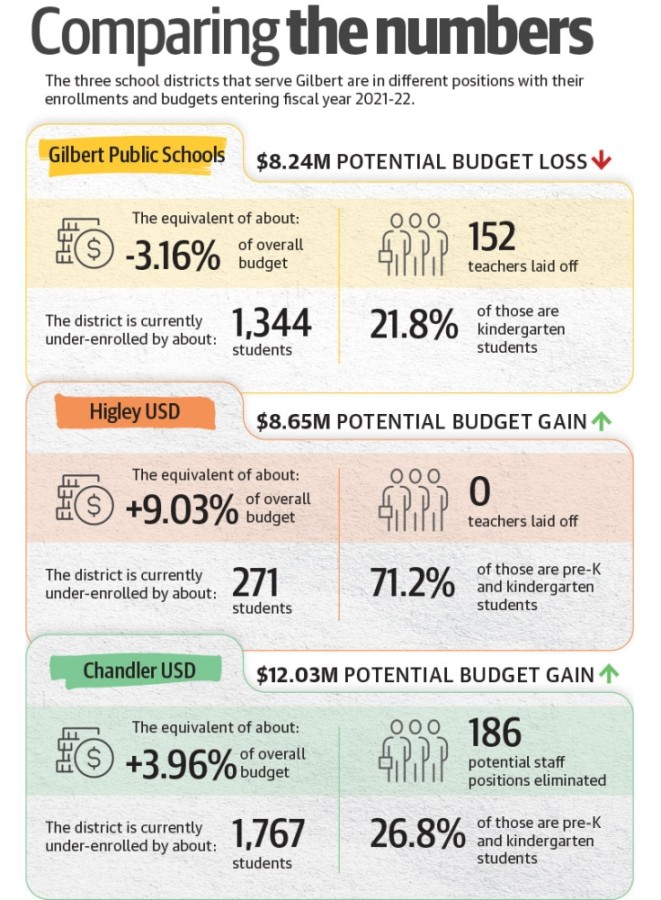 "If we were to spend money to maintain staff, we would be doing what we did in the current year here again next year," Betz said. "We would just be kicking the can down the road because that particular plan is not sustainable."
However, next year's budget does include 2% raises for remaining staff, which Betz notes is ahead of inflation, plus an additional one-year stipend of 3% in an effort to stay competitive to attract and retain teachers.
HUSD managing growth
HUSD had been consistently growing before COVID-19, which Finance Director Tyler Moore attributed to the district being on the outskirts of the metropolitan area, where housing can be more affordable.
It also was the earliest to make projections on the FY 2021-22 budget, starting last fall and making presentations to the governing board throughout the spring. It tentatively adapted a maintenance and operations budget of $104.48 million March 10, although several funding pieces remain in the air at the Legislature.
"We felt comfortable enough as a district and as a cabinet to move with our budgets," Moore said.
The early look also allowed the district to identify early the opportunity to upgrade salaries and become more competitive in the market, Human Resources Executive Director Mum Martens said.
A multidistrict salary study from 2019 showed HUSD salaries lagging slightly behind peer and neighboring districts, often in the 40th or 45th percentile of the job market. State and federal relief aid packages enabled the district to absorb additional costs from COVID-19, Moore said, and keep the budget growing entering FY 2021-22.
HUSD received $600,000 from ESSER I, $2.7 million from ESSER II and a $2.7 million enrollment stabilization grant from the state.
The additional $8.65 million in maintenance and operations over the FY 2020-21 budget allowed the district to spend $3.53 million on 5% pay increases for classified and certified staff members
and administrators. The district also bumped its starting pay 2.5%.
Martens called those two moves "huge" and said when she and Superintendent Dawn Foley casually mentioned the possibility of 5% raises to their peers in other districts, it was met with surprise.
"A number of the other school districts said, 'We're looking at our risk policies; we're looking at no increase; we're looking at distributing contracts that have nothing, and maybe we'll come back later if funding changes,'" she said.
CUSD avoids layoffs
CUSD Chief Financial Officer Lana Berry said the district was able to cut $11 million from its staffing budget without laying off teachers, instead using attrition and other cost-saving measures to prevent the loss of jobs for this fiscal year.
But the district is not in the clear for fiscal year 2021-22. CUSD may see a loss of 186 positions due to the estimated enrollment dip that year, although spokesperson Terry Locke said CUSD will absorb that through attrition and job moves.
"We are just like everyone else in public education where we are seeing a decrease in students, and there are a number of students across the state who aren't even going to school, and we don't know where they are at," Berry said.
In the district's second budget revision, approved March 24, CUSD reduced its budget capacity by $25.92 million, according to documents from the district, bringing the budget to $305.45 million for the third largest district in the state and second largest in the Valley. Next year's proposed budget recovers $12.03 million of that.
Berry said with millions in federal and state aid, the district has been able to offset the technology and sanitation costs associated with COVID-19 and lessen the blow from the enrollment dip for the upcoming fiscal year. CUSD received $3.2 million from ESSER I, $13.57 million from ESSER II and a $14.27 million enrollment stabilization grant.
"We are covered for last year and this upcoming year," Berry said. "Our problem lies in the year after that."
Katie Nash, president of the Chandler Education Association said she is grateful the district avoided a layoff.
"We had to reduce our staffing budget by $11 million, and honestly I have no idea how we did it," Nash said. "CEA was adamant that at a time like this we cannot be reducing our staff. Our students now, more than ever, need smaller class sizes, special education resources, counselors to identify where kids are having deficiencies. We are extremely fortunate that we found out we will not be reducing staff."