Editor's note: This story was written before the statewide closure of schools because of the coronavirus pandemic.
In the 25 years since charter schools began operating in Arizona, Gilbert has proven to be a popular landing spot despite three highly rated public school districts serving residents.
"The perception is that the [district] schools in Gilbert are wonderful, and they really are," Leading Edge Academy founder Delmer Geesey said. "So not everybody comes running to the charters because of the terrible district schools. ... It's a different kind of niche that charters get."
However, charter officials said the town's growth of the past quarter century as well as its family-first culture have proven inviting to charter schools.
The end result is Gilbert has more charters within its boundaries than the state's other municipalities except for Phoenix, Tucson and Mesa, all of which have much larger populations.
That, officials said, gives Gilbert residents convenient options to make choices for the best fit for their families and spurs competition that makes everyone better.
"For any school—charter, public, private—I just want to make sure the students are educated," Gilbert Public Schools Superintendent Shane McCord said. "If you choose not to go here, that's your choice. But I hope where you end up,
you're going to get a great experience, and you're going to get educated."
Understanding charter schools
Charter schools are independently operated public schools that operate in Arizona under a contract from the Arizona State Board for Charter Schools. Like district schools, charter schools must accept students regardless of race, gender or religion or needs like special education.
Gilbert Town Council Member Jared Taylor, who also is president and CEO of four Heritage Academy charter schools outside the town, said the public often misunderstands them, confusing them with private schools.
"The way I simplify it for people is a government contractor," Taylor said. "I'll use the analogy of a battleship. We can have the government create an agency to create battleships, or we can hire Northrop Grumman."
Taylor said such contracting relationships are better for the economy.
"[A charter school is] a public school, privately operated," he said. "A district school is a public school, publicly operated. They're fundamentally different things."
Like district schools, charters get state funding from a formula that is based in large part on enrollment. However, charter schools cannot go to voters for bonds or maintenance and operations overrides, so the state's formula for charter schools pays more per student than for district school students.
Charters can get additional revenue for building from private revenue bonds. Like district schools, they can receive state public school tax credit donations that can be used for extracurricular activities or certain fees.
When the Arizona Legislature passed laws in 1994 that allowed for charter schools in the state, many public schools reacted negatively to the changes and the new schools that opened in the laws' wake, said Lynn Robershotte, superintendent of Eduprize, which in 1995 was the first charter school to open in the state. She said districts were concerned charters would pull away the best students and accompanying state funding from districts.
"I think with newness or any change can come fear or dissettling," she said. "As that's evolved, it's far less so."
Attraction of Gilbert
Robershotte and Eduprize co-founder JoAnna Curtis were working in Mesa Public Schools when they decided to open a charter.
Robershotte said she originally wanted to open small magnet schools in at-risk neighborhoods. But she had connections in education in Gilbert.
"It came down to where you could find a facility because we already had a clamoring," she said. "We had a waitlist before we opened, when we said we were going to do this, just from the names of the educators that I brought in that first year."
Gilbert's population in 1995, according to the Maricopa Association of Governments, was 57,085, the "inflection point" for the town's growth, Taylor said.
That, along with available land, sparked charter growth, he said.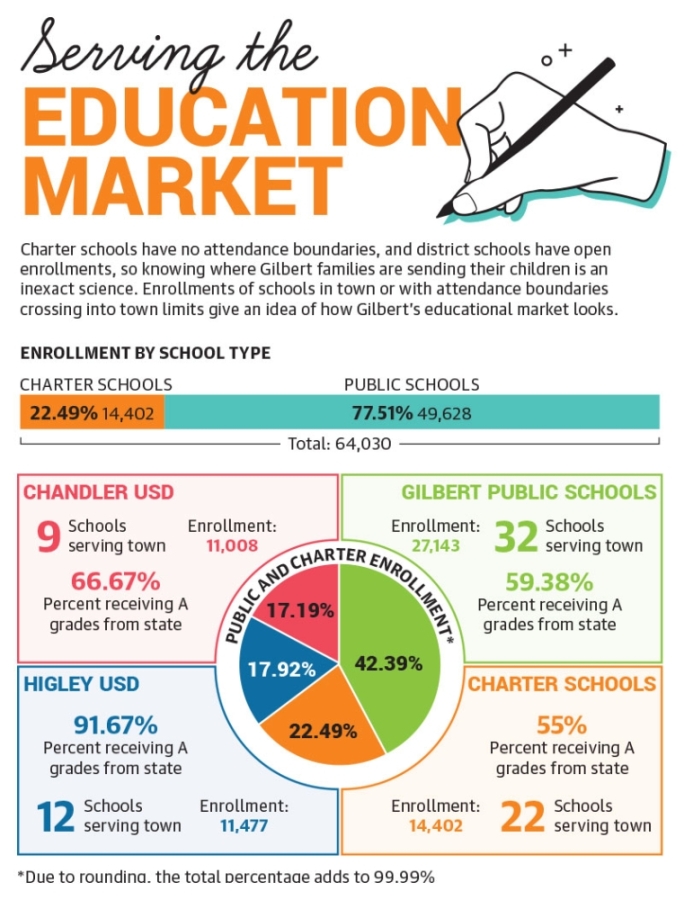 Taylor noted that it can take two to three years for a district to get together a bond campaign and pass it before building new schools. He called charter schools more nimble in being able to raise funds and get into a facility. That enabled charters to pop up quickly to meet the education needs in a community growing so quickly.
"We couldn't build [district] schools fast enough, but the charter schools filled a huge void because we were [growing] and in terms of bonds and the school's facilities, we were just not keeping up," he said. "So that's one way it's been very, very effective, is matching the growth cycle."
Data bears Taylor's assertions out. Gilbert has 22 charter schools with their main campuses in its boundaries, according to the Arizona State Board of Charter Schools.
When adjusted for population, Gilbert has greater density of charter schools for its population than any of the Maricopa County suburbs of more than 100,000 people with the exception of Peoria, another city with a rapidly growing population.
Two suburbs of fewer than 100,000 people, but also showing explosive growth now, are undergoing similar patterns of attracting charter schools. Goodyear has nine charter schools for a population of 82,837 and Queen Creek 10 with a population of 36,053.
Taylor said charter schools serve about 18%-20% of the education market of 1.1 million students in Arizona, and that is growing at 1%-2% annually.
"I'll be interested to see, is it tapering or is it continuing?" Taylor said. "At some point there'll be enough of a charter product in the education marketplace because it's been clear over 25 years, the majority of people still choose district schools, and that's OK. The point is to fill the gaps."
Education competition effect
District public school officials summarize their view of charter schools today simply: they are competition.
"It's made us step up and look at how we market [and] the type of programming we provide the kids," said GPS' McCord, who touted districts' comprehensive nature. "And we have to be very diligent with our community and help them understand the advantages [of district schools]."
That is how state lawmakers said they wanted districts to react when passing school choice legislation.
Taylor said districts either embraced the competition or grew defensive. He called Chandler USD, one of the three districts serving part of Gilbert, perhaps the "premier example" of a district that chose to compete.
"They started to say, 'You know what, we're not going to whine. We're going to compete,'" Taylor said. "And they made a commitment, and they gave Dr. [Camille] Casteel, who is an outstanding superintendent, the directive to go in and win. And what they're doing, they're very effective."
Geesey from Leading Edge said the competition with district schools is friendly and makes both charter and district schools better.
"If you think about it, we're all on the same team," he said. "It's these kids that we're trying to help. And sometimes you can do a better job than me, and sometimes I can do a better job. And if you can understand that, then the piece of the pie that I'm going to get is just the right size for me."