Restaurants and bars in Gilbert, just as elsewhere in the state and nation, have been hit hard during the coronavirus pandemic, but those that are surviving are learning to adapt to their new environment.
Data shows the depth of the pandemic's effects. In Arizona, the restaurant industry has lost about $2 billion in sales this year, according to the Arizona Restaurant Association, part of the $250 billion in sales estimated to have been lost across the nation.
The association also notes a high displacement of workers—as much as an 80% cut in statewide restaurants' payroll at the pandemic's height—who were laid off, furloughed or had their hours substantially cut.
Furthermore, 10%-12% of Arizona's restaurants have shuttered permanently, according to the association.
Still, between pivoting to delivery and takeout and the help of loans, including the federal Payroll Protection Program, most have survived. At least 26 Gilbert restaurants, which employed 1,628 people at the time of their application, received PPP funding.
"I didn't want to wait until things got better," said Subash Yadev, who had to transform his Nepali cuisine restaurant Sherpa Kitchen into a retail business to survive. "We adapt and we change as humans whenever there's issues like this and hurdles. So that's what we were doing, just adapting to the situation."
Some of the changes restaurants have made in 2020 will continue into the future, said Steve Chucri, president and CEO of the Arizona Restaurant Association. Beyond the expanded role of takeout, Chucri said he foresees long-term effects on the industry.
Ever-changing rules
Just as public health guidelines on the coronavirus have frequently changed, so has the resulting operating environment for businesses, including restaurants.
As the virus rolled into the state, Gov. Doug Ducey ordered March 19 that restaurants' dining rooms be closed, an order that predated the Governor's "Stay Home, Stay Healthy, Stay Connected" executive order that shut down much of the state in April.

That is when the losses mounted for restaurants. Chucri said state restaurants lost $850 million in sales during April alone.
"It was a perfect storm," Chucri said. "It hit us at a time where we were just beginning to bear the fruits of our labor when it comes to spring training [baseball] and all that."
In Gilbert, sales tax collections from the restaurant and bar sector in May, representing sales from April, was down 28.31% from May 2019, according to town data.
Payroll for restaurant workers went from $14 million a day in the state before the pandemic to about $2.5 million during the shutdown, Chucri said.
But as COVID-19 cases began to fall, Ducey began to open up the economy in May. For restaurants, it meant they could open, but with health restrictions in place. In July as cases rose to new heights in the state, Ducey ordered restaurants to limit capacity to 50%
With the fall surge, Ducey reiterated the rules still were in place and moved Dec. 2 to encourage more outdoor seating, dedicating $1.2 million to help restaurant purchase furniture, heaters and barriers and allowing outdoor dining space to go past sidewalks and other public rights of way.
Chucri said employment is far improved but still at 35%-40% of the industry's prepandemic workers remain displaced.
"On a day-to-day basis, you look at, 'wow, we love our employees, but how many do we need?'" he said. "How can we be very nimble and adept at what we do and keep labor costs down?"
Making adjustments
As the pandemic hit and the shutdown happened, Chef W Rieth of Gilbert's
Not Your Typical Deli
said his first reaction was shock, but then he got creative.
"You can either sit on your hands and you can cry about what's going on, or you can stand up and you could pull yourself up by your bootstraps and you could start thinking of new ideas on how to generate more income," he said. "It's almost like a big hustle."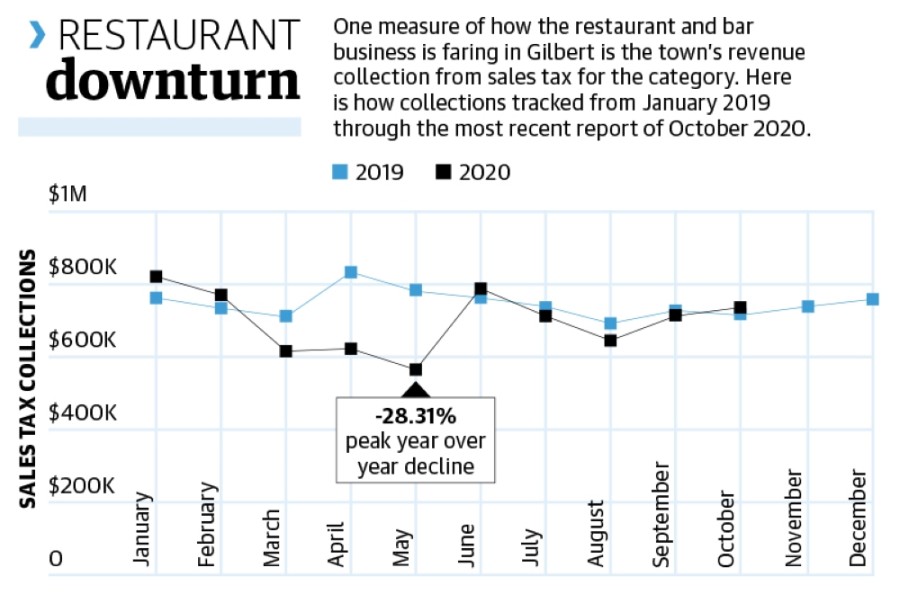 For Rieth, whose deli employees include a number of autistic or special needs workers, his first landing spot was how to best serve the community at that moment. As a result, he added some grocery items to the deli offerings. He also moved to disposable containers, cups and cutlery to limit contact between customers and staff.
Other ideas followed. He added selling meal kits, which were popular for a time; and posted videos on his social media channels featuring positive news, staff interviews or promoting other restaurants in town.
In the fall, he started staffing the McQueen Park concession stand for youth softball events, and he recently purchased a food truck where the deli can work more events.
"We're going to do anything we need to do to make our ends meet," Rieth said. "And by the luck of God, we have been able to make our ends meet."
Hurting now is the lack of winter visitors, particularly with the Canadian border closed.
"I don't want anyone to feel sorry for me," he said. "I don't feel sorry for me. I just want the public to understand what's going on with the economy from a small-business standpoint because it's serious. I don't think it's talked about enough, honestly."
Yadev had the misfortune of opening Sherpa Kitchen in January. He had started in a food truck, Everest Momo, the previous year. The restaurant had a soft opening ahead of a scheduled April 8 grand opening, but he said the restaurant received great initial response from the community.
"That was very fulfilling," he said. "But March came along and everything kind of changed. We did close for a little bit because we needed to figure out what we needed to do to get around it."
With the help of PPP loans, Yadev and his wife Chandra stayed afloat, but they finally closed the restaurant in November.
The Yadevs continue to operate the food truck for farmers markets but they have converted the restaurant to retail space for selling their cooking sauces and frozen Momos, a steamed dumpling filled with meat or vegetables. Yadev has not shut the door on someday reopening, but the transformation allows him to continue to follow his passion.
"I wanted to let people know good food doesn't have to be very expensive and the importance of buying local and just build a better food community," he said. "That was important for me. And I wanted to share my culture and the food that I grew up with over here, and also educate the farmers over here about how their ingredients can be used in many different ways."
How restaurants will change
Chucri said to-go meals have grown from about 5%-8% of a typical restaurant's bottom line to about 20% during the pandemic.
"What has been the saving grace of the restaurant industry?" Chucri said. "I would tell you without question it's to-go and getting very good at to-go and to-go alcohol has been huge as well."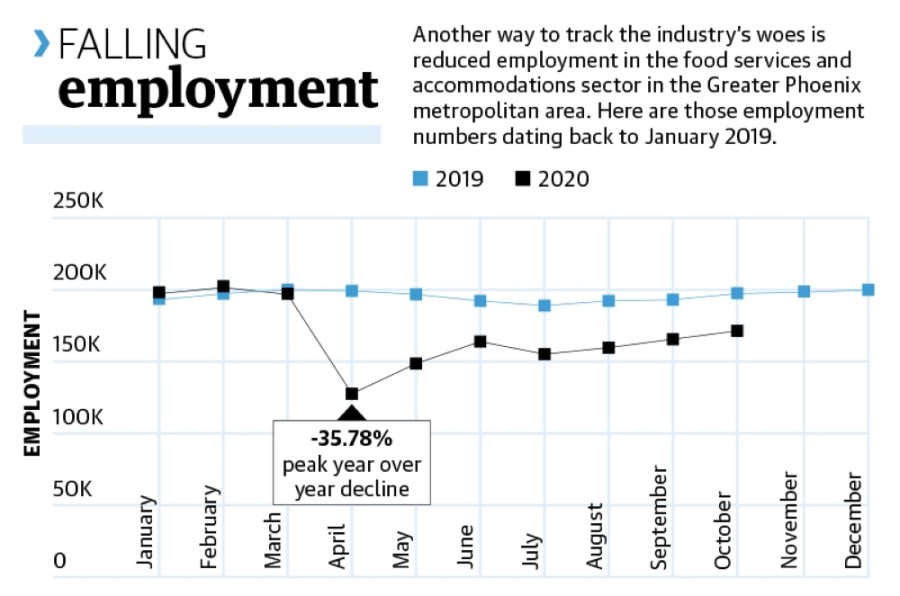 A judge ruled against Ducey's executive order allowing restaurants to offer to-go alcohol, saying it was unfair to bars that paid for that privilege. But the restaurant association plans to run a bill at the Legislature to allow for it.
Chucri also said he expects more fast-casual restaurants to add drive-thrus as a direct result of the pandemic experience.
"I think it's here to stay because people like the convenience and they're looking at it differently than they once did," he said.
Beyond that, he sees three areas that will affect restaurants going forward: enhanced sanitation, better packaging and an increased use of technology.
The additional takeout business has underscored the need for better packaging that will prevent third-party delivery services from opening a package and keep food from getting soggy, Chucri said. And the use of technology also will grow, he said, helping keep customers abreast of wait times on a texting platform or having diners call up menus with QR codes.
Chucri said he expects the industry to pull back toward normal perhaps at the end of fourth quarter 2021, or maybe even third quarter. But the industry's future remains uncertain.
"The worst part is there's usually an answer," Rieth said. "Like, 'why aren't your busy? Well, maybe this, this and this.' Well, nobody's got answers anymore. We're all kind of just flying by the seat of our pants."