Gilbert officials anticipate the town reaching build-out in about 2030, and the coronavirus pandemic is not slowing that timetable.
Multiple developments, involving hundreds of thousands of square feet of retail and restaurants, are going vertical or nearing completion throughout town, including Epicenter, Gilbert Warner, City Gate and two Cooley Station developments.
Developers said they have faced some challenges this spring and summer, but town officials said construction has not fallen off significantly in town. Development services revenue—or revenue generated from business licenses, fees and permits related to construction and development—have been increasing since April. While they are still down from the same months last year, total revenue at $6.94 million exceeded the budget projection of $6.6 million for fiscal year 2019-20, according to town documents.
Gilbert has 678,878 square feet of office space, industrial, flex space or retail space under construction to add to the 27.9 million square feet already existing in town, according to the Gilbert Office of Economic Development.
"The development activity in Gilbert remains strong, and we are hopeful that this trend will continue," Development Services Director Kyle Mieras said. "Commercial activity continues as well in both the retail and office/industrial areas."
Epicenter and Air Guitar

Epicenter, Gilbert's first vertical mixed-use development with retail, restaurants and multifamily housing, located at Ray Road west of Higley Road in the Agritopia community, broke ground in January and has not slowed down.
Development partner William Johnston from Johnston & Co. noted COVID-19 has not been helpful to leasing. However, construction is generally on schedule, said Greg Nadeau, development vice president for developer StreetLights Residential.
"Job site safety is paramount, and we have implemented a number of COVID[-19]-specific protocols to keep construction moving forward as safely as possible," he said. "Our team and subcontractors have adapted."
Next door, Air Guitar is not part of Epicenter, but development of the corner market from restaurateurs Craig and Kris DeMarco and Elissa and Eric Seitz from Bro Retail Group is running on a parallel track.
Craig DeMarco said he anticipates construction starting in the next few weeks with completion in spring or summer. The developers are searching for store-level leadership positions, DeMarco said.
Gilbert Warner and City Gate
Gilbert Warner, a 95,000-square- foot shopping center with a Planet Fitness gym as its anchor, is in a visible spot near the town's center at Gilbert and Warner roads and comes from developer Remington Nevada.
Partner Stan Wasserkrug said the developer anticipates being at full completion by mid- to late September, just after press time.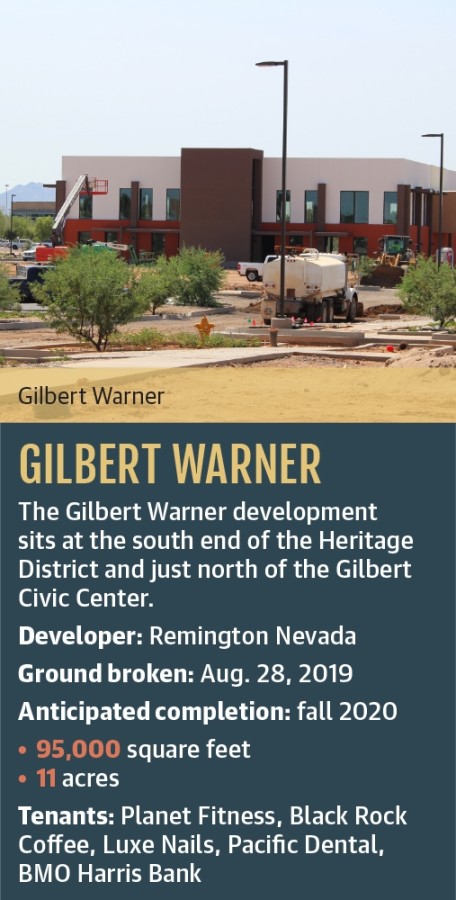 Once Remington Nevada turns the buildings over to tenants, they will begin making improvements, and the clock will be ticking on their openings, Wasserkrug said. COVID-19 had an effect, Wasserkrug said, but it was more of a tenant than construction issue.
"For the most part they were able to move forward," he said. "It slowed up my construction a little bit."
On a similar timetable is the 165,000-square-foot City Gate, located at Higley and Baseline roads to serve the growing northeast area of town. Anchor tenant Fry's Marketplace opened Sept. 2, and Jim Gardner, Barclay Group executive vice president, said construction is nearly done with suites being turned over to tenants to open soon.
Fry's, coming under the grocer's marketplace brand, has additional retail and amenities beyond what is found in most of its grocery stores.
Gardner said he believes the neighborhood will benefit from an upscale mix of restaurants, fitness and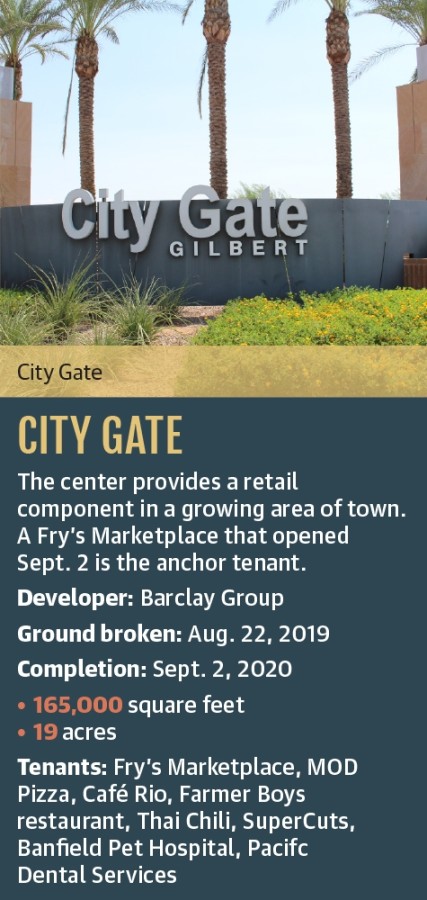 service retail that will open there.
Cooley Station developments
When Verde at Cooley Station—a 23-acre mixed-use development with restaurants, retail, office, and health care spaces and apartments—broke ground at Williams Field and Recker roads in November, the plan already called for a public space. The Green would allow visitors to shop or eat while watching a performance in the amphitheater. The restaurants around The Green were to have patio space opening to it rather than a parking lot.
COVID-19 restrictions played well into developer SB2-VB's hand, principal Norm Brody said.
"The green space allowed us to plan seating areas throughout the development at physical distances that are now recognized appropriate due to COVID-19," he said. "Further, the site plan for the development accommodates post-COVID[-19] initiatives such as curbside pickup and walkup windows at restaurants."

The performance venue can also accommodate outdoor fitness and wellness classes, and Brody said several prospective tenants have shown interest in utilizing the space.
Directly across Recker is The Post at Cooley Station, a 172,000-square-foot shopping center from development company Evergreen Devco that is anchored by another Fry's Marketplace.
•When ground was broken last fall, officials noted that the town had worked for 20 years to get development in the area, including a grocer. That included work among Fry's, the town, Evergreen Devco and the Cooley family that farmed the land for decades.