With campuses shuttered for the remainder of the academic year because of the coronavirus pandemic, schools have pivoted to remote learning to continue students' educations.
The shift required sudden, wholesale changes to the way curriculum is presented, Gilbert Public Schools education officials said, touching everything from grading to course workloads as educators considered the varied circumstances in students' homes.
Despite the numerous changes, the transition has been less chaotic than what it might have been, some parents said.
"To have to shift that quickly on such a large scale, I feel like it's been pretty seamless from our perspective," GPS parent Lisa Van Loo said.
School is now a mixed bag of online lessons, teleconferencing and independent projects. It can be taxing in time and resources at home, families said, but the work is getting done.
The experience coming from the situation could affect how much technology is incorporated into learning in the future, educators said. But they also underscored nothing replaces a teacher in a classroom with students or the social aspect of school.
"They're just reaching out to say hi every once in a while, which I appreciate because it doesn't feel like we're teaching anymore sometimes," said Jessica Silashki, a third-grade teacher at Coronado Elementary School, "because we don't get to see their little faces."
Implementing large changes
Education officials said they caught one break when it became apparent this shift would have to be made: The first school closure announcement came while students were on spring break.
That allowed administrators to get a running start on making changes.
The run-up unfolded in three phases, said Barbara Newman, the teaching and learning executive director for Gilbert Public Schools.
The first was a planning phase that lasted March 16-20, when decisions were made and communicated to staff and families and learning resources were collected and posted for families to use in the interim.
Second was the professional development phase from March 23-27. That was an effort to support teachers and develop formatting and guidelines for the teachers, Newman said.
The district also made use of its classroom teachers who have been designated as technology integration educators.
"Part of their job during normal times is to work with our teachers to integrate technology in the classroom, teach them how to use new tools as a resource and just help them in general be comfortable with the environment," GPS Technology Executive Director Jon Castelhano said. "So during that preparation week, that team provided a number of webinars for our teachers to access remotely. They taught about 67 hours of instructional webinars to thousands of our teachers in the district."
The district also helped teachers set up classroom websites if they did not have them already, and the teachers reached out to their students in preparation for the final phase: implementation. Remote learning started March 30.
Newman praised principals as critical in the rollout to their schools' staffs and to everyone in the district for being flexible.
"It was amazing how everyone trusted at first that this is the plan, and this is the way we're going," she said. "But then we're completely open to receiving feedback. We're making slight tweaks."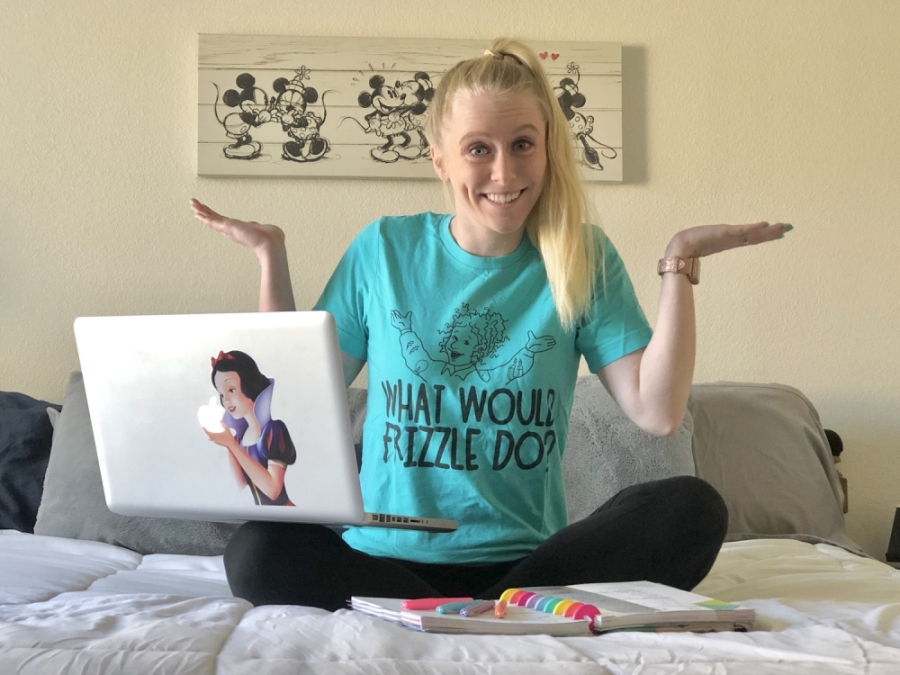 Silashki, whose school is in Higley USD, said communication from the district to her has been helpful.
"Higley has really been awesome in letting us do what we need to do while providing us with a basic skeleton of what's expected," she said. "It's really up to us how we structure that. ... It's been really nice to have that flexibility for me personally because I feel the district realizes and our school realizes that we know our kids. We know what they are still needing, and that could vary for every teacher and every school."
Silashki, who runs a popular Instagram account for teachers, @grade3inaz, is a tech coach at Coronado.
"I've been able to share with my staff how to do some of the basic things that we really didn't need to know how to do that efficiently before," she said. "Now it's really important we know what we're doing so we can share it with families and make sure their home learning experience runs smoothly."
Home challenges
District officials said they already knew that not every home has Internet access, either from a lack of computers or Wi-Fi. Families also may not know how to use the platforms on which the learning is presented.
"Just being tech savvy in general, I've been able to figure it out," Silashki said. "But that doesn't erase the challenges that the parents are facing or the students are facing or just how difficult this is for them to learn this way."
Even for those comfortable with a digital world, there is a noticeable transition.
"It's not that hard," said Nileah Bruce, an eighth grader at Greenfield Junior High School. "It's just different, going from hands-on learning in school to online. It's just very different. It was something that I had to get used to."
Nileah said she finds math harder in the online world.
"I do struggle in math a little bit," she said. "The teacher would us show us examples in class with different things where it's harder to show examples online."
Her mother, Niane Bruce, credits schools and teachers for handling the situation as best they can.
"I think it's been good," she said. "There's been a lot of communication, but at the same time the communication is a little overwhelming. And I think that might have to do with having multiple kids at such a different spread of ages and trying to keep up with all of Nileah's classes."
Niane Bruce has one other child, Jace, who is in kindergarten at Sonoma Ranch Elementary School. She finds Nileah is easier to handle, even with multiple classes from a junior high school, because Nileah independently manages her workload and stays on top of it. Jace, however, requires more attention.
"He doesn't quite grasp the concept of because I'm at home, does it mean that I can play all day long?" she said. "I have work to do, too."
Bruce said she has to sit with Jace and explain lessons and show him how to do them.
"We're getting creative in other ways, with trading games that are math problems and making up songs that have sight words in them, different things like that," she said. "We're just having to be creative to get him to continue his learning process."
Bruce said she usually spends a half-hour with him in the morning and again in the afternoon and reads with him at night. When she needs to work, she may encourage him to spend some time on an educational website, ABC Mouse, that he can navigate himself.
Time is one commodity the districts factored in when considering how much they could put on families, school officials said. At GPS, for example, administrators looked at the example of Gilbert Global Academy, the district's online school. While Newman made the distinction between online and remote learning, she said there were still lessons to be learned from Gilbert Global Academy.
"We could kind of look at that and see what's reasonable for students when they're doing online learning," she said. "For example, when students do online learning, they're only doing two classes at a time. So we knew that we needed to establish something that the kids are not bombarded with six assignments every single day."
That has made the workload manageable at Van Loo's home, where she is in charge of a blended group of five children, three that are hers and two of her boyfriend, who is still out working. Van Loo is working from home, but she has found the children have been good about doing the work.
"I thought they would really kind of dog me on it, but the other morning, I went in to see if my eighth grader was even awake, and she was working on her stuff in her bed at 7:30 in the morning," she said. "I think they're looking at it like, 'Let's get our school done so then we can do what really want to do.'"
Van Loo has computers in the house, but they are not enough for everyone to use at the same time for work or school. But the intentionally light workload from the schools has helped them manage that, with the kids being able to alternate who is using what. The Wi-Fi, however, has been taxed.
"Today, Ron [her boyfriend] said, 'Is anyone on the Wi-Fi?' Because it was running slow," she said. "And I was like, 'I'm on it. We have music going. Everyone's on it.'"
Helping Van Loo's household was Gilbert Public Schools' 1-1 ratio of computers to students in grades seven to 12, meaning each student in those grades is issued a Chromebook for use. Thus, her eighth-grade daughter has that for use on her school work.
Castelhano said for younger students, the district has been checking out loaner Chromebooks for students who need it to get access to remote learning platforms. Additionally, the district has been providing tech support by phone to families.
Lessons learned
Educators said they can see how this experience will change learning in the future, though perhaps not drastically.
Even as a tech coach, Silashki said she has been reluctant at times to incorporate technology in the classroom because it is typically unreliable, but the greater experience across the state is now easing her fears about the technical aspects.
"I think it's opened eyes to the benefits of being able to do something digitally, meaning like a worksheet vs. a digital worksheet," Silashski said. "But instruction-wise, I think it's confirming even more that nothing can replace face-to-face instruction for kids."
Castelhano said it is allowing teachers who have not used these tools before to see how they will fit into their classrooms in a positive way.
But Newman reiterated the teachers are an important distinction in online versus remote learning.
"The piece of remote learning is that our teachers are still the instructional avenue for our students," she said. "They're just using different tools because they have to do it virtually. So the collaboration teacher-student and the collaboration student-student, it looks different, but our teachers are still driving the instruction."
What is missing is the social aspect. Silashki wrote postcards to her students before remote learning started and has been, with the Higley district's encouragement, using live online time to fill that gap. She reads to them and has held a show-and-tell.
"It's been less content and just more relationship building," she said. "I just want to let them talk to each other and talk to me, and I get a pretty good turnout on that."
For Nileah, the biggest issue was losing out on her final days with friends before heading to high school.
"I wasn't expecting that [last day before spring break] to be our last day," she said. "And not everyone was there because it was a half-day going into spring break. No one was like, "I'll take pictures,' like at the end of the school year. We never got to do that before you get into high school. I don't think we realized how many friends we kind of lose going into high school."