Jazel Moreno said she never considered herself handy. But that took a turn in 2013 when she was looking to redo her home with husband Miguel but could not find affordable furniture she liked. But then it hit her while watching instructional videos online: she could do this.
"I mean, I was probably a little crafty," she said. "But I never thought that I could work with power tools, no, never. And I was actually getting a little excited that I can use them."
Picking up a piece, she refurbished it herself.
Soon, friends were asking her to do pieces for them, Then, she started redoing some and posting them on Craigslist.
Before long, Moreno was gaining acceptance to sell some of her pieces, painted in bright colors, at a market. She found she could make more money selling one piece than working a whole day at her job at a Marriott hotel front desk. So she quit her job, and My Little Shop Furniture & Decor was off and running.
Moreno said she still gets excited about the job and finding pieces at thrift stores. One owner sets aside pieces he knows she will like. Miguel said thrift store owners know her as "the crazy furniture lady."
Miguel had a good full-time job but helped where he could. As the business grew, he became increasingly involved. But he noted Jazel's supply hardly could keep up with demand.
He started experimenting with signs and, at Jazel's suggestion, headboards. She was getting requests to ship furniture out of state, but she was not comfortable with the expense or potential for damage. Headboards, however, could work.
Soon demand for his pieces had him laboring at both jobs from 5 a.m.-10 p.m. That schedule led Miguel to quit his day job, though Jazel admits the move scared her, and take on Barn Walls full time.
The businesses expanded out of Etsy sales from their home into a 900-square-foot space in 2017, then into a 2,000-square-foot space in 2019, soon followed by renting the adjacent suite to get to 4,000 square feet.
The businesses share the space, but the husband and wife have kept them separate.
"My Little Shop Furniture, it's 100% local, and Barn Walls, we figured out that we could ship that," Miguel said. "And so we wanted to separate it for marketing purposes."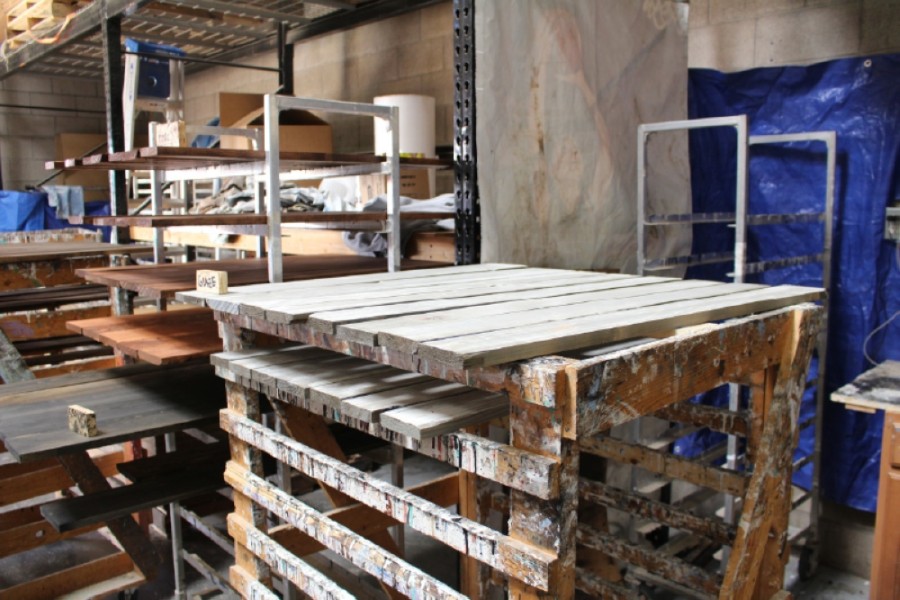 Production numbers
My Little Shop Furniture and Decor and Barn Walls have grown quickly from their home-based start to today. Here is a look at current production.
40 Barn Walls pieces per day
8 Little Shop Furniture pieces per week
20 employees
My Little Shop Furniture & Decor/Barn Walls
219 S. William Dillard Drive, Bldg. 4, Ste. 141, Gilbert
602-380-2506 (My Little Shop Furniture)
https://mylittleshopfurniture.com
888-773-6287 (Barn Walls)
https://barn-walls.com
Hours: 9 a.m.-5 p.m. Mon.-Fri., closed Sat.-Sun.