L'Academie Baking and Cooking School owner Dan Boman has been to the top of the baking world.
A graduate of The Restaurant School in Philadelphia, Boman has worked as pastry chef at The Four Seasons Hotel in Philadelphia and four Atlantic City casinos, most recently for Trump Plaza.
He has won competitions, such as Best Chocolate Showpiece at the National Team Pastry Championship in 2009, and awards such as Pastry Chef of the Year in 2017 from the American Culinary Foundation.
But it was not until he left Atlantic City that he said he found what he was meant to do.
"My mission in life was to be able to give back what I learned over the years from various people who were very giving, were very open with their trade," Boman said. "I was lucky to have met good people that taught me well and were very forthcoming. It's hard to find good people like that."
Thus, Boman accepted a position to teach at the now-closed Le Cordon Bleu in Scottsdale. He continues to teach today at Scottsdale Community College, and in 2019, he and his wife, Abby, opened L'Academie.
While school is in the business name, Boman said the space is not a classroom. He teaches more practical cooking than making showpieces he once did.
"We don't judge in here," he said. "There's no exams at the end of class. It's a very lighthearted atmosphere. We crack jokes the entire time as best as I can. I have a lot of silly jokes. The mission is to let them have a good time and to give them recipes that they can replicate at home."
Boman said the school quickly built up a loyal clientele after opening, which helped when the coronavirus pandemic forced the school to shut down for a couple months.
To keep income flowing and to stay in touch with clients, the business started offering curbside pickup of some of Boman's creations, starting with croissants, which sold out.
"I think that this pandemic has brought about a need for people to be able to cook at home and learn how to cook at home just because they've had to stay at home for so much time," he said. "That sort of helped us in a way that more people want to learn how to cook and bake."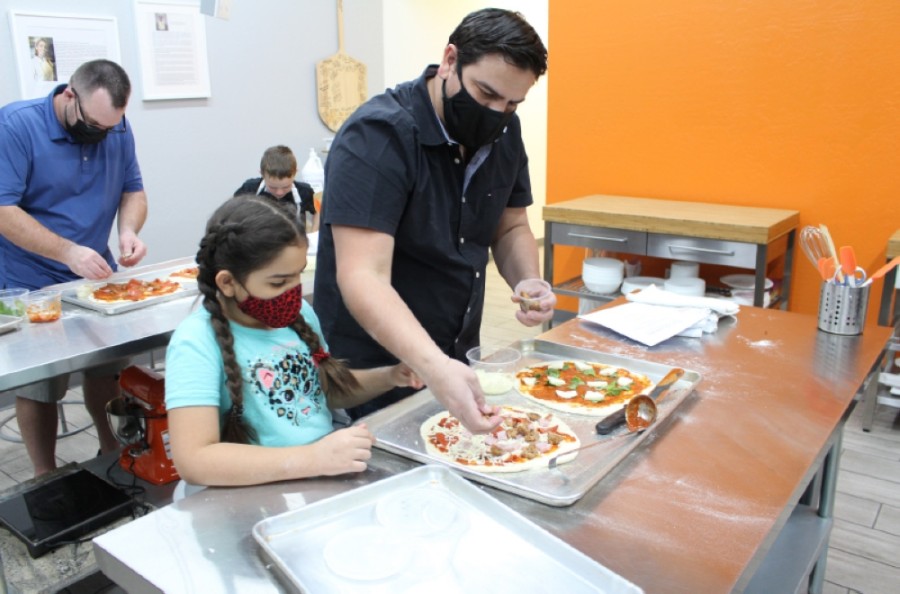 Staying safe
Here is how L'Academie Baking and Cooking School has managed pandemic protocols.


10 maximum class size


8 cooking/baking stations


Masks worn at all times


Hand washing at class start


L'Academie Baking and Cooking School
3244 E. Guadalupe Road, Ste. 107, Gilbert
480-687-8888
www.lacademieschool.com
Hours: Mon. 5-9:30 p.m.; Tue.-Fri. 9 a.m.-1 p.m., 5-9:30 p.m.; Sat. 9 a.m.-1 p.m.; closed Sun.