For Che and Ruby Jeffreys, the opening of Imagine 3D Mini Golf in Gilbert was serendipitous.
The couple took their 4-year-old son, Dane, to a glow-in-the-dark miniature golf course in Scottsdale in July 2018, and though they had good jobs and no entrepreneurial aspirations, something just clicked.
"I didn't say one word [on the ride home], but the wheels were spinning in my head," Che said. "Ruby didn't say one word, but the wheels were spinning in her head. We got home, and we're like, 'I can't sleep. I can't sleep.' I was like, 'What is this? What is this itch that we have now?'"
That started the couple on the trajectory toward opening, which came together with astonishing quickness, Jeffreys said. They launched in January 2019.
They started doing their research. Jeffreys made a fortunate connection with an indoor course in Illinois, which led him to some artists back east, the Lindberghs, who design, build and paint indoor courses. They even provided the golf equipment.
The paint is not just glow-in-dark for black lights but 3-D as well, which differentiates Imagine 3D Mini Golf.
"It makes the art kind of pop off the wall," Jeffreys said. "It really amplifies it. It adds a whole new element and a different twist to the glow golf. It messes with your depth perception, but that's not a bad thing. It's a different, unique, fun thing that hopefully customers haven't experienced before."
Then there was the location. Ruby set out to look for a place, and she found it just a couple minutes from their Gilbert home.
"The windows were already blacked out for us, and that's something that the artists were saying, 'Make sure there's no outside light because that'll mess up your artwork," he said.
It was another instance of things just falling into place. There were obstacles, but they cleared each quickly. From idea to opening was just six months.
Even with the pandemic, which has hit the business hard, particularly with parties and corporate outings, the owners were ahead of the curve. They were sanitizing putters and 3-D glasses after each use from the beginning.
Jeffreys said they have always wanted a safe, family environment.
"That's what we're all here for," he said.
"Seeing a family enjoy themselves and get away from the TV or get away from the tablets or the cell phones and they go out and do something together. That's what I grew up on."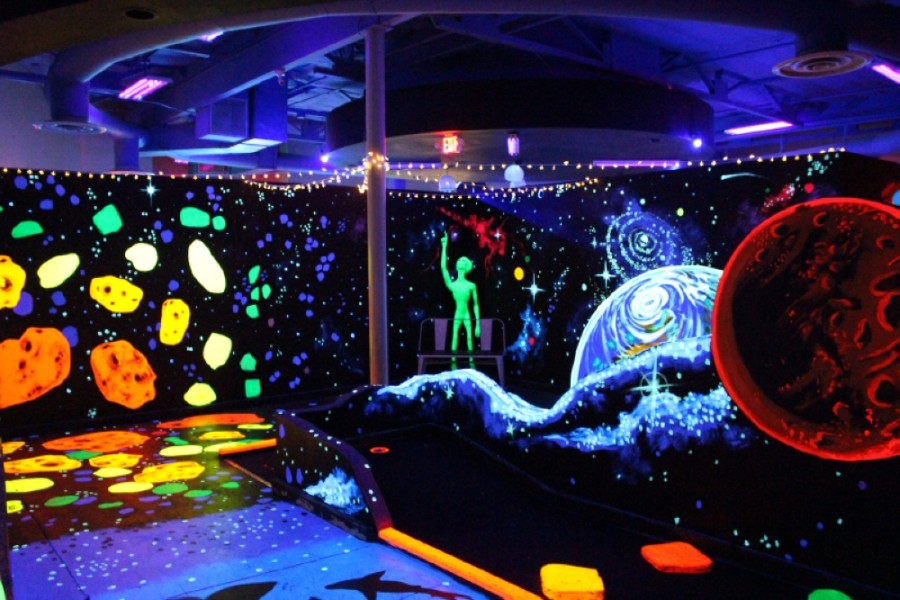 Inspiration
Ruby Jeffreys had the vision for the course's look. Her inspiration was their son's imagination, so the customer sees pirates, aliens and an undersea world among the walls' and walkways' themes. The Lindberghs, the course designers, then executed that vision.
"It caters to little boys and to little girls. ... It's something you can do year-round and somebody any age can do," Che Jeffreys said.
Imagine 3D Mini Golf
785 W. Warner Road, Ste. A107, Gilbert
480-361-8005
https://imagine3dminigolf.com
Hours: Sun.-Mon. noon-9 p.m., Tue.-Thu. 2-9 p.m., Fri. 2-10 p.m., Sat. noon-10 p.m.