Kim Yonda-Lead always had a knack for shopping for and making gifts. She said her parents noticed, and her dad urged her for years that she make it into a career.
"I was crafty making things and and just picking out [things], and both my parents would tease me, just that I love to shop and I like giving things to people," she said.
Dick Yonda proved right in the end, as Yonda-Lead opened her gift boutique, Wrapped with Ribbon, in September 2019. It just took a while to get there.
For as long as dad urged her that it was what she should be doing, the timing never seemed like it was right, Yonda-Lead said.
That changed after her dad died. Realizing life is short, Yonda-Lead embraced doing the shop. She curated a couple of pop-up shows for friends in her back yard and with success there, she decided it was time to open a store.
Bad timing struck again when COVID-19 came to town, shutting the store just months after it opened. But a quick pivot to online not only saved the store in Gilbert, but broadened the customer base across the country.
Yonda-Lead planned to focus on the brick-and-mortar store the first year, but so many customers clamored for a website to buy things that Yonda-Lead had put in the foundation when orders to close came, an occurrence for which she is grateful.
"WE quickly put hundreds of items up on that website and moved to doing more social media, Facebook Lives—and people were there," she said.
The boutique itself is crowded with items and decorations of all types meant to appeal as gifts. Yonda-Lead has curated them, some from local artisans and others picked up in national markets, with input from customers. Knowing the products is important to her.
"I want to be able to look you in the eye and tell you about that product or tell you what I like or what I think you might like," she said. "Anything that's in here is something I wouldn't mind to give to somebody personally."
Rewarding community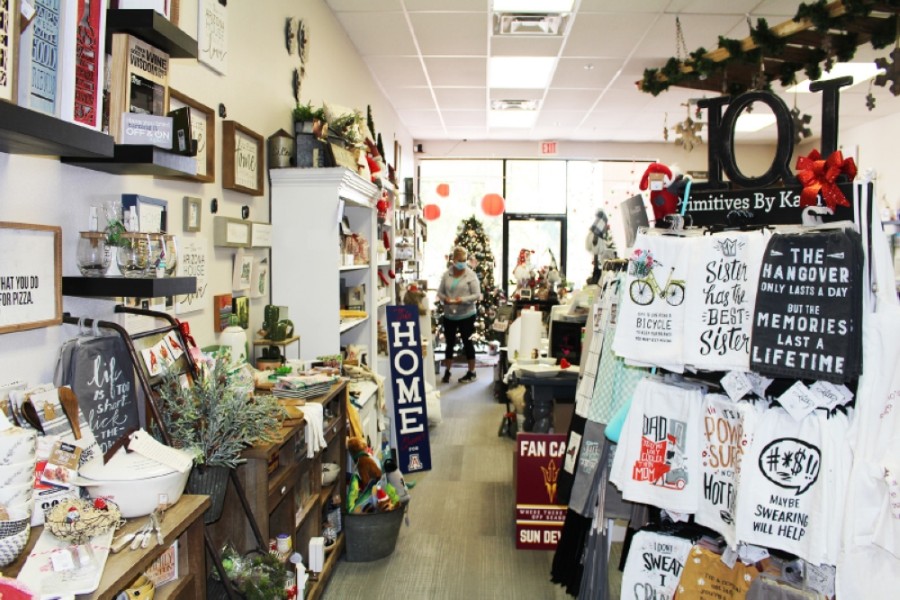 Kim Yonda-Lead has two Facebook pages for the store, an open one but also a closed group for "rewards members." From that latter group comes many of the decisions on what to carry or, for example, when holiday items should be put out. She even hosted a Zoom Christmas bingo.
"I showed them different products and they played, they won, they shopped, but they also got prizes and had fun," she said.
The feedback has been critical to making it through the pandemic and building a community, Yonda-Lead said.
"I'm blessed to have this type of place and be able to do that," she said.
Wrapped with Ribbon
4844 S. Val Vists Drive, Ste. A111, Gilbert
480-687-4904
https://wrappedwithribbon.net
Hours: 10 a.m.-6 p.m. Mon.-Fri., 10 a.m.-4 p.m. Sat., closed Sun.-Mon.