Gilbert's unemployment rate fell to 4.5% in August, the lowest it has been since March at the start of the coronavirus pandemic. That represents a drop of 3.8 points from the previous month and a 45.78% improvement in one month.
"That's a good place to be," Gilbert Economic Development Director Dan Henderson said.
Data shows Gilbert's August unemployment is lower than other municipalities in the county and in the nation. Personal finance website WalletHub ranked Gilbert as the
second best recovery in the nation
in a study of cities whose August unemployment rates are bouncing back the most during the pandemic.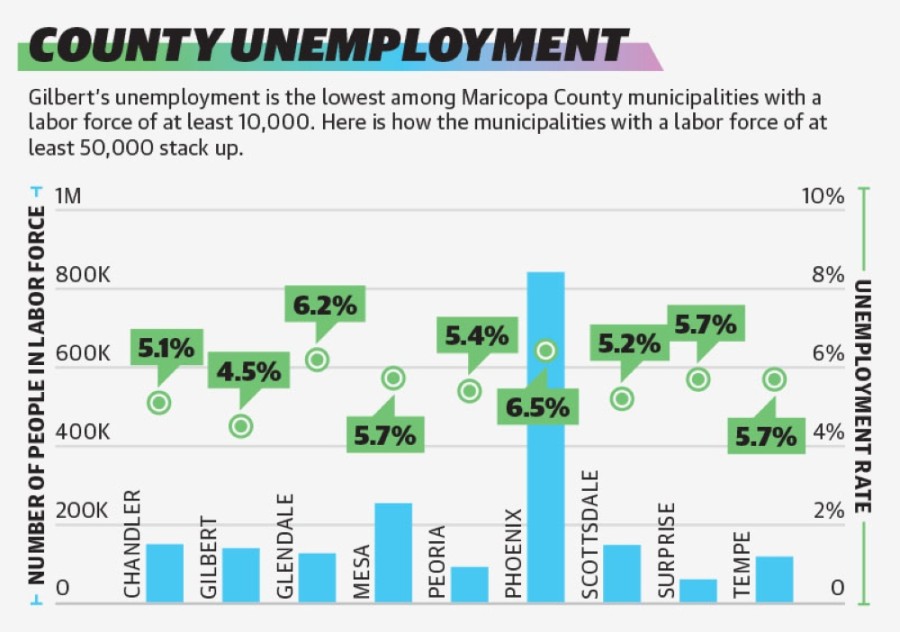 Additionally, Gilbert's unemployment rate is lowest among Maricopa County municipalities with a population of more than 15,000 people, according to Arizona Commerce Authority data.
However, the authority's data shows that with the low unemployment rate has come a decrease in the labor force. That could portend some difficult times still ahead in the economic recovery, experts said.
In the meantime, Gilbert officials said they are implementing programs to help local businesses along the path of recovery.
Gilbert's bounce back
Gilbert's unemployment rate in February was lower but similar to Chandler, Mesa, Queen Creek, Tempe and Scottsdale, which all were under 4%, before the pandemic.
But as those numbers crept up in March and spiked sharply in April, Gilbert differentiated itself in its lower rate. Gilbert at 11.4% and Chandler at 11.9% were the only of those East Valley cities under 12%. Henderson said those numbers were the worst he had ever seen in the region.

Since then, with the exception of a June bump, unemployment has fallen throughout the Valley, as the WalletHub study shows.
That study, using U.S. Bureau of Labor Statistics data, aimed to find what cities' unemployment had been most affected by COVID-19, WalletHub analyst Jill Gonzalez said.
Gonzalez said Gilbert has the second smallest difference between the number of unemployed people in August 2020 versus the same time last year. Additionally, WalletHub has eight Phoenix metropolitan-area cities in the top 23.
Economist Jim Rounds, president of Tempe's Rounds Consulting Group, said regions and states tend to come out of recessions together, but he is not surprised Gilbert's recovery is stronger than other Valley cities. He cites Gilbert's high median income of $92,350, according to the 2019 American Community Survey, compared with Arizona's median of $56,213.
"The town has been working aggressively on bringing in higher-wage businesses in terms of its economic development efforts," Rounds said. "And I think the government has been run efficiently, especially under [former Mayor] Jenn Daniels. And so going forward, I don't anticipate this economic condition to change very much for Gilbert."
Dwindling labor force
Rounds said he is less optimistic on the falling unemployment rates as he looks at the numbers' underpinnings.
Gilbert, for example, had more employed people and less unemployed people in August than July, according to the commerce authority's data. But one of the biggest reasons for the drop is a nearly 4,800-person loss in the labor force, a fall of 3.35%.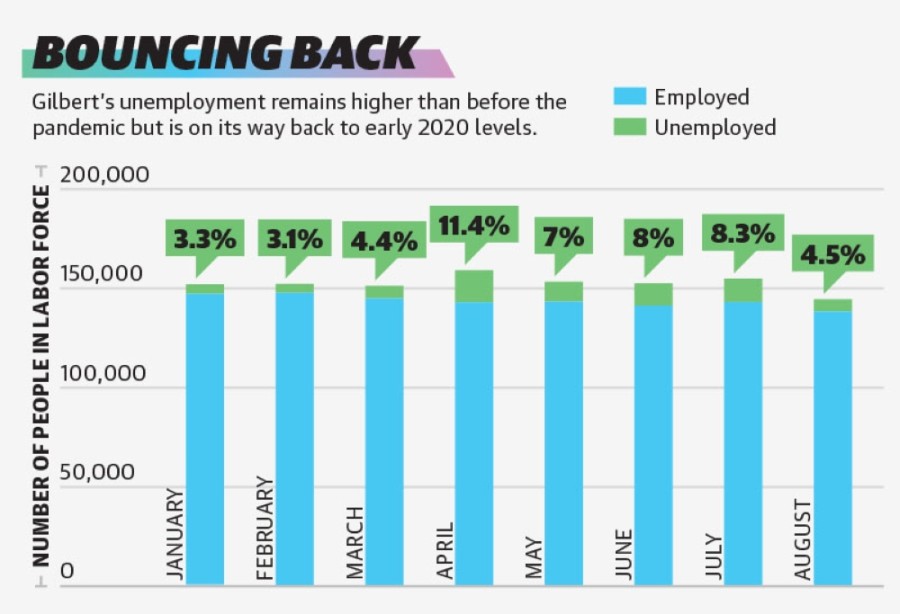 "What happened with the unemployment numbers over the last month is a lot of people were fatigued with looking for work and not being able to get it, and they stopped looking," he said. "If you're not actively looking for work, you're not counted in the unemployment numbers."
However, those former workers are likely to rejoin the job hunt out of necessity at some point, and that could further affect the unemployment rate, Rounds said. He said he expects the rebound to slow from here, perhaps not seeing pre-pandemic employment rates until the end of next year at the earliest. The recovery also could be uneven.
"As people get more excited about work, when more of the economy opens and we have better news, we'll start looking for work, and it'll be weird because we'll be adding more jobs and we'll be seeing an increase in unemployment," he said.
Gilbert Chamber of Commerce President/CEO Sarah Watts said employment varies by industry in town.
"There are many industries, those impacted by extended closures, which are not quickly returning to pre-COVID numbers," she said, pointing to gyms and restaurants at limited capacity. "However, we have local manufacturers, retailers and others with hundreds of positions to fill."
Supporting the recovery
Watts said she is especially pleased with Gilbert's efforts to support business through the pandemic through the town's #GilbertTogether Business Recovery Program, a three-phased approach unveiled in September she said provides "an opportunity for an individualized response to the needs of Gilbert's businesses."
Henderson said the $18 million program set aside $11 million for business recovery grants, $5 million for low-interest "midterm" recovery loans and $2 million in technical assistance programs that can help both employers and potential employees.
When it comes to unemployed workers, Henderson said the technical assistance programs, including a $150,000 partnership with Maricopa County Community College District, can help workers gain new, in-demand skills.
Watts said filling businesses' open positions is a matter of "matching the skill to the position, which may require reskilling or upskilling." She said many businesses, as they have reopened, have found some of their workers were not interested in returning or had found work elsewhere.
"With all the unknowns, what I am certain of is our business community's desire to get back to work," Watts said.•