Beyond its substantial health tolls, the coronavirus pandemic has also brought on an economic toll that has been devastating for many.
Small businesses in Gilbert, as elsewhere, have struggled to stay afloat amid the virus's turmoil. Each makes its own journey with different COVID-19-related obstacles to overcome, but owners say they are changing their business models and expectations to adapt to the situation.
"What I'm hearing is different with each passing week," Gilbert Chamber of Commerce President Sarah Watts said. "Several weeks ago, the sentiment was more along the lines of confusion and a need for funding and resources. Then it transitioned into a need for guidance and answers to questions about reopening. Now for the most part, there is a sense of acceptance of the need for safety precautions and an understanding that each business is going to respond differently—and that's OK."
Many have found outside support at all levels of government—federal, state, county and town. They even have found support from each other through cooperatives, different initiatives as well as businesses that have stepped up to lend a helping hand.
What is uncertain for each of them, owners said, is what comes next. No one knows when the pandemic will subside or how their businesses will look on the other side.
Adapting to pandemic environment
Unemployment in Gilbert climbed in March when the first actions against the pandemic took place, spiked in April, rebounded in May but climbed again in June, standing at 8%. Hardest hit in the Phoenix metropolitan area was the accommodations and food services sector with more than 29,000 fewer jobs in June than February as pandemic restrictions hindered travel, restaurants and group gatherings.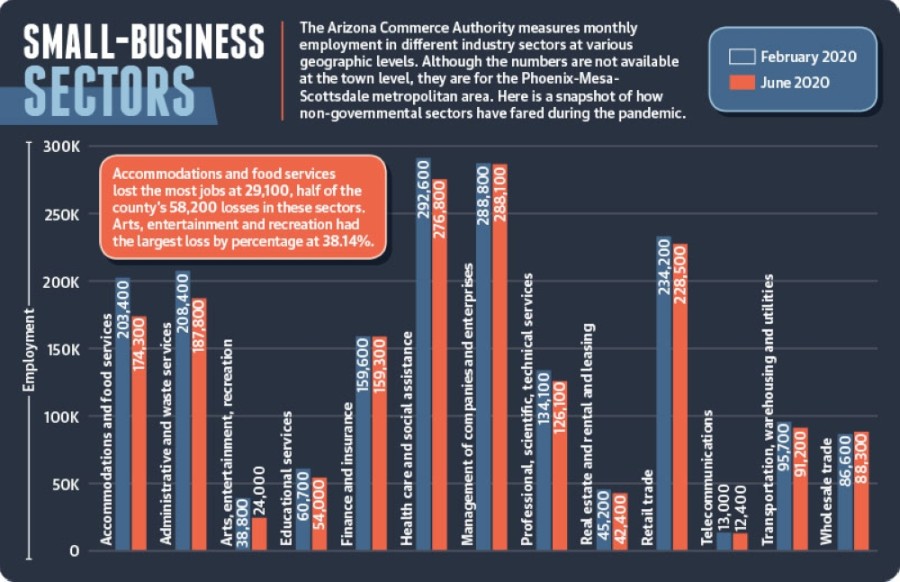 Luann Lennox's business, Tequila Snobs, puts on tequila tastings for groups, but an executive order from Gov. Doug Ducey in March ground such group events to a stop. Those restrictions on group gatherings lasted through Cinco de Mayo and further into National Tequila Day on July 24.
"It's kind of like telling Santa Claus that he has to stay home between October and January," she said. "I was like, this is the time through Cinco de Mayo."
That got Lennox to thinking about what else she could do. She hit on the idea of hand delivering a bag with 10 cups of different tequila brands to each participant in local tasting parties. She would then host the tastings through Zoom.
"People have great fun," she said. "They communicate with me after and say, 'Oh my gosh, this is great. I want to do it again. I want to invite this other person.'"
The parties are more expensive and more work than what she was doing in person, but Lennox said it is helping her get through this time.
Down in the Heritage District, the pandemic gave cover for the owners of The Brass Tap bar to rebrand as Da'Bayou Creole Kitchen, breaking away from the area's crowded bar scene and offering a restaurant with a rarer cuisine to the area.
Distinguishing themselves in such an area had been a challenge, so rebranding had been discussed last year, co-owner Jesse Rowe said.
"When this COVID-19 pandemic hit, this obviously shut down real quick," he said. "We still had rent to pay. We still have a lot of things we had to do, and we worked with our landlord to take the opportunity for this extremely slow time to go ahead and move forward [on rebranding]."
The place was closed June 15-July 20, but the losses suffered were not substantially more than if they had been open under the pandemic's conditions, Rowe said.
The owners hope they are better positioned once the pandemic eases. He said feedback on the food has been good, but the pandemic and Ducey's orders limiting capacity put a squeeze on revenues.
"Hopefully, we'll be able to make it through the rest of this thing," Rowe said. "If it does last too long, not many of us are ever going to make it, but that's just the way it is, I guess."
Help for small business
Small businesses have not been left to fend for themselves. Aid has been available at all levels of government, much of it stemming from the Coronavirus Aid, Relief and Economic Security, or CARES, Act from the federal government. For example, Gilbert had 444 businesses receive at least $150,000 from the CARES Act's Paycheck Protection Program.
Closer to home, Gilbert has been directing town businesses to the $23 million Maricopa County Cares program for small business and nonprofit organization support funding.
The town also is set to launch a $150,000 pilot program to partner with agencies for business technical assistance and jobs training for middle and low-income workers affected by the pandemic. The money could go to several firms.
"We're not looking for one-size-fits-all, but rather an array of services to be able to provide coaching, mentoring, and technical assistance for our business community through this program," Gilbert Economic Development Director Dan Henderson said. "This comes directly from our surveying of businesses, pre-COVID and during COVID, that this resource is necessary for them to recover."
The funds came to the town through its annual allotment for Community Development Block Grants from U.S. Housing and Urban Development, which allocated additional money and loosened restrictions on its use for public services this year in light of COVID-19.
Most of the town's additional funds are headed to services to help residents with rental evictions, home-delivered meals or domestic violence court advocacy services, but the pilot program also is included.
"You're looking at some of those employees that had some of the lower wage jobs," Community Resources Supervisor Melanie Dykstra said. "So the focus is to try to see how can we best help them transition or find something new or how can we provide that assistance to either them or a business that had to gather, recruit and train them."
The Gilbert Chamber of Commerce also jumped in with regular email, social media groups and webinars to get information out to businesses about resources and available programs. To Watts, it fit with the organization's mission.
"For us, it's about rapid evolution and continued service," she said. "We are a membership-based organization, and our mission and priorities are driven by the needs of our member businesses. As an organization, it is our role to listen an adapt to these needs."
An uncertain future
While no one can say when the pandemic will subside, some businesses have taken a leap of faith by opening during the pandemic.
Paul Figliomeni delayed opening his Surf City Sandwich artisan sandwich shop on Power Road from about April 20 until June 1. He got help from his landlord, who gave him two months free rent because she wanted to see him have a stronger opening than just offering takeout.
RocketMedia, which normally focuses on digital marketing strategies for heating, cooling, plumbing, electrical and solar companies, assisted other companies with getting information out on Google grants for advertising, offering free consulting services to companies without a long-term marketing plan and participating in webinars to spread more information, CEO Ben Kalkman said.
Kalkman said he advises companies to start thinking about what to do after the pandemic is over and how to move from reactive to proactive strategies.
"When you think post-COVID, what does that look like for your business?" Kalkman said. "We focus a lot on that rather than survival of the fittest, because once you're in it, it's kind of hard to undo what's been done."
Kalkman has been encouraged by what he sees in the market.
"It's been really cool to see so many businesses not go out of business," he said. "And I think it's because how they have adapted."