Here are four ongoing projects in and around Chandler to look out for while driving.
1. Repaving McQueen Road
The city of Chandler is repaving a segment of McQueen Road from Loop 202 to Queen Creek roads.
Status: City officials said the project was expected to start sometime in May once an ongoing improvement project is completed at the Queen Creek and McQueen intersection. The project will include traffic control, tarping and slurry sealing in addition to restriping the roadway.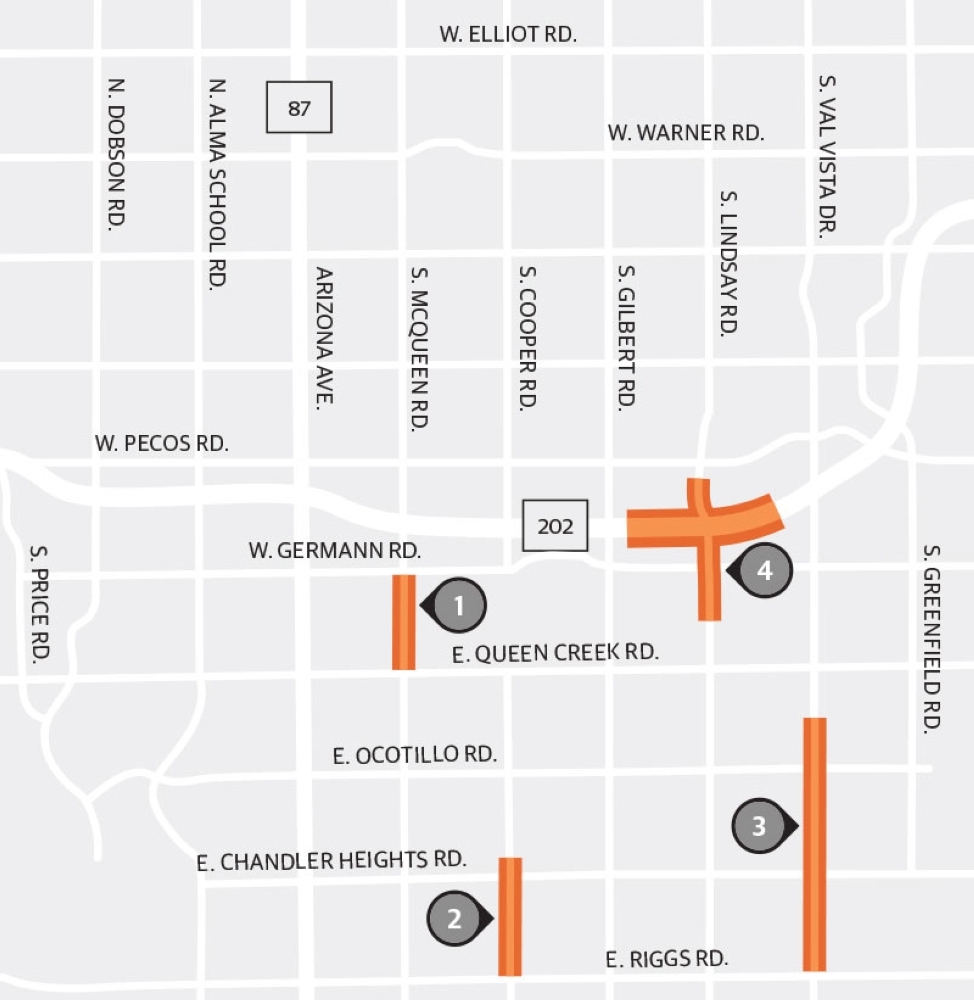 Timeline: May 31-June 24
Funding source: city of Chandler
2. Cooper Road improvement
An effort is underway to expand Cooper Road to four lanes—two lanes in each direction. The project begins about 3,500 feet north of Chandler Heights Road to Riggs Road. Improvements include the construction of raised medians, bike lanes, left-turn lanes, sidewalks, curb, gutter, street lighting, traffic signals, drainage components, landscaping and utility relocations. The project was outlined in the city's 10-year capital improvement plan as a necessary infrastructure improvement.
Status: Electric crews continue work on the east side of Cooper to install electric conduit and future streetlights as part of the conversion of overhead power lines to underground. Work has also begun on the segment from Via de Palmas moving north toward Chandler Heights.
Timeline: February 2020-September 2022
Cost: $17.17 million
Funding source: city of Chandler
3. Val Vista Drive widening
The town of Gilbert is widening Val Vista Drive from Appleby Road—about where Val Vista narrows to one lane in each direction—to Riggs Road. The result will be a six-lane section from Ocotillo Road to Merlot Street with a raised, landscaped median; bike lanes; sidewalks; and streetlights. It would then reduce to four lanes to the south. Traffic signals will be installed at Appleby, Ocotillo and Chandler Heights roads.
Status: Traffic restrictions are one lane in each direction. The project is approximately 85% complete.
Timeline: March 2020-August 2021
Cost: $25.96 million
Funding sources: town of Gilbert, Maricopa Association of Governments
4. Lindsay/Loop 202 interchange
An interchange at Lindsay Road and Loop 202 will be built to provide access to Loop 202 and a frontage road system on the north side of Loop 202 between Lindsay Road and Gilbert Road.
Status: Traffic restrictions on Lindsay began in March and will remain throughout the remainder of the project. The project is coordinating traffic control with the Germann Road improvements project. Construction is 31% complete.
Timeline: October 2020-November 2021
Cost: $18.15 million
Funding sources: town of Gilbert bonds and funds, Maricopa Association of Governments, developer contributions